Do you have a bit of change in your pocket? If so, chances are that you would like to save it up. You may think that saving money is just a chore. However, this couldn't be further from the truth!
In fact, there are many reasons as to why saving money is actually very beneficial and should be done by all people. It is worth it because you will have more money to spend later. So we bring you 15 reasons why saving money is important for you.
15 Benefits Of Saving Money For Your Future
Saving money is important, as it can help you achieve your financial goals. It can make your dreams come true and give you a life you want to live. It also works as a backup in case of an emergency.
1. Saving Money Means No Worries
Saving money means having nothing to worry about. You can relax, knowing that you will always have enough if something bad were to happen.
Saving money gives you a chance to focus on the future without having to worry about anything during the process. Sensible budgeting and saving might assist you in coping with stress and feeling more in control.
The bottom line is that saving money helps you live stress-free. You can be happy without completely depleting your budget.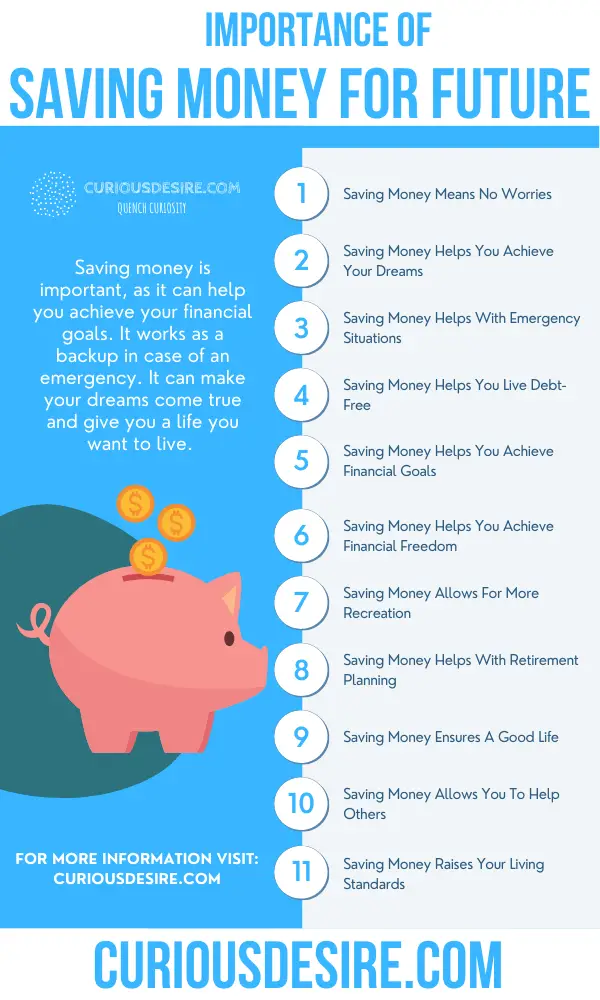 2. Saving Money Helps You Achieve Your Dreams
Saving money is important because it allows you to achieve all your dreams in life. You can save up for what you have always wanted to own, or for experiences that make your life more enjoyable.
There's no reason to put up with something you despise when you have a lot of money sitting in your savings account and a slew of investments that are paying interest. You can get whatever you want easily! Saving money means having a reserve of cash at your disposal.
For instance, you might want to buy a new house or car in the future. By saving money now and then investing it, you can reach this goal easily and effectively.
3. Saving Money Helps With Emergency Situations
Emergencies happen when you least expect them to. While you may be able to avoid the more severe situations if you prepare for them, there's always something unexpected that can happen.
It's critical to have an emergency fund set aside to cover unforeseen expenditures. According to a Bankrate poll, almost two-thirds of American adults said they couldn't cover 6 months' worth of costs with their savings. In reality, 40 percent of Americans do not have a $400 contingency reserve available for unanticipated events.
Having some money saved up is beneficial because it means you don't have to rely on others or high-interest credit cards during these times. It gives you a feeling of security and stability at all times.​
4. Saving Money Helps You Live Debt-Free
Debt is a serious problem today. With high-interest rates and banks, more people are in debt than they have ever been before. Debt makes it harder for them to make both ends meet since what they earn is used for paying off their loan.
Saving money is important because it gives you the freedom to say no to debts. Debt-free living is possible by saving money and avoiding unnecessary purchases.
Related Video – Saving Money – Why It Is Important To Save Money:
5. Saving Money Helps You Achieve Financial Goals
Every month, financial goals can be completed thanks to your savings account. They make you able to save up for the things that are important to you without having to worry about overspending.
Some of these goals can take years to achieve, so you need to do the planning. Whether it's saving for a house, car, or holiday getaway, savings helps you get there faster and more efficiently.
6. Saving Money Helps You Achieve Financial Freedom
Financial freedom is not only about having a lot of money. Money is just a means to an end, and that's financial freedom.
While becoming financially independent isn't the same as being wealthy, it's a good feeling to know you don't have to wait for a certain paycheque. And being able to rely on your savings is what it takes to know you can do whatever you want in life.
Saving money helps you achieve this in the long run. You can stop worrying about bills and other similar issues and focus on what really matters: your life and passions!
7. Saving Money Promises Financial Security
Consider how you would manage without savings — how will you ride out any financial storms if you don't have them? How do you plan to generate money when you're too old to work if you don't invest? If your job is lost, will you still be able to pay your bills?
Saving money is essential because it allows you to maintain financial stability. The more money you save, the more secure you will be.
Emergency fund aside, saving some cash is important because it gives you the reassurance that you can always pay for anything and everything without having to call up a friend or family member and ask them for some money.
8. Saving Money Gives You Peace Of Mind
As you save money, your financial concerns should lessen as long as you are living within your means. You don't need to tire yourself while thinking of ways to make ends meet.
With extra money in the bank, you don't need to worry about every little thing that happens. Having enough money gives you peace of mind, allowing you to live life stress-free.
9. Saving Money Allows For More Recreation
Living life to the fullest doesn't mean spending every penny of your salary and not having anything left over. However, it doesn't necessarily point to working hard each day and getting no recreation just to save it up. You can enjoy some recreation activities while saving up for your future at the same time.
Simply put, your savings can be a gift for you when it comes to providing entertainment in your leisure time. You can travel, paint, or do anything you like with your savings.
10. Saving Money Helps With Retirement Planning
Pension plans might not be as reliable as we'd like them to be. You should be prepared for the future by saving money and investing it yourself.
As you get older, your expenses will go down while your income doesn't change. Why not put some cash aside for a rainy day?
Even if pension plans are available to us, they still might not meet our expectations. This creates a gap that needs to be covered with savings or investments. Hence saving money is crucial for you.
Saving money helps you plan your retirement and lead a better life with essential commodities in the future too.
11. Saving Money Helps You Plan For Future Needs
Saving money helps you plan for the future. It allows you to prepare for things that are outside your means at the moment but might be essential in a few years or decades. It also means having extra cash to spend on things you like, without feeling guilty about it later.
Saving money allows you to plan for your future needs with confidence. You can be sure that with enough money in the bank, you will be able to achieve any dream at all without worrying about cash flow.
12. Saving Money Ensures A Good Life
People who don't plan for the future appear to be constantly fleeing from one problem to the next. From hand to mouth, paycheque to paycheque, people who live constantly under stress suffer significant emotional, psychological, and physical consequences.
No one likes to live simply and not enjoy their lives. Saving money helps you achieve just that. You can stay happy not in the moment but all your life through efficient planning and savings.
13. Saving Money Allows You To Help Others
Saving money allows you to help those who are in need. It's all about being a good member of society. Why not do your part and spare some for those who might need your assistance?
Saving money isn't selfish; it's selfless. You can save up and use the money to help others in need or spend it on your family and friends.
14. Saving Money Makes Life Easier For The Future Generations
Saving money helps you set your heirs or kids for life. You can be sure that your legacy will not die with you but will survive long after your death for the benefit of others.
Saving money for your kids and grandkids means that the old way of living will continue without them having to worry about anything. You can save up and ensure that everything runs smoothly when they step in.
15. Saving Money Raises Your Living Standards
People work hard each day to improve their lifestyles. Saving money means that you will have a higher standard of living.
Your hard work and perseverance may be rewarded once you're out of poverty. You can enjoy a better lifestyle as your wealth grows over time.
Hence saving money can be rewarding in the end – it can help you live a more luxurious life in the future!
The Importance Of Saving Money – Conclusion
Saving money has so many benefits. Though it can be hard but surely worth it. It's exciting and you'll never know what good awaits for you just around the corner. All you need is to take baby steps and build up to something big over time!
References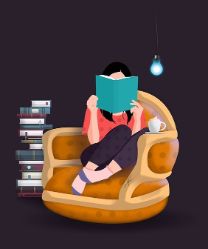 A sophomore in engineering, I'm a budding writer and an adventure enthusiast. My passion leads me on to try my hands on different things. I enjoy music, food, and good company. Making my way through life in my own ways, you'll find me holding a camera and capturing what this world has to offer.