Sex education has been a topic of debate for a long time, but teens and young adults need to receive knowledge about their bodies and how they function.
Not only does sex education give us knowledge about sexual health, but it also helps students learn how they should treat others and themselves when engaging in intimate behavior. This lesson can benefit everyone by helping them develop healthy relationships with their partners as well as protecting themselves from sexually transmitted diseases (STDs). 
The purpose of this blog post is to inform the audience about why sex education is important for teens and young adults.
15 Benefits Of Sex Education That Highlights Its Significance
There are many reasons why it is important for everyone to receive sex education. Parents should teach their kids because knowing how your body and reproductive system work can help you form healthy relationships with other people in the future.
1. Sex Education Discourages Abstinence-Only Education
Sex education discourages abstinence-only education by explaining such things in detail. By learning about the process of sexual intercourse, teens will refrain to make hasty decisions and only engage in it when they are older because they will know all the risks associated with it.
According to the study, it has been proved time and again that abstinence-only education does not affect teenage sexual behavior. This type of knowledge can help teens make better decisions when choosing their romantic partners.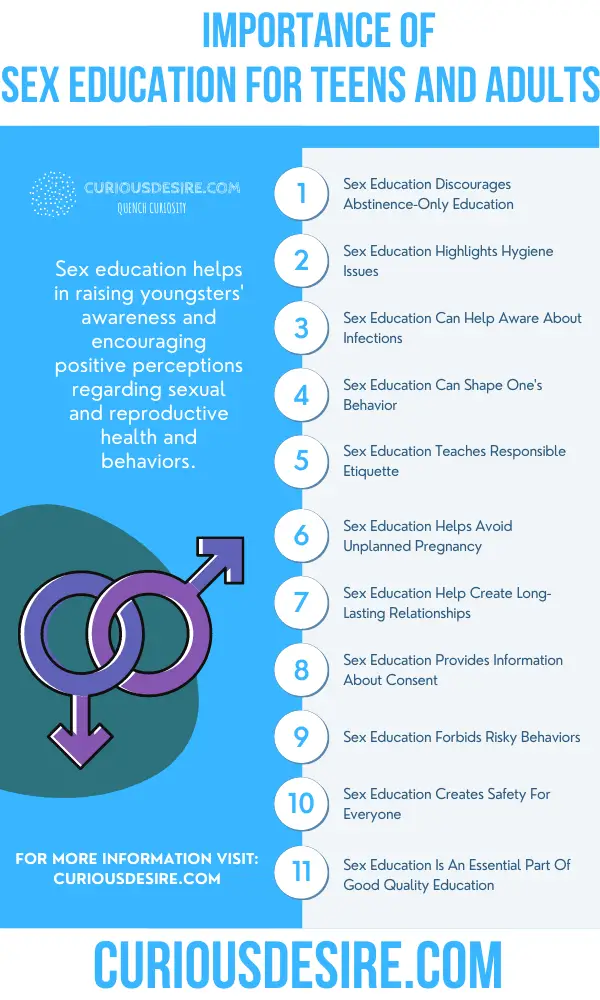 2. Sex Education Helps You Understand What's Normal
Adolescents do face a hard time when hitting puberty. They often confuse certain things as abnormal. You need to accept that your body is changing –  physical or biological changes as they are. Sex education helps to teach and aware the youngsters.
Where lack of knowledge can make them resent their bodies or compare themselves with others of the same age group, sex education can help you realize that what's normal and when you really need to worry about seeing your doctor.
3. Sex Education Highlights Hygiene Issues
Your body is your temple, so take good care of it. As you get older, it becomes more important to keep your body clean. Sex education provides essential information about how people can maintain their hygiene.
Not all parents can instruct their children on these methods. It may be embarrassing to talk about these topics with children. Some parents, on the other hand, are not aware of any particular precautions to take when teaching their children about hygiene.
Schools can engage competent instructors. Teachers with the appropriate abilities can assist students in learning more and being clear about their bodies.
4. Sex Education Can Help Aware About Infections
Every kid should be aware of the infections which can spread through sexual contact. The more you know about it, the less risk you carry with you that might harm you or others.
Health is a top priority. Everyone should know about sexually transmitted diseases (STDs) without any inhibitions. Sex education encourages students to speak up and ask questions if they are uncertain about any of these issues.
Related Video – Why Sex Education Will Save The World:
5. Sex Education Can Shape One's Behavior
It's not taboo to talk about sex-related issues with your elders. But we must not forget that it's essential because eventually, it will influence one's behavior.
Parents' behavior and moral conduct have a significant influence on their children. Schools should encourage youngsters to feel comfortable discussing or inquiring about such topics.
Many issues that teens face today are a consequence of a lack of parental guidance. It should be seen as no more than an ordinary occurrence.
Sex education makes teens realize how their mood swings and hormones change over time. It further teaches healthy habits to make use of the energy in a positive way.
It also helps kids make better choices by emphasizing the significance of taking things slow and knowing someone well before making any commitment.
6. Sex Education Helps Raise Kids Who Know How To Treat Others
Beyond the sex education lessons, children will learn how they should behave around others regardless of their gender or age. They will know what to do when faced with uncomfortable situations.
The lessons are delivered in ways that kids can understand them easily. They learn more about themselves and how they should behave. Sex education helps kids better understand and make the right choices when they enter this phase in life.
7. Sex Education Teaches Responsible Etiquette
Sex education teaches students responsible etiquette – the appropriate way to conduct themselves around family members or friends. It also enables them to deal with personal issues in a mature way without getting embarrassed.
It can help kids learn proper behavior for all occasions so they avoid unexpected situations that can really be mortifying for them or anyone else.
It also opens the door for conversations between family members, parents, and children. It can help you discover what an appropriate response is to their concerns about life issues.
8. Sex Education Helps Avoid Unplanned Pregnancy
Unplanned pregnancies are common in teens who engage in sexual activities without proper knowledge.
Comprehensive sex education boosts student confidence, improves judgment and behavior, and reduces risk. This lowers the number of unintended pregnancies and increases protection against sexually transmitted illnesses and infections.
9. Sex Education Help Create Long-Lasting Relationships
Sex education is invaluable in helping children build lasting, trusting relationships. It allows them to form healthy attachments with others while minimizing the risks of entering unstable or dangerous relationships.
Increased knowledge about sex helps children make better choices when it comes to relationships. It also encourages them to seek the right information and role models who can teach them more about sex in a safe, non-threatening environment.
10. Sex Education Provides Information About Consent
In a sexual relationship, consent is the agreement between both parties to take part in a specific activity. This makes it easier for them to withdraw from activities that they no longer want to engage in.
When you know more about sex and how it affects your body, you will become more confident about yourself. This helps children make the right choice when faced with sexual situations that are not appropriate for their age.
11. Sex Education Forbids Risky Behaviors
Sex education forbids students from engaging in risky behaviors, such as sharing needles or having unprotected sex, which can lead to serious infections and even death.
According to the Youth Risk Behavioral Surveillance Survey in 2015, high school students who were involved in sexual activities were found to be 41% in ratio. One-fifth of sexually active high school students had used drugs or alcohol before the most recent time they engaged in sexual intercourse.
Sex Education provides information that acts as a protective buffer against the risks of unprotected sex. It also teaches students how to resist peer pressure and avoid situations where they can be pressured into doing something that may risk their health.
12. Sex Education Creates Awareness About Safe Options
It is important to note that abstinence is not taught in sex education classes. It becomes easier to engage in healthy relationships when you are confident of your choices.
The lessons can help a person distinguish between good and bad relationships. They learn to avoid any situation that might be dangerous for them.
Sex education teaches students about safe options for any activity. This paves the way for new experiences while keeping them protected against infections, diseases, and other risks.
13. Sex Education Creates Safety For Everyone
In case you have been sexually assaulted or experienced sexual violence, you should immediately report the incident to a trusted adult. This makes it easier for people to deal with their experiences.
For minors who engage in sexual activities, the lessons on prevention make them understand how to protect themselves from infections and avoid situations where they can be taken advantage of.
14. Sex Education Is An Essential Part Of Good Quality Education
Sex education provides a comprehensive curriculum that makes it easier for parents to talk about sex with their kids. When children know more about the subject, they will feel safer about discussing concerns and asking questions with their parents.
Sex education talks about many important topics, including self-respect, relationships, and sexual orientation. These lessons make it easier for students to talk about sex with their parents.
It is an important component of a good education, providing young people with the skills they need to live well in a changing world. It enhances sexual and reproductive health outcomes, fosters safe and gender-equitable learning environments, and increases educational attainment.
15. Sex Education Deserves More Acknowledgement
It's scary to think that with the lack of knowledge about their bodies, some adults are willing to take risks with their health.
Sex education is very important and it needs more time than most schools are willing to give. However, this type of education should not be restricted only to teenagers because adults need this information just as much.
The Importance Of Sex Education – Conclusion
Sex education is very important for teenagers, but also helpful for all ages. It not only provides information about the body and how it functions but it also touches on self-esteem and relationships.
Sex education lessons should be taught in a way that makes them appropriate for total beginners as well as older people so they engage in activities while maintaining a healthy and safe environment.
References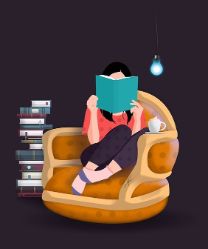 A sophomore in engineering, I'm a budding writer and an adventure enthusiast. My passion leads me on to try my hands on different things. I enjoy music, food, and good company. Making my way through life in my own ways, you'll find me holding a camera and capturing what this world has to offer.