The world has changed drastically in the last 10 years. It can be hard to keep up with what's going on these days because there are so many things happening at any given moment, all over the world! 
Social media has become an integral part of our lives. It is how we communicate with friends, family, and people in general. It has become the platform people use when they want to share what's going on in their lives and meet new people.
Social media brings to us the latest news. But why do people consider it a necessity these days? This blog post will explain why social media is important for everyone.
15 Benefits Of Social Media That Highlights Its Significance
Social media connects us to people, helps grow business opportunities, and shares our perspectives effectively. It is through the power of social media that we can make a difference in this world.
1. Social Media Connects Us With The World
Social media is a great way to reach out and connect with people from different parts of the world. We can keep in touch with people we haven't met in person, maintain relations with friends and family living far away, and stay up-to-date on current events around the world!
Various influencers on media platforms post content that is relevant to their audience. You can connect with other people who might be interested in similar things and share your own opinions as well.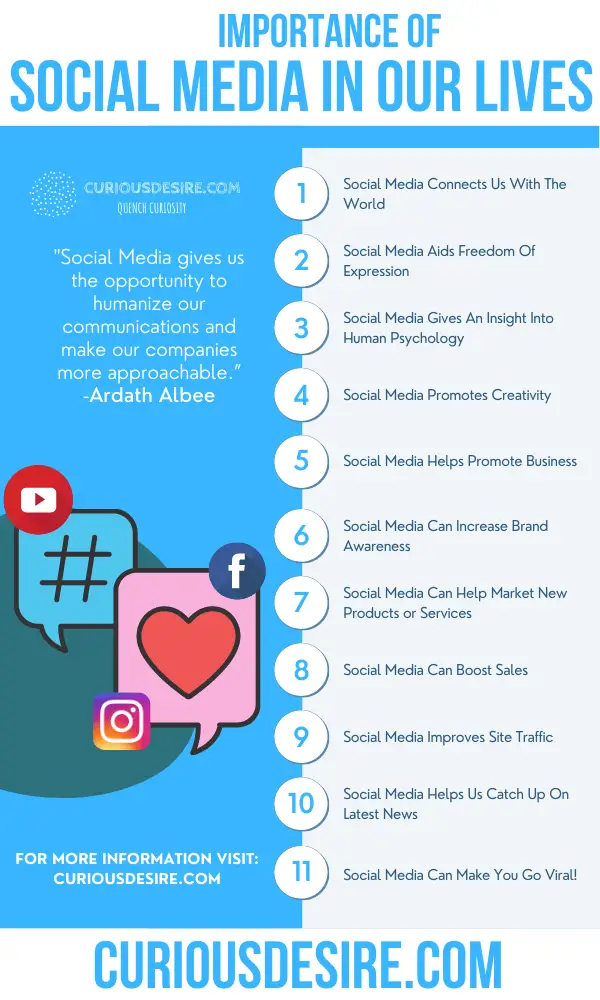 2. Social Media Allows Easy Communication
Social media allows us to communicate in a very effective way that has never been possible in the past. We can use varied formats to share messages, images, videos, etc. It is an extremely efficient mode of communication that helps connect with people from all over the world.
Social media has now become an important part of our daily lives thanks to the many benefits it offers. Social networks are now being used by millions of people around the world as a tool to stay in touch with friends and family.
3. Social Media Aids Freedom Of Expression
The world is becoming more connected with the increased level of communication that has assisted people in being able to express themselves better.
Social media has become a place where people can share their opinions and perspectives with others around the world. It allows people to communicate who might not otherwise be able to due to geographical distance or other barriers.
Social networking sites are playing an integral role in promoting freedom of expression globally. They are empowering people with various opinions to speak up against any form of suppression.
4. Social Media Gives An Insight Into Human Psychology
Social media is a great medium to gain insights into the human psyche as it gives an overall picture of people's perceptions and thoughts.
It allows you to see how people from different backgrounds, locations, and professions, perceive things differently and react accordingly. You can learn about other cultures and appreciate how different people think in a certain way.
There is a lot of content shared on social media about human psychology. This insight helps us understand why people behave the way they do.
Related Video – Why Is Social Media Important?
5. Social Media Promotes Creativity
Social media is a great place to promote creativity among users as they engage with content that interests them.
Social media platforms offer an excellent opportunity for creative people to share their work and get recognition from the online community.
Social media is also a great place for budding entrepreneurs who might not be able to promote their products offline due to a lack of resources. They can use various social media platforms to promote their products and services without having to spend much on marketing.
6. Social Media Helps Curb Boredom
Social media helps curb boredom in our daily lives as it provides us with entertainment content that we might not get offline.
It offers you the chance to enjoy some really interesting videos, photos, articles, and graphics that you might not have access to otherwise.
The social media community also engages in conversations or debates about various topics which help people stay virtually engaged during their leisure time. With colorful and interesting content to keep us entertained at all times, social media can be a great stress buster!
7. Social Media Provides Useful Information
Social media platforms offer us a chance to learn new things from a variety of people from various walks of life.
Users can follow experts, influencers, celebrities, politicians, and other professionals on social media to stay up-to-date with the latest information about their field of work.
It's not just limited to being a tool for professional purposes as you can also learn new things on sites like YouTube and Reddit.
8. Social Media Helps Promote Business
Social media is proving to be an excellent marketing tool for business growth in the current competitive era. With billions of users on social platforms, businesses can tap into a wider consumer base and increase their market value by leveraging social media marketing.
When it comes to social media marketing, 92 percent of company executives believe it's critical to use additional resources.
Social networking sites like Facebook, Instagram, and Twitter allow businesses to connect with consumers on a personal level. They can get real-time feedback from customers and learn about their brand perception.
Businesses also use social media platforms to run promotions and contests through which they offer discounts and deals to potential buyers. This certainly increases business revenue in the long run.
9. Social Media Can Increase Brand Awareness
Social media is a great medium to increase brand awareness among the target audience.
Isn't it true that people only relate to brands they are already familiar with on social media? Consider the fact that 83% of Instagram users discover new items on the site.
Businesses can use various social media platforms to connect with customers. They can get people talking about their brand by hosting giveaways or through product launches that are promoted online.
Their marketing efforts will certainly pay off in the long run if they do it right because social media helps customers understand their advantages and disadvantages.
10. Social Media Can Help Market New Products or Services
Social media is a powerful platform for new products or services that are launching in the market. Many companies promote their new apps, products and services on their social media accounts to engage the audience before hand.
Businesses can use various social media sites to reach out to potential buyers and inform them about their brand, product, or service. They can use user-generated content on sites like Instagram or Pinterest to get a feel of the user's interest in their product and tweak it accordingly if required.
11. Social Media Can Boost Sales
Various social media sites help businesses promote their products and services online. This helps increase brand awareness which can directly affect sales numbers in the future.
Social media sites interact with customers on a more personal level as they can ask questions or address concerns directly. This is particularly beneficial for those organizations that rely on word-of-mouth advertising as it helps improve customer experience.
As the number of individuals using social media continues to rise, and social sales platforms develop, the role of social networks will become more significant. It's now time to integrate your social marketing activities with commercial targets.
12. Social Media Gives You Free Advertising
How many times have you seen a brand ad and felt compelled to click on it? Social media allows you to promote your business, products, and services for free. Many platforms have revolutionized the marketing in terms of advertisements campaigns that run freely all throughout the product's manufacturing and launch.
With real-time service and interactive sessions with potential buyers, these ads further help consumers navigate through all the related information. This can make them more likely to buy your product as they will know what they are getting.
Consumers are more likely to use social media than ever before to discover new items. In the last year, 42% of consumers increased their social media usage to learn about new goods.
13. Social Media Improves Site Traffic
Social media sites do more than just marketing, they also get more traffic to your site.
Many experts believe that social media has become the number one driver of web traffic in recent years. In 2014, business-related pages received approximately seventeen percent of their overall traffic from social media sites.
The more visibility you get the better chances of more people finding out about your brand and visiting your website. You can use various marketing tools which help integrate social media profiles across various platforms to help boost your site traffic.
14. Social Media Helps Us Catch Up On Latest News
We get news alerts through social media, making it easier for us to catch up on current events.
Social media sites are great to use during events that you are interested in. You can get timely alerts or stay updated by searching for specific hashtags associated with them. This can be done regardless of location as well! Many virtual events that have been managed globally are worth-mentioning in this regard.
15. Social Media Can Make You Go Viral!
Social media sites help spread information about organizations and their products quickly.
Whether it is a catchy advertisement, funny video, or an impressive piece of content; something that goes viral can gain massive exposure within hours.
Viral content helps businesses diversify their marketing strategies as they are not relying on commercials alone anymore.
The successes, or failures, of a viral marketing campaign, can make an enormous difference in how well a company does in its industry.
The Importance Of Social Media – Conclusion
The number of people using social media sites continues to grow across the world. Social networks are no longer considered just a trend but rather something that is here to stay. It has transformed how we do various daily tasks, allowing us to connect with others instantly.
Given its potential for increasing revenue and building brand loyalty among consumers, the role of social media sites will only continue to increase over time.
References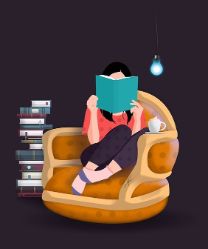 A sophomore in engineering, I'm a budding writer and an adventure enthusiast. My passion leads me on to try my hands on different things. I enjoy music, food, and good company. Making my way through life in my own ways, you'll find me holding a camera and capturing what this world has to offer.