The integration of the Internet into our professional lives has resulted in a lot of major changes. The most significant change was how social media became the go-to window for learning, discovering new job possibilities, and expanding the brands. It just goes to show how crucial social media marketing is.
The use of social media is vital because it offers a unique approach for businesses to connect with their consumers and followers.
It's no secret that social media is an important part of any marketing strategy. In fact, 93 percent of marketers say social media is essential to their business. But why is it so crucial for business expansion? This blog post will provide you with 15 reasons why social media marketing is important.
15 Benefits Of Social Media Marketing For Any Business
Social media marketing is a great way to connect with customers and create a relationship with them. It's a powerful tool for building brand awareness and can help you reach new markets.
1. Social Media Marketing Is Cost-Effective
Compared to traditional marketing methods, social media marketing is a lot more cost-effective. You can reach a larger audience for a fraction of the cost.
Social media marketing does not need you to use advertising or ad technologies to promote your business. It is one of the most cost-effective methods to promote your company digitally.
With so many different marketing platforms accessible on these social networking sites, you have a chance to advertise your product to various channels in no time.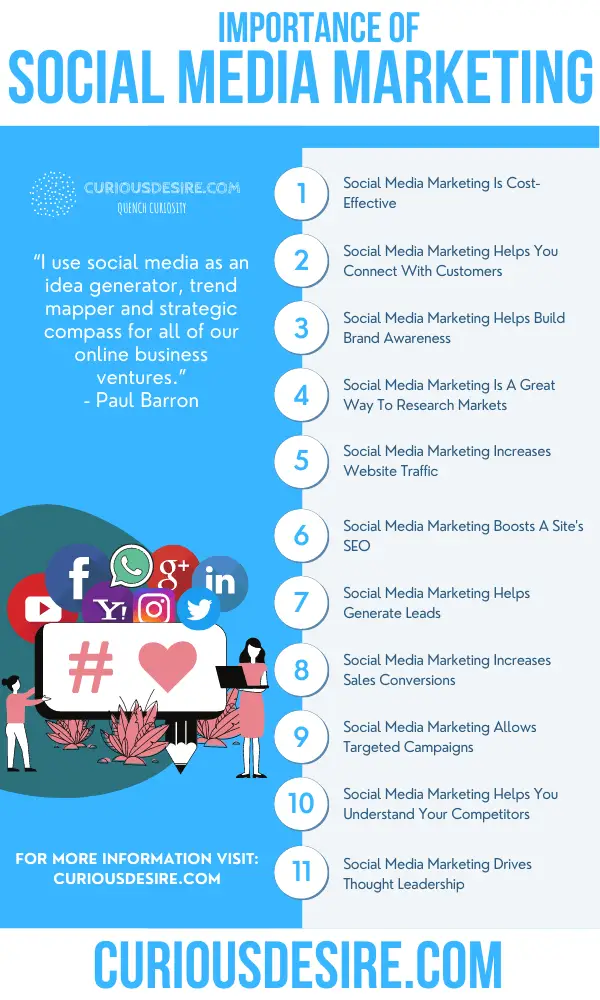 2. Social Media Marketing Helps You Connect With Customers
Social media provides an opportunity for businesses to connect with their customers on a personal level and learn more about what they want and need. Research states that every 4 in 10 consumers use social media to discover new products and brands.
When you're on social media, you have the opportunity to interact with your customers in real-time. This gives you the ability to address any concerns or questions they may have.
You can also gather feedback from customers and use it to improve your products or services.
3. Social Media Marketing Helps Build Brand Awareness
Social media marketing is a great way to build awareness for any business. By creating engaging content, marketers can attract new followers and keep them interested in what they have to offer.
Many people turn to social media every day for information about products and services their companies provide. Consumers are more likely to purchase goods and services if they have access to social media.
Hence it gives the followers a chance to explore the ins and outs of a company by making it user-friendly and easy to navigate.
4. Social Media Marketing Is A Great Way To Research Markets
Social media provides an opportunity for businesses to research their markets and discover new demographics. They can use this data to improve their business strategies such as building a better website or creating stronger products.
Market researchers can keep track of current and emerging trends using social media. One of the most effective methods to do so is by monitoring and searching hashtags that are relevant to the industry, product, or company being researched.
Through social media marketing, businesses can gather important information about their target markets and use it to improve their marketing efforts.
Related Video – Social Media Marketing – Why Is It So Important To Your Business?
5. Social Media Marketing Increases Website Traffic
Social media marketing can help drive more traffic to a website. Social platforms give users the ability to share and distribute content, which gives it high visibility among potential customers.
Tapping into social conversations allows you to expand your reach and attract new customers. By using social media marketing, existing customers will also be able to recommend your products or services to their friends and followers.
6. Social Media Marketing Boosts A Site's SEO
The more people interact with your business, the higher chances of it showing up in search results.
Social media content is also likely to rank higher than other websites if you've managed to build a strong and loyal following that interacts with what you post.
You can use social media to help you connect with your followers. This increases brand exposure and improves internet visibility, while also improving company reputation and local search engine optimization.
7. Social Media Marketing Helps Generate Leads
Social media marketing can help you generate leads for your business. By creating valuable content, you can attract potential customers and get them interested in what you have to offer.
Once you've captured their attention, you can then provide them with more information about your products or services.
Social media gives marketers a chance to create personalized offers, which will help you get conversions from interested customers.
8. Social Media Marketing Increases Sales Conversions
Social media platforms allow businesses to promote their products or services directly on their company profiles and increase their conversion rates. It helps businesses show potential customers what they have to offer so they can generate more conversions.
The team McCarthy & Stone used Facebook lead advertisements to drive traffic to the site, which enabled them to attract a greater number of potential buyers. At a cost 2 times lower than more conventional digital prospecting campaigns with real estate advertising, the advertisements resulted in 4.3 times more sales leads than the prior year, and they generated 4 times as many revenue-generating ads as previous years.
Marketers can leverage this opportunity to showcase their brand, build relationships with customers and promote their products.
9. Social Media Marketing Provides An Opportunity To Influence Customers
Social media marketing is an effective way for businesses to influence customers who are undecided about their buying decisions.
When you share great content on your social accounts, it will encourage the undecided audience to take a closer look at your product or service. This will help them make a well-informed buying decision.
When customers are happy with the product or service they've purchased, they're likely to recommend it to their friends and followers on social media.
10. Social Media Marketing Allows Targeted Campaigns
Social media marketing allows businesses to target their campaigns to a specific group of people. This allows businesses to focus on a specific group of customers and improve the chances of them making a purchase.
Advertisers are expected to spend over $56 billion on product promotions via social media by 2022, according to savvy marketers.
Businesses can use this information to improve their marketing strategies and create better content that resonates with their target markets.
11. Social Media Marketing Helps You Build Customer Loyalty
Social media platforms help businesses build customer loyalty by providing a space where customers can interact with the company and its products or services.
On social media, 60% of consumers are willing to buy from a brand after having a great experience with them. Hence it also allows businesses to learn more about their clients by taking note of all the feedback they provide.
By listening to what customers have to say, companies can adjust their marketing approaches and improve customer satisfaction levels in the long run.
12. Social Media Marketing Helps You Understand Your Competitors
Social media can be used to track what your competitors are doing. This allows marketers to observe their strategy and determine what made them successful.
It also helps you improve your social media marketing campaigns by identifying which elements resonate with your target market and which ones don't.
This analysis can help fill the gaps in your content, create a more effective campaign, and boost conversions among other benefits.
13. Social Media Marketing Is Best Tool For PR Strategy
Social media acts as your Public Relations (PR) strategy. It helps you get the word out about your product or service and build trust among your customers.
By sharing industry-related news stories, tips, reports, photos, videos, infographics and other content on social media accounts for businesses can help their target market connect with them in whole new ways.
Your followers can then use this information to make better-informed purchase decisions and help promote your company to their friends and family.
14. Social Media Marketing Generates Incomparable ROI
When done correctly, social media marketing can generate an incomparable return on investment (ROI).
A study found that businesses who use social media marketing obtain a return of $7 for every $1 spent.
When businesses invest in social media marketing, they're able to achieve many objectives – all of which contribute to an increase in sales and overall profitability for the company.
15. Social Media Marketing Drives Thought Leadership
When businesses share their insights and knowledge on social media, it helps them build authority and credibility as a thought leader in their industry.
It allows you to create how-to guides, webinars, and other content to assist individuals and encourage them to trust your brand as a go-to source of information.
This will help you attract more potential customers and solidify relationships with your current customers.
The Importance Of Social Media Marketing – Conclusion
Social media marketing is important because it allows businesses to connect with their customers and followers in a unique way. Through social media, businesses can share news and updates, engage with customers and followers, build relationships, and create brand awareness.
Overall, social media marketing is an effective way to reach a large number of people and promote any business. Understanding what social media marketing may accomplish for your business is critical if it wants to succeed in this period.
References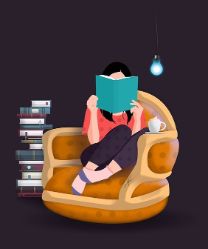 A sophomore in engineering, I'm a budding writer and an adventure enthusiast. My passion leads me on to try my hands on different things. I enjoy music, food, and good company. Making my way through life in my own ways, you'll find me holding a camera and capturing what this world has to offer.