The internet is one of the most important inventions in all of modern history. It has revolutionized the way we communicate, learn, and work. With its ability to shape our world and change the way we live, it has become a necessity for us. From online banking to social media, e-commerce sites to web applications – these are all aspects of life that would be drastically different without it.
The Internet has become so ingrained in our culture that many of us could not imagine life without it. From the businessperson who routinely conducts virtual meetings with his overseas partners to the high school student who researches science projects on her tablet, we use the internet for almost everything. Read this blog post to find out 15 reasons why the Internet is important.
15 Benefits Of Internet That Makes It A Crucial Part Of Our Lives
The internet is more than just a helpful tool. It helps in communication, bringing the world together, and sharing information. It further helps your community to grow and flourish. With its utility in society, the Internet has come to be known as the only source of entertainment, information & knowledge.
1. Internet Is A Source Of Learning
The internet is one of the largest repositories for information, which makes it one of the world's most effective sources of learning.
It gives you access to so many things – be it art, music, science, literature, or any other subject that has ever existed! You can sit in front of your computer and study something new every single day.
Hence the internet plays an important role in education and is a valuable resource for gaining knowledge.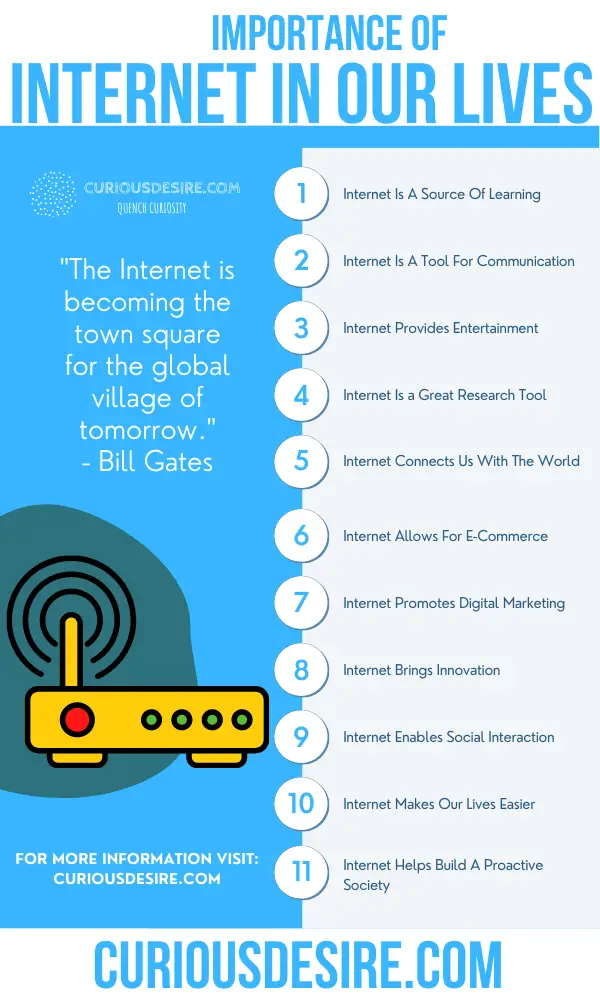 2. Internet Is A Tool For Communication
Internet is a very valuable source of communication. You can connect with people from all across the world and share ideas with them. The e-mails, forums, and chats make it possible for you to stay in touch with your near and dear ones.
Chat-based support can reduce wait times while improving customer satisfaction. People can also carry out web conferences to establish better ties with customers in a business environment.
In fact, it is through the internet that the world has become a global village, where you can communicate with anyone, anywhere.
3. Internet Provides Entertainment
The internet is now one of the most popular sources of entertainment around the world. It has become an integral part of our daily lives that we cannot imagine a life without it. It provides us with diverse means of recreation and relaxation.
On average, we spend 11 hours each day on media. Out of them, we spend 9 hours online – browsing websites or playing games online.
Whether it's consuming social media or playing games – either way, the internet has something for everyone.
4. Internet Is a Great Research Tool
In today's day and age, information is everywhere but you need someone to sort through all those facts before deciding what's true and what isn't.
That's where the internet comes along – it gives you access to a plethora of educational resources that can help with research or even supplement your learning experience at school or work.
Related Video – How The Internet Changed Everything:
5. Internet Connects Us With The World
The Internet has brought the world closer to us. It enables us to access information from around the world, at the click of a button.
It builds social capital – allows for easy access to other people around the world through social media platforms, creating new relationships and strengthening old ones.
You can research any topic or person and even connect with people across different places. You no longer have to journey around the entire globe in search of what you need – it's only a couple of clicks away.
6. Internet Allows For E-Commerce
The internet is one of the most effective sources for selling your products or services. E-commerce has been a growing trend over the past few years with more and more people opting to shop online rather than physically going shopping from store to store.
Shoppers are now moving away from brick and mortar stores as they find it easier to buy their items through the internet. The world is moving towards a cashless society and adopting online platforms to do their shopping.
7. Internet Increases Job Opportunities
The Internet has provided an entirely new job market that never existed before. With the help of the internet, you can work from home and earn a living within the comfort of your home.
There are many jobs available for freelancers who only need to put in a few hours each day working on their tasks according to their schedule.
It has provided a great opportunity for those who are looking to earn some extra cash as well as those who wish to start on their own and earn independently.
8. Internet Promotes Digital Marketing
With the internet, you get to access millions of customers who are just waiting to be marketed to.
Marketing on the Internet is one of the most effective methods of increasing sales. The more you know about digital marketing, the more profitable your business will become. Hence it allows you to grow your business and connect with a large audience with relative ease.
The internet has made digital marketing a vital part of any business strategy.
9. Internet Brings Innovation
The Internet has brought to us the latest technological innovations that we see today. The speed of development and innovation has been so rapid because of the internet.
People can implement new ideas and test them out online to see if they will work before investing in them. This way it is much more economical as well as productive.
10. Internet Enables Social Interaction
The internet enables us to interact with other people around the world through various social media platforms like Facebook, Twitter, and Instagram. It allows us to connect with people from different cultures and backgrounds.
This has created a sense of global community where we are all united in some way or the other. No one is a stranger anymore when you have the internet connecting everyone seamlessly.
11. Internet Helps In Healthcare Department
The internet has revolutionized the healthcare department as well. With the help of online platforms, people can also choose from several plans that suit their needs for someone to visit them at home and take care of them.
Many doctors and medical practitioners operate their own blogs on the internet to raise awareness about certain health issues.
This has led to more people getting dependent on the internet for their day-to-day healthcare needs, as it is much easier and less time-consuming.
12. The Internet Is An Alternative To Traveling
The internet allows you to have a virtual tour of various places around the world without having to physically visit them. This way you can still experience the atmosphere without having to leave your home.
You do not have to go through the hassle of booking train tickets and hotel rooms, making it more economical. It also saves time by allowing you to select from several places you want to visit, search for their information online, and book them whenever you are ready.
13. The Internet Saves Time & Effort
The internet has saved an immense amount of time and effort for people. You can get information on various topics in just a few seconds without having to go through several articles.
It has freed up so much time for people, allowing them to use it however they want. It has also made things more convenient and provided an easy way of reaching out to people and information that we require.
14. Internet Makes Our Lives Easier
The internet makes access to many things easier for you. With the ease of communication and business, the internet impacts our everyday life too.
You don't have to go through tons of files or documents to find what you are looking for. All you have to do is open your gadget and type the thing you want!
15. Internet Helps Build A Proactive Society
The internet has provided people with the opportunity to express their own opinions and ideas freely online. There are no boundaries or hindrances to prevent people from expressing themselves on social media platforms, empowering individuals to make a difference in society.
It is also an effective way of getting closer to others sharing similar thoughts, creating a proactive community and progressive society where everyone can contribute to making things better for all.
The Importance Of Internet – Conclusion
Using the internet has changed people's lives, adding a new dimension to it. The world is now a global village with the internet connecting everyone seamlessly. It has provided a platform for people to express their opinions, enabling a proactive society and community where no one is left behind.
With this in mind, everyone needs to maintain a balance when using the internet so that it does not take over our lives entirely. By doing so, we can ensure that the internet is important to us while still keeping it under control.
References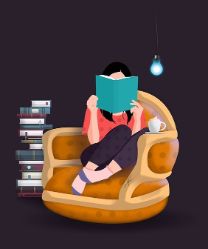 A sophomore in engineering, I'm a budding writer and an adventure enthusiast. My passion leads me on to try my hands on different things. I enjoy music, food, and good company. Making my way through life in my own ways, you'll find me holding a camera and capturing what this world has to offer.