Tipping is a form of showing gratitude and appreciation for good service and restaurant workers depend on their tips. The term tipping originates from the 16th century when English travelers introduced the idea into the culture of North American colonists.
 Although we all know that it's customary to tip our waiters and bartenders after eating out or getting served at a bar, there are still a lot of people who are unsure of why tipping is so important. Here are the reasons why tipping is important.
15 Benefits Of Tipping For Human Beings
In a world where service jobs are constantly on the rise, and the earning potential of such positions is often not very high, tipping becomes increasingly important for those who take on such work. Servers, bartenders, hairstylists, and others in the service industry rely on gratuities to make up for low wages and to earn a liveable wage.
Tipping is not only a sign of respect for good service, but it is also the best way to ensure that you get good service in return. Here are 15 reasons why tipping is important for human beings
1. Tipping Shows Gratitude For Good Service
When you receive great service from a waiter or bartender, tipping is the best way to show your appreciation. A little bit of extra money will go a long way, and it will make your server's day. In this way, they will get appreciated and always gives you good service.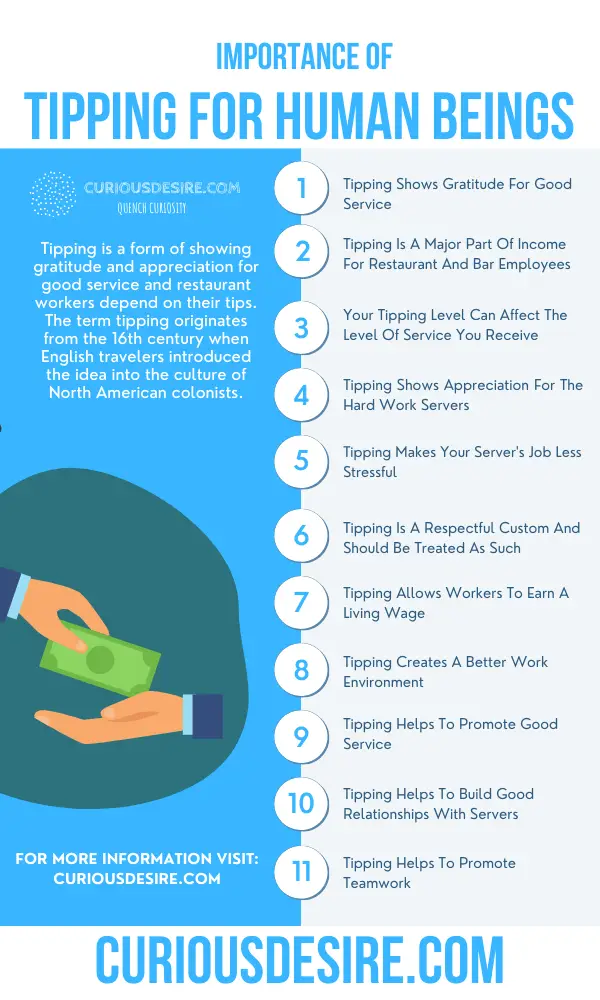 2. Tipping Is A Major Part Of Income For Restaurant And Bar Employees
90% of servers in the US work for an hourly wage that is below the federal minimum wage ($7.25/hr). Their average annual income is $18,900. According to the U.S. Bureau of Labor Statistics, servers are twice as likely to live below the poverty line than any other occupation. The majority of their earnings come from tips.
3. Your Tipping Level Can Affect The Level Of Service You Receive
Servers are evaluated by their managers on their tip amounts. They get rated on a 1-5 scale, which is called the 'TIP' rating. This rating will play a significant role in your server's next scheduled evaluation or raise. If you're not tipping well, you may be getting poor service as a result.
4. Tipping Shows Appreciation For The Hard Work Servers
Bartenders and servers work hard to provide good service for their guests. They deal with a lot of customer service issues, and they often have to juggle multiple tasks at the same time. Showing your appreciation with a little extra money is the least you can do.
Reference Video – Why Do We Tip?
5. Tipping Makes Your Server's Job Less Stressful
When your server knows that they're going to get a good tip, they will be less stressed out and more likely to provide you with great service. Servers are more likely to enjoy their job when they know they're going to receive a good tip.
6. Tipping Is A Respectful Custom And Should Be Treated As Such
Tipping is a respectful custom and an important part of society. There are many reasons why tipping is important, but the most important one is respect towards people who serve us. Don't forget to leave a tip the next time you eat out or get served at a bar.
7. Tipping Allows Workers To Earn A Living Wage
As we mentioned before, the majority of restaurant and bar employees rely on tips to make a living wage. By tipping your server or bartender, you are helping them to earn a liveable wage, which is something that isn't always guaranteed by their employers.
8. Tipping Creates A Better Work Environment
Restaurant workers are paid notoriously low wages and rely on tips to make up the majority of their income. When customers don't tip, it makes it difficult for restaurants to keep good employees. Good employees are more likely to provide good service and create a better work environment for their fellow employees and managers alike.
9. Tipping Helps Reduce The Cost Of Your Meal
When you don't tip your server, the cost of your meal gets passed on to them. Servers often lose out on around $8.00 per hour because they don't receive their tips due to poor tippers. If you plan to dine out with friends or family, consider this factor when deciding how much to tip.
10. Servers Cannot Get Fired By Tipping
If your server doesn't perform his/her job up to your standards, you may complain to the manager. However, if your server is performing well but you're not tipping them, they can still get fired. According to The Restaurant Manager's Bible, "a manager has the right to fire any employee who does not tip or tips inadequately."
11. Tipping Helps To Promote Good Service
Tipping is one of the best ways to show your server or bartender that you appreciate their hard work. Servers and bartenders are often motivated to provide good service to receive a better tip from their guests.
12. Tipping Encourages Employees To Provide Better Service
As mentioned before, servers and bartenders are often evaluated on their tip amounts. If they receive low marks, they may be at risk of losing their job. This is why it's important to tip your server or bartender well if you want to encourage them to provide better service.
13. Tipping Reminds Us To Be Considerate Of Those Who Serve Us
Tipping is an important custom because it reminds us to be considerate of the people who serve us. It's easy for us to forget how difficult our server's job can be when we are not at work ourselves.
14. Tipping Helps To Build Good Relationships With Servers
When you have a good relationship with your server or bartender, they're more likely to go out of their way to provide you with good service. This is why it's important to be friendly and courteous to them, and to tip them well.
15. Tipping Helps To Promote Teamwork
Tipping is vital to restaurant and bar employees because it allows them to work together as a team. Servers may rely on bartenders to give them accurate drink orders, while bartenders may rely on other staff members to take food orders for their guests.
By tipping your server or bartender, you're helping to promote teamwork in the workplace.
Importance Of Tipping – Conclusion
In conclusion, there are many reasons why tipping is important. By tipping your server or bartender, you're showing them that you respect their hard work, you're helping them to earn a living wage, and you're encouraging them to provide better service.
Tipping is an essential part of the restaurant industry that helps to promote good relationships between servers and bartenders, as well as teamwork among other employees.
References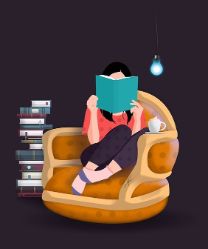 Hello, I am Aatka Azhar. I have done bachelor's degree in Computer Science. Writing articles is my passion through which I explore so many things. So, I am using my passion by working here and it will be the source of knowledge for the readers.