In our quest to learn and grow, books are like treasure chests filled with knowledge. But sometimes, we make excuses that keep us from reading and expanding our minds.
Let's get to the point: why we avoid books and the valuable knowledge they hold. No fancy words, just a straightforward look at our reasons and why it's time to change them.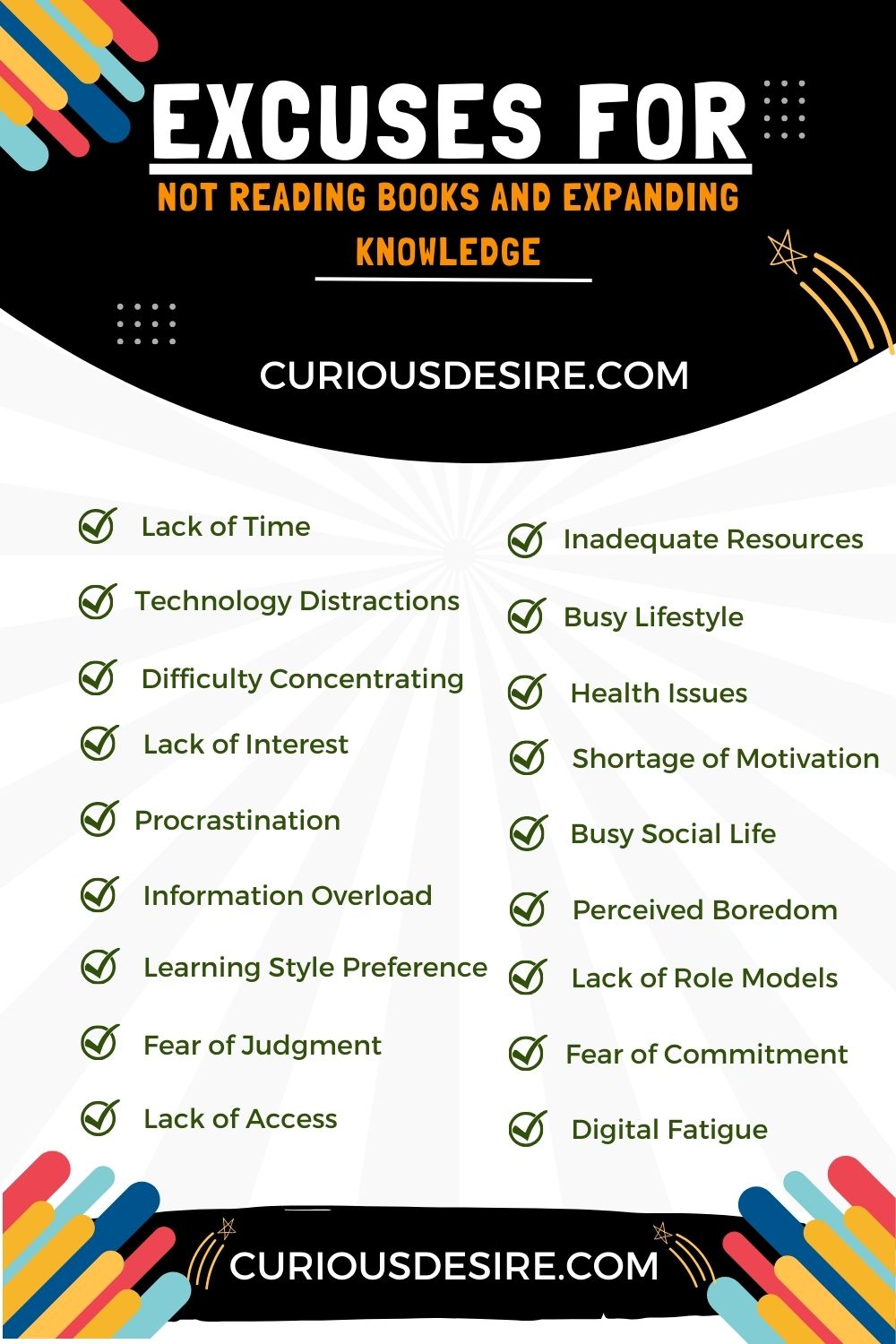 Top 30 Excuses for Not Reading Books and Expanding Knowledge:
Exploring the world of books and expanding our knowledge is a journey of personal growth and discovery. Yet, it's astonishing how frequently we let excuses stand in our way.
So, let's dive right into it: the top 30 excuses that keep us from the wealth of wisdom that books offer. No fancy words or distractions, just a straightforward exploration of why we sometimes hesitate to pick up a book and why it's time to overcome these barriers to knowledge.
Here are the Top 30 Excuses for Not Reading Books and Expanding Knowledge:
1. Lack of Time
Time is a finite resource, and in our increasingly busy lives, it's easy to feel overwhelmed by responsibilities. Many people find it challenging to allocate time for reading books and expanding their knowledge. Between work, family commitments, and personal pursuits, carving out time for reading can seem like an unattainable luxury.
2. Technology Distractions
Modern technology offers a wealth of distractions. The prevalence of smartphones, social media, and streaming services can easily divert our attention away from reading. The constant pull of notifications and the allure of binge-watching shows make it difficult to resist the allure of screens.
3. Difficulty Concentrating
Reading books often requires sustained concentration, and not everyone finds it easy to focus for extended periods. In a world of instant gratification, where information is delivered in bite-sized chunks, sitting down with a book can feel like a daunting task for those with shorter attention spans.
4. Lack of Interest
Interest and passion are powerful motivators for learning. However, not everyone is naturally interested in the same subjects or genres. If a person doesn't find a particular topic or book engaging, they are less likely to invest time in reading it.
5. Information Overload
In today's digital age, we are inundated with information from various sources. Some individuals may feel overwhelmed by the sheer volume of data available, leading them to hesitate about adding more to their plate by reading books.
6. Learning Style Preference
People have different learning styles. Some individuals may prefer visual or hands-on learning over reading text. This preference can significantly influence whether someone chooses to read books for knowledge expansion.
7. Perceived Lack of Relevance
The perceived relevance of a subject matter can strongly impact one's motivation to read. If someone doesn't see a direct application of a book's content to their life or interests, they may opt for more immediate practical activities.
8. Fear of Judgment
Fear of judgment or criticism for one's reading choices can be a potent deterrent. Some people worry about being labeled as "uncool" or "nerdy" for their book selections, which can lead them to avoid reading altogether or to hide their reading habits.
9. Lack of Access
Access to books and educational resources can be a significant barrier, especially in regions with limited libraries or internet connectivity. Without easy access, individuals may struggle to expand their knowledge through reading.
10. Inadequate Resources
Even when resources are available, they may be insufficient. Limited budgets can restrict the ability to purchase books or access educational programs, discouraging individuals from pursuing knowledge expansion through reading.
11. Health Issues
Physical or mental health issues can interfere with reading. Conditions like dyslexia, anxiety disorders, or vision impairments may make reading more challenging and less enjoyable, contributing to the excuse of not reading books.
12. Overwhelmed by Responsibilities
Life's responsibilities, such as raising a family or managing a demanding job, can leave individuals feeling overwhelmed and with little energy or mental bandwidth for reading.
13. Shortage of Motivation
Lack of motivation can be a significant hurdle. If someone doesn't see the immediate benefits or rewards in reading, they may not feel inspired to engage in this activity regularly.
14. Busy Social Life
A busy social life can be both a blessing and a curse. Frequent social engagements and activities can leave little time for solitary pursuits like reading.
15. Perceived Boredom
Some individuals associate reading with boredom. They may believe that books are dry, uninteresting, or difficult to comprehend, which can deter them from picking up a book.
16. Difficulty Accessing Quality Content
In a world inundated with content, it can be challenging to discern high-quality resources from low-quality ones. Individuals may not know where to find reliable and engaging books or information, leading to a reluctance to read.
17. Lack of Role Models
The absence of reading role models in one's life can contribute to a disinterest in reading. If family members, peers, or mentors don't prioritize reading, it may not become a valued habit.
18. Fear of Commitment
Books often require a significant time commitment. Some individuals may avoid them due to a fear of being tied down to a lengthy read, worrying that it might interfere with their other responsibilities.
19. Digital Fatigue
Constant exposure to screens can lead to digital fatigue. After spending hours on devices for work, entertainment, or communication, some individuals may be less inclined to read from a screen or e-reader.
20. Prioritizing Other Hobbies
People have diverse interests and hobbies. Those passionate about other activities, such as sports, music, or art, may allocate more time to those pursuits instead of reading.
21. Lack of Accountability
Without external accountability, individuals may struggle to maintain a reading habit. Joining a book club or setting personal reading goals can help overcome this excuse.
22. Limited Language Skills
Language barriers can pose a significant challenge to reading. Individuals who are not proficient in a language may find it difficult to engage with books written in that language, limiting their ability to expand their knowledge.
23. Negative Past Experiences
Negative experiences with reading in the past, such as struggling in school, can create a reluctance to pick up books in adulthood.
24. Fear of Change
Expanding knowledge often involves challenging one's existing beliefs and perspectives. Some individuals may fear this process of change and opt for familiarity over personal growth.
25. Procrastination
Procrastination is a common barrier to many activities, including reading. People may continually put off reading, citing other immediate priorities or distractions.
26. Overemphasis on Speed
In a world that values speed and efficiency, some individuals may feel pressured to consume information quickly. As a result, they may skim through texts or skip reading books altogether, believing it's a more efficient way to gain knowledge.
27. Impatience
Books often require time to build a narrative or convey information. Impatient individuals may struggle with the gradual pace of reading and prefer quicker forms of information consumption.
28. Lack of Guidance
Without guidance on how to select suitable books or develop effective reading habits, individuals may remain uncertain about where to start or how to make the most of their reading.
29. Belief in Alternative Learning Paths
Some people believe that formal education, online courses, or video content are superior ways to gain knowledge compared to reading books. They may feel that these alternatives offer more engaging and interactive learning experiences.
30. Environmental Concerns
Concerns about deforestation and paper usage can deter individuals from reading physical books. They may opt for digital alternatives to reduce their ecological footprint, choosing e-books or online articles over printed materials.
Resources Consulted For This Article On: