Have you ever found yourself in a rush, trying to get somewhere on time, but then something unexpected happens that makes you late? It could be a traffic jam, sudden rain, or even just struggling to pick the right outfit.
These situations can be stressful, but it's helpful to have some good reasons for being late that people will understand. In this guide, we'll go over a list of excuses for running late that are believable and considerate.
We'll cover both the classic excuses and some unique ones, so you can handle those moments when you're running behind schedule with confidence. Whether you're headed to a meeting, a social event, or a special date, these excuses can come in handy.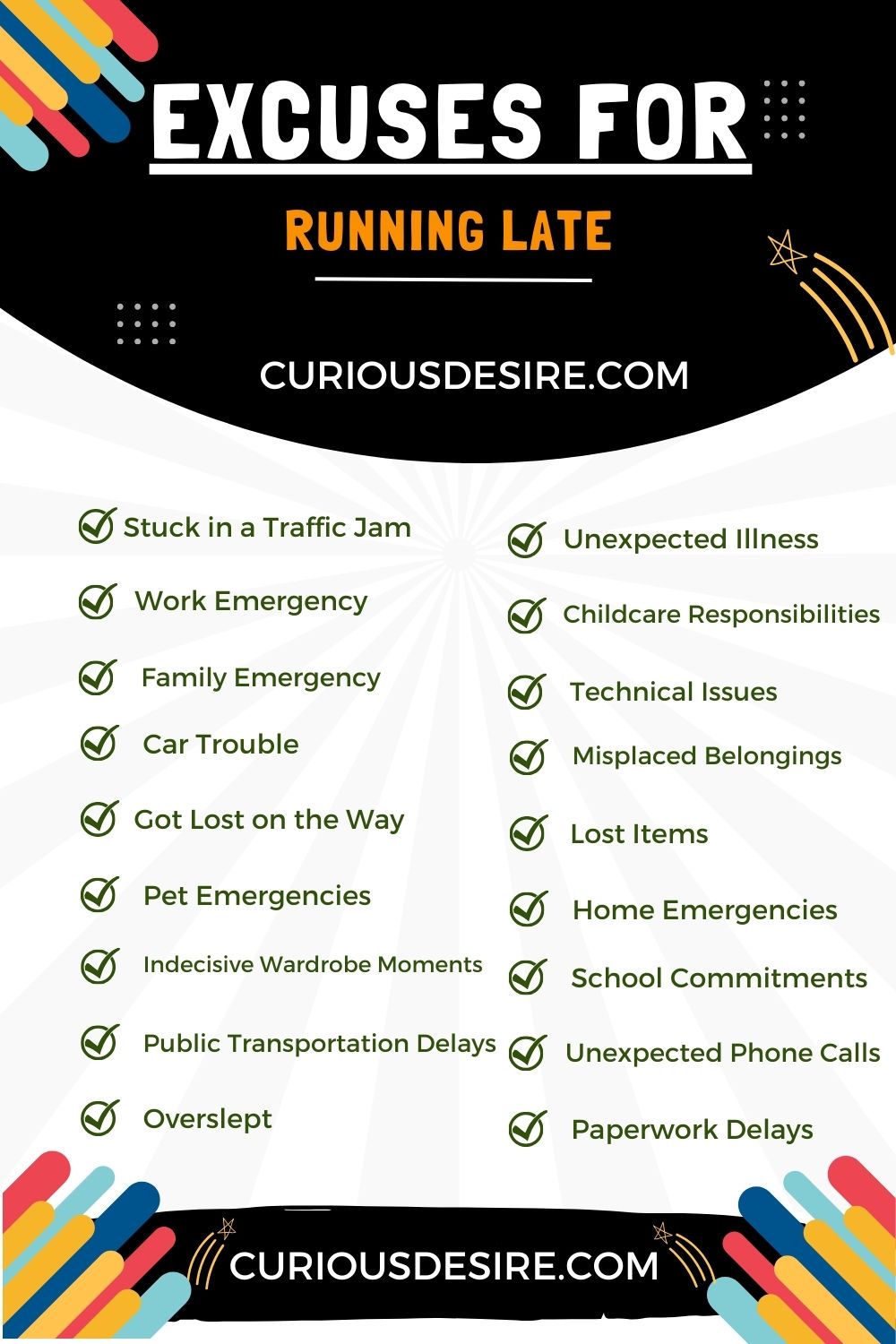 Top 30 Valid Excuses For Running Late
Life can be unpredictable, and despite our best efforts, there are times when we find ourselves running behind schedule. Whether it's due to unforeseen circumstances, unexpected obstacles, or just an honest mistake, having a set of valid excuses for running late can help smooth over those moments when punctuality slips through our fingers.
In this comprehensive guide, we'll explore 30 genuine and reasonable excuses that you can rely on when you need to explain your tardiness. From common occurrences like traffic jams and public transportation delays to personal emergencies and unexpected mishaps, we've got you covered.
These excuses are not about making excuses but rather about offering an explanation that others can understand and empathize with. So, the next time you're running late, refer to this list for an excuse that suits your situation and handle the situation with grace and honesty.
Here are the Top 30 Valid Excuses For Running Late.
1. Stuck in a Traffic Jam
We've all been there, bumper to bumper, in a seemingly endless traffic jam. It's one of the most common excuses for running late, and for good reason—it's relatable.
When you find yourself ensnared in a gridlock, remember to remain calm. Leave early, if possible, and if you get caught, don't forget to explain the situation with sincerity and apologize for the delay. Most people understand the unpredictability of commuting.
2. Work Emergency
Sometimes, urgent work assignments can throw your schedule off track. If you're facing a work emergency, it's essential to communicate it to those affected.
Notify your host in advance whenever possible so they can make necessary arrangements. Being transparent about your situation and showing that you value your commitment to the event can go a long way in understanding your delay.
3. Family Emergency
Family comes first, and a family emergency is a valid excuse for running late. It's a sensitive matter, so don't hesitate to explain the situation in detail and express your regret for not being able to attend on time.
Most people understand the importance of family responsibilities, and your honesty in sharing the reason can help others empathize with your situation.
4. Car Trouble
Car trouble can strike unexpectedly, leaving you stranded and late for your commitments. If your vehicle breaks down, honesty is the best policy. Explain that your car malfunctioned, and you had to wait for assistance, like a tow truck.
Being truthful and informing your host as soon as possible is crucial to maintaining trust. After all, no one wants their car to turn into a "POS."
5. Got Lost on the Way
Navigational mishaps can happen to the best of us. If you find yourself lost on the way to an event, blame it on confusing directions and apologize for the delay.
It's a relatable excuse, and asking for directions or relying on GPS apps can help you avoid similar situations in the future.
6. Pet Emergencies
Pets are part of the family, and when they have emergencies, it can cause delays. Whether your furry friend had an upset stomach or needed immediate attention, explain the situation with honesty.
In the case of a pet emergency, ensuring their well-being is a priority. You might have to clean up a mess or take care of them before heading out, but it's a valid reason for running late.
7. Indecisive Wardrobe Moments
Who hasn't stood in front of their closet, agonizing over what to wear? This excuse adds a touch of humor to the list. If you couldn't decide what to wear and ended up running late, you're not alone.
It's relatable because we all want to look our best. While it's not a serious delay, it's always a good idea to plan your outfit in advance to avoid wardrobe-induced tardiness.
8. Public Transportation Delays
If you rely on buses, trains, or subways, delays are bound to happen. You can explain that public transportation was running behind schedule, leading to your delay. It's a common excuse, and most people have experienced it themselves, making it relatable.
9. Overslept
We've all hit that snooze button one too many times. Oversleeping can lead to a rush in the morning, causing you to be late. Be honest about it and apologize for not managing your time well. It's a common mistake we all make from time to time.
10. Unexpected Illness
Sometimes, you wake up feeling perfectly fine, but an unexpected illness can strike suddenly. Whether it's a headache, nausea, or any other ailment, your health should come first. Explain your condition, and most people will understand that you can't control when you get sick.
11. Childcare Responsibilities
If you have kids, childcare responsibilities can occasionally throw off your schedule. Maybe your child needed extra attention or had a last-minute request. Be upfront about it, as most people can relate to the challenges of parenting.
12. Computer or Technical Issues
In today's digital age, technical issues can crop up at the most inconvenient times. Whether it's your computer freezing, internet problems, or a glitchy software update, explain the situation honestly, and apologize for the delay.
13. Misplaced Belongings
We've all had moments where we can't find our keys, wallet, or phone. It's frustrating, and it can cause delays. Explain that you had to search for your misplaced belongings and apologize for the inconvenience.
14. Unexpected Visitors or Guests
Perhaps unexpected visitors dropped by your home, or you had to attend to a surprise guest. Family and friends understand the importance of hospitality, so being honest about your situation is key.
15. Weather-Related Delays
Inclement weather, like heavy rain, snow, or storms, can impact your travel plans significantly. Mention the adverse weather conditions and how it affected your commute. This excuse is particularly valid in regions prone to severe weather.
16. Medical Appointments
Medical appointments can sometimes run longer than expected. If you had a doctor's appointment, dental checkup, or any other medical commitment, explain the reason and apologize for the delay.
17. Unexpected Work Assignments
Work demands can be unpredictable. If you received an unexpected work assignment that required your immediate attention, it's essential to convey the situation to your host and apologize for the short notice.
18. Carrying Out a Favor for Someone
Sometimes, you might be helping out a friend or neighbor with an urgent favor, like picking up groceries or assisting with a household task. Explain your commitment to helping others and apologize for any delay.
19. Public Events or Gatherings
Attending public events or gatherings can lead to delays due to factors like security checks, long lines, or crowded venues. Mention the event you were attending and how it impacted your schedule.
20. Unexpected Meetings
If you had an unplanned meeting, whether at work or with a friend, and it ran longer than anticipated, explain the situation and apologize for the delay.
21. Lost Items
Losing personal belongings like your phone, keys, or wallet can cause delays. Inform your host that you had to search for your lost items and apologize for any inconvenience.
22. Home Emergencies
Unexpected home emergencies, such as a burst pipe or power outage, can disrupt your plans. Mention the nature of the emergency and apologize for the delay.
23. School Commitments
If you're a student, school commitments like class projects or assignments can occasionally take longer than expected. Explain your school-related responsibilities and apologize for any inconvenience.
24. Unforeseen Personal Responsibilities
Sometimes, unexpected personal responsibilities, like caring for a pet or tending to a garden, can cause delays. Be honest about your responsibilities and apologize for any delay.
25. Internet Connectivity Issues
In today's digital age, internet connectivity problems can hinder your ability to join virtual meetings or appointments on time. Explain the technical issue and apologize for any delay.
26. Document or Paperwork Delays
If you were held up by document-related delays, such as printing important papers or filling out forms, explain the situation and apologize for the wait.
27. Daylight Saving Time Confusion
Daylight saving time changes can catch anyone off guard. If you miscalculated the time due to daylight saving adjustments, admit the mistake and apologize for the confusion.
28. Traveling to Unfamiliar Locations
Traveling to unfamiliar places can lead to navigational challenges. If you were delayed because you couldn't find your way, mention the unfamiliarity of the location and apologize for any delay.
29. Unexpected Phone Calls
An unexpected and important phone call can sometimes hold you up. Explain the nature of the call and apologize for any delay it caused.
30. Miscommunication or Mixed-up Plans
Miscommunication or mixed-up plans can result in unexpected delays. Mention the confusion in plans and apologize for any inconvenience it may have caused.
Resources Consulted For This Article