Clips have been a part of our life for over a century. We have been using them to tie our hair in an orderly manner and for other purposes too. This article will show you different types of clip that are being used.
22 Types Of Clip That You Might Not Know
Clips aren't something that recently got invented. You will be surprised to know that there is so much evidence of using clips or hair accessories to tie hair. Way back in the Bronze Age, bands made of solid gold or clay or lead plated with gold were used to tie hair. Let's look at the types of click below:
1. Claw Clip
This is the most common type of clip. It has 2 plates and 3 or more claws which hold your hair together between them securely. A claw clip can also be used to decorate a hairstyle with its colour or design or varying sizes. It is also called a butterfly clip, they became pretty popular in the 80s and 90s.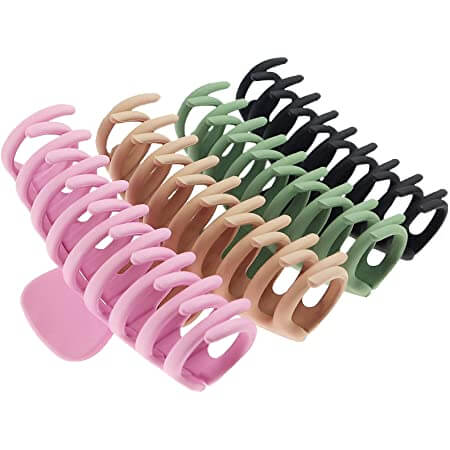 2. Snap Clip
It is also known as a snap barrette. This hair clip is pretty popular and is sold in many bright colours. They are formed out of a single piece of metal. The front part of the clip is made up of a long V-shaped section that moves along with the hair. When putting pressure on the clip, it snaps up holding the hair in place.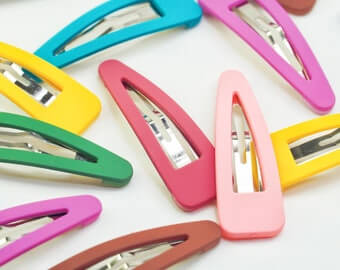 3. French Barrette
French barrette was invented in the 1960s and is still being used today. It has a fixed jaw just like a claw clip but it also has a second fixed jaw at the back to ensure that your hair is held together tightly. These clips are used to secure long hair and side braids or bangs.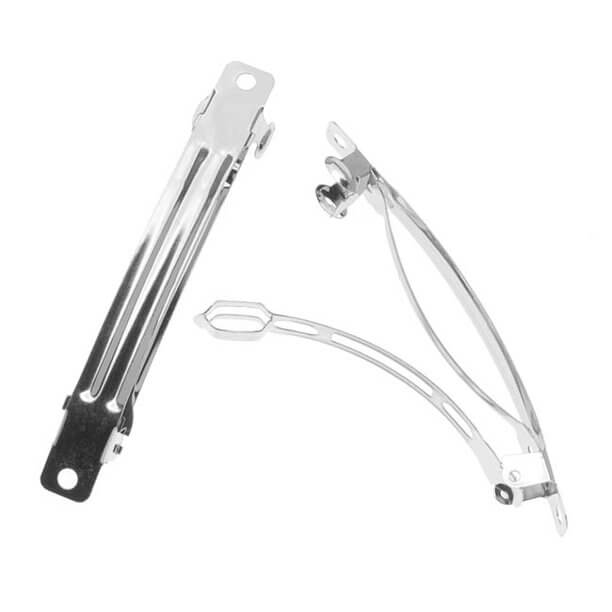 4. U-clip
It was first seen in the 1920s and is still being used today. It is a V-shaped clip with two prongs facing each other on one end and a handle on the other end. The shape of this clip makes sure that your hair is held together tightly and the handle lets you control the size of the V giving it a different grip on your hair.
5. Slide Clip With Stick
These types of clips are ideal for people who love fans, Celtic and Viking lovers. It is also good for wearing at a party, banquet, or wedding. These are great to give a little extra touch to your hair styling.
6. Spring Clip
This kind of clip has two clips that are attached by a small metal spring. This clip comes in different sizes according to the weight of your hair. Generally, it is used for short hair or bangs. It can also be used to create sleek styles.
7. Bobby Pin
Every girl has stashed this item in their essential bags as it is pretty light and easy to use. Many of us have also experienced that when in need it is nowhere to be found. It is also known as side-gum or Kirby grips. They are useful for keeping your hair neat.
8. Classic Hinged Snap Clip
They are also known as crocodile grips. It is a small clip that you can attach to your hair using the teeth on either side of it. A classic hinged snap clip has 2 pieces of metal attached with a hinge in between them. These clips come in various shapes and sizes from large ones made for short hair to small ones made for thin hair.
9. Hair Stick
Hair sticks are commonly known as kanzashi in Japan, where they are used widely in traditional Japanese hairstyles. They were also observed in ancient Egyptian art and some other historical periods of Asian countries. It can be made of wood or metal with different patterns on it depending on the culture.
10. Banana Clip
These clips are large, on average about 6 inches in length. It is mostly used by people with long hair. This clip has teeth on both sides and will lock your hair in place. People loved it because it made their hair look even longer.
11. Double Prong Curl Clip
It is a small clip with two prongs and a handle attached at the end. This clip has been used since World War II to create 1940s curls and poodle styles. It was very popular in the 1990s as well.
12. Alligator Clip
These clips are the most difficult to use out of all other types. You have to put your hair in between the two metal pieces which are then attached with a clamp. It is named after its shape, looks like an alligator's mouth.
13. Duckbill Clip
It has two V-shaped teeth on either side. To hold your hair in place, you have to slide your hair between the teeth and close it. First introduced in 1946 by a company named Goody, it is still widely used today for ponytails and buns. They are quite similar to alligator clips and are easily used by a hairstylist.
14. Mini Shaped Clips
Smaller clips are designed to hold a small amount of hair. They are also best for small kids as they have pretty fine hair. There are many pretty designs out there to style your kid with.
15. Minimalist
Usually, we see big clips used to tie hair but they don't go with all occasions so in that case, you can choose a minimalist design. These types of clips work well with most of the outfits.
16. Embellished
These types of clips enhance the overall look of your dress. This way you can style your hair so that it is just as fancy as your outfit. They aren't for everyday outfits but special occasions and events.
17. Ribbon Clip
This small clip has two ribbons attached at one end and a small grip at the opposite end. It is mostly used for making kids' pigtails and other stylish hairdos.
18. Hair Fork
This hair accessory was first seen during the 1900s, they are made of two forks attached with a small bar to hold them in place. They are popularly known for their cute look and the variety of designs they come in.
19. Hair Stick
These hair accessories are similar to hair forks but longer with no handle on them; it is also known as double prong or kanzashi (Japan). A common design has a kanzashi attached on either side of the stick. These are mostly used to hold up your ponytails and other hairstyles.
20. Ringlets
This is a small clip with two or more loops at the end which will help to make your ponytails wavy and look beautiful. They come in different colours and designs so you can choose the one that matches your dress.
21. Pearl Hair Clip
It is a clip with a beautiful pearl attached either at the top or bottom or covered entirely. These clips are perfect for special occasions and complement your outfit very nicely.
22. Bumpit Hair Pins
These hairpins are designed to give you a bump at the top of your head and cover it. mostly used by women with thinning hairlines and for those who want to gain more volume and height.
Types Of Clip – Conclusion
Hair accessories have been used since ancient times and are also used to hold or convey individual social status. Today we use them to convey our unique style and personality. Hair clips are commonly in use by people and now you know that there are many types of the clip out there that you can style your hair with.
Reference