Cooker hoods are a must in most kitchens where stoves and ovens have heavy cooking times. They help cut the unpleasant smell by removing the smoke from your kitchen. There are different types of cooker hood to choose from, depending on your needs, preference, and style.
12 Types Of Cooker Hood That Everyone Needs To Know
The cooker hood works by drawing air in from the kitchen, trapping the cooking fumes and steam, filtering out harmful particles, and pushing out clean air. They are mostly made of stainless steel.
When thinking about buying a cooker hood, you should take into consideration your kitchen size and cooking habits. For smaller kitchens, you might consider buying a slimline or under-cabinet cooker hood to save on space.
1. Extraction Hoods
Extraction hoods effectively extract smoke and other fumes from the air. These cooker hoods simply send the air outside through ducting. Funnelling the air out is the more efficient way but it can be loud as it needs more power to push the air out. They are made of metal, aluminium, or stainless steel and come in a variety of styles for you to choose from.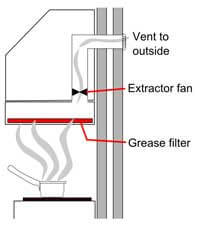 2. Recirculating Hoods
Recirculating hoods push the air through a filter to remove the smell and then introduce the air back into your kitchen. They are mostly used in smaller kitchens where it is not possible to install ducting. The filters need replacement regularly depending on the level of cooking you do. They are more economical as they use less power and it is easier to install them without causing damage to walls, furniture, or appliances.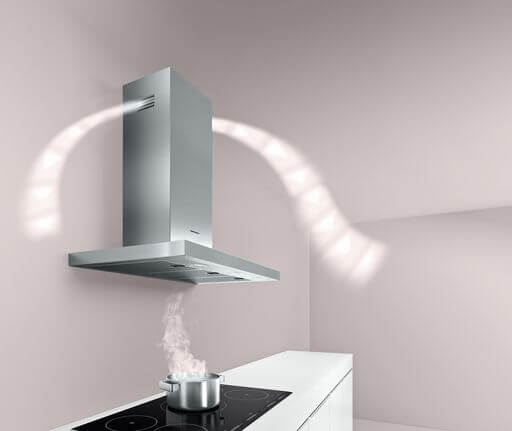 3. Integrated Hoods
The hidden style of cooker hoods is integrated into the kitchen cabinets. To fit in with your kitchen it is no more than a protruding piece of metal that matches the rest of your furnishings. The drawback being they do not have an extractor fan so they are not as powerful and cannot filter out smells on their own. It needs to be connected to extractor fans from your stove.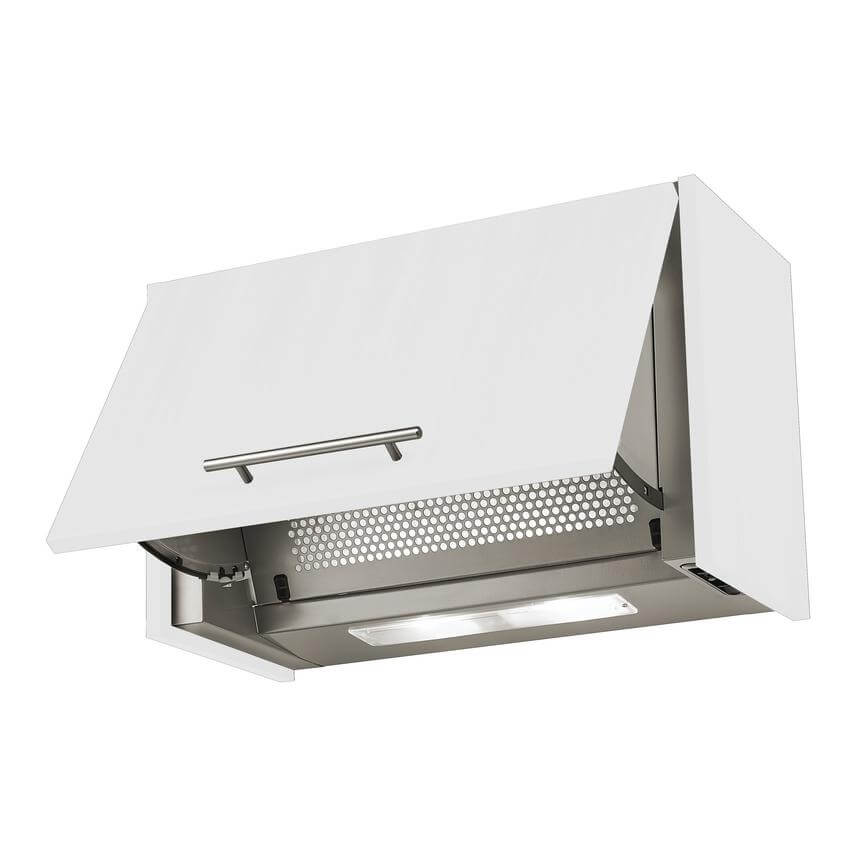 4. Conventional Hoods
This type is fitted to the underside of a wall unit and can be hidden behind cabinets and shelves. As the name suggests they are conventional in that they have a pull cord for when you want to use them. They are fitted with an extractor fan that draws air into the unit through the filter under your cooking surface where it is then pushed up into the hood.
5. Chimney Hoods
Chimney hoods are the sleekest design of the hood. It has become a popular option in recent years because of its ability to make a stylish statement. They work by drawing air down through a chimney so you do not need to install ducting. You can then filter out smoke and smells or recirculate them into your kitchen using an extractor fan. It is usually made of stainless steel, this style brings in an industrial or urban edge to the kitchen.
6. Island Hoods
These types of the hood are made to complement a kitchen island hob. It can be integrated into the ceiling to make a stylish focal point. It comes in both modes of extractor and recirculation. The recirculating models can be used as a slide-out grill.
7. Downdraft Cooker Hood
This type of hood is designed for use with an induction hob where it sits below the cooking surface. It does not fit in every kitchen, but its sleek design makes it a popular choice when possible. They are easy to clean and often come in stainless steel.
8. Canopy Cooker Hood
Canopy hoods are mounted on the surface of your hob or stove. They are manufactured using stainless steel, plastic, or black enamelled metal, then coated in white polyester paint to give them a clean look.
9. Under-Cabinet Cooker Hood
This type of cooker hood is usually small and installed under your cabinet where you can reach it easily. They are manufactured using the same materials as canopy hoods but are usually smaller in size. You can use them to clear out smoke or steam quickly without having to pull the full hood down over your hob.
10. Angled Hood
These cooker hoods are another form of chimney hood. This type of hood comes in a stainless steel or plastic construction. It is popular for use with both gas and electric hobs.
11. Venting Hob
The venting hob has a cooker hood built into the centre of the hob itself. It would cost more but it gives you a two-in-one option. It can take up a lot of space so you should consider whether it would work for your kitchen.
12. Dishwasher Hood
This type of hood fits onto the side of your dishwasher and clears away steam from inside the appliance as it works. It is another efficient use of space if you have enough room to install one.
Types Of Cooker Hood – Conclusion 
Ultimately choosing the type of cooker hood that will suit your kitchen is all about personal preference. It is important to consider the size of your kitchen and appliances before making a decision. Your lifestyle can also impact what type you choose, if you are messy then it would be best to get an extractor hood with filters, but if you're not a fan of cleaning then a recirculating model may be best.
References