Colleges are important in our society because they help students to grow both personally and professionally. College is a time for students to explore different academic and career opportunities as well as a time to discuss important social issues.
Overall, colleges are an essential part of student development and should not be overlooked by parents or students. This article will cover different reasons why college is important.
15 Benefits Of College For Students
Every year thousands of students go off to college. They do so with the expectations of getting a degree, meeting people, and having fun. College provides students with the opportunity to grow as an individual, try new things, and gain access to some of the best opportunities out there.
 If you are currently questioning whether or not it is worth it, then check out these fifteen benefits that will re-think your perspective on its value for students.
1. College Helps The Students To Make New Friends
When you are in college all the students around you are in your age group and they share similar interests and views to you. This ensures that you can quickly find friends who will enjoy the same activities as you and have a good time together!
Socializing is especially easy because students in universities or colleges don't judge one another for what they look like or what they are wearing.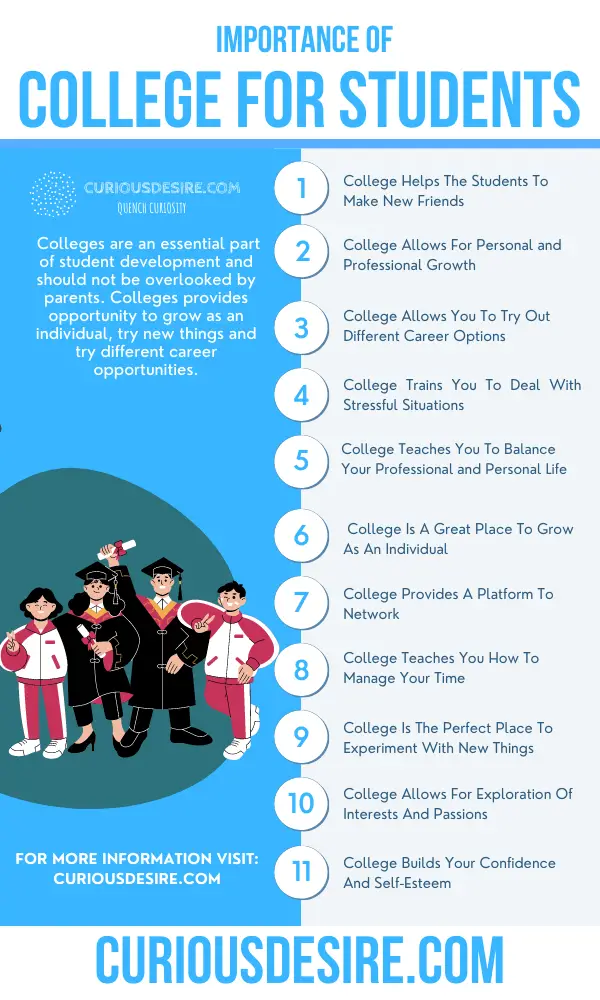 2. College Allows For Personal and Professional Growth
One of the best things about college is that it allows for personal and professional growth. You can explore your interests, meet influential people within your industry, participate in projects, and so on.
This gives you a chance to learn more about yourself as well as grow outside of your comfort zone. Earning a college degree is empowering it boosts your confidence and gives you a sense of achievement.
3. College Allows You To Try Out Different Career Options
When you are in college, the variety of courses that you can take is practically unlimited. This means that you will be able to try out different career options and figure out what it is that you want to do with your life.
Since every course has its own very unique set of skills, you can try many courses at once or go for a double major. College degree holders can have 57 percent more opportunities than non-graduates.
4. College Trains You To Deal With Stressful Situations
Life is full of stress, but college teaches students to deal with pressure healthily. This means that if you are under stressful situations, you know how to manage them better. This can save you a lot of heartache in your professional life.
College also helps you to build stress-resistant relationships with people around you.
Reference Video-The Importance Of College
5. College Teaches You To Balance Your Professional and Personal Life
In the real world, there is no such thing as work and life balance unless you manage it yourself. College teaches students to balance their professional and personal lives. From time management to prioritize your tasks, the college has many skills that you can use to advance your career further.
When you are in college life so you will know how to manage your college life as well as personal life this also helps you in future.
6. College Is A Great Place To Grow As An Individual
Although people go to college for all kinds of reasons such as to earn a degree, have fun, etc., the biggest benefit is to grow as an individual. Colleges offer a clean and distraction-free environment where students can focus on themselves and their interests.
Since you can experiment with new things, you gain clarity on who you are as a person and what you want from life.
7. College Provides A Platform To Network
 College is the perfect platform for networking. You may not be able to make as many connections as you would if you were in a professional environment, but it is still a great place to start. Networking opens up new opportunities for you.
 It also teaches you the skills needed for networking with influential people within your industry. When you find a mentor, they can help you guide different career options that will help you in the future.
8. College Allows You To Achieve Your Goals
No matter what your goals for life are, college teaches you the skills needed to achieve them. The college provides a time-bound environment where students can focus on what they want from their lives and how they plan to accomplish those goals.
As we know that colleges not only give theoretical learning, but they also give opportunities for the student to learn by practical learning. This helps many students to achieve their goals by learning from practicals.
9. College Teaches You How To Manage Your Time
College not only teaches you how to manage your time but also gives you the tools needed to make it work for you. With all of the different classes and projects that students have to juggle together with their personal lives, college helps students learn how to manage time efficiently.
College's students come to know how to manage their time efficiently as there are more than 5 to 6 subjects per semester and every subject has its tasks. So, they manage the time to complete all the tasks of every subject before the deadline.
10. College Is The Perfect Place To Experiment With New Things
College is the perfect place to experiment with new things without having to worry about any serious consequences. You can try out things like writing, dancing, singing, etc., and see what you are good at. If a college allows you to experiment with different skills, it also helps you to discover your passions, interests, and strengths.
11. College Provides Exposure To The Real Workplace
During college, it is common for students to have summer internships or jobs where they can experience professional life firsthand. Since most of these are paid positions, it opens the door for aspiring students who want a leg up on their professional careers.
12. College Helps You Link Theory To Practice
 A big part of college is learning through theory and application, linking the two together is almost like solving a puzzle. With all the different subjects that you study in college, it allows students to link their theories with practice and experience.
13. College Allows For Exploration Of Interests And Passions
The college encourages students to explore their interests and passions, allowing them to discover what they love doing. Since college provides a clean environment without any distractions, it allows students to take up courses that interest them rather than forcing them to go with the flow.
14. College Helps You Find A Mentor
College helps you find a mentor who can help guide your journey. Since college provides an environment where you are surrounded by older students, it is easier to connect with someone who has more experience than you.
By finding a mentor you can expand your professional network they help you in finding your career positions.
15. College Builds Your Confidence And Self-Esteem
By attending college, it allows students the opportunity to build their confidence and self-esteem through obtaining new skills and meeting friends who share similar interests. Since college is an environment filled with positive people, it can help students build strong social relationships.
As college helps students to boost their confidence by interacting with new people which also helps to increase their social interaction.
Importance of College-Conclusion
By reading this article we come to know the value of college for students. As college helps the students in character building in four years. College helps the students to try different career options during these years and they can also achieve their goals.
References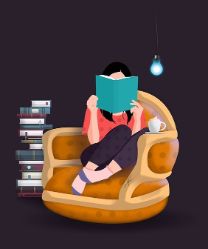 Hello, I am Aatka Azhar. I have done bachelor's degree in Computer Science. Writing articles is my passion through which I explore so many things. So, I am using my passion by working here and it will be the source of knowledge for the readers.