When it comes to building a strong financial future, one of the most important things you need is good credit. Whether you are trying to get a personal loan or apply for a line of credit, having a great score can help you achieve your goals and save tons on interest costs along the way. This article will discuss why credit is important.
However, unless you have been living under a rock for the past few decades, you probably know this already. What you might not understand is why your credit score is so important. After all, it seems like every second finance article talks about how having a poor or average credit score can hinder your life and make building wealth seem impossible.
15 Benefits Of Credit That Can Help You Financially
This article will give you 15 reasons why credit is so important. By the time you finish reading, we hope you will have a much better understanding of the role credit plays in our lives and why it is so important to maintain a good score.
1. Credit Score Can Help You Get Low-Interest Loans
One of the main benefits of having a good credit score is that you will be able to get low-interest loans and credit cards. This can save you a lot of money in the long run, as high-interest rates can quickly add up and cause you to fall deeper into debt.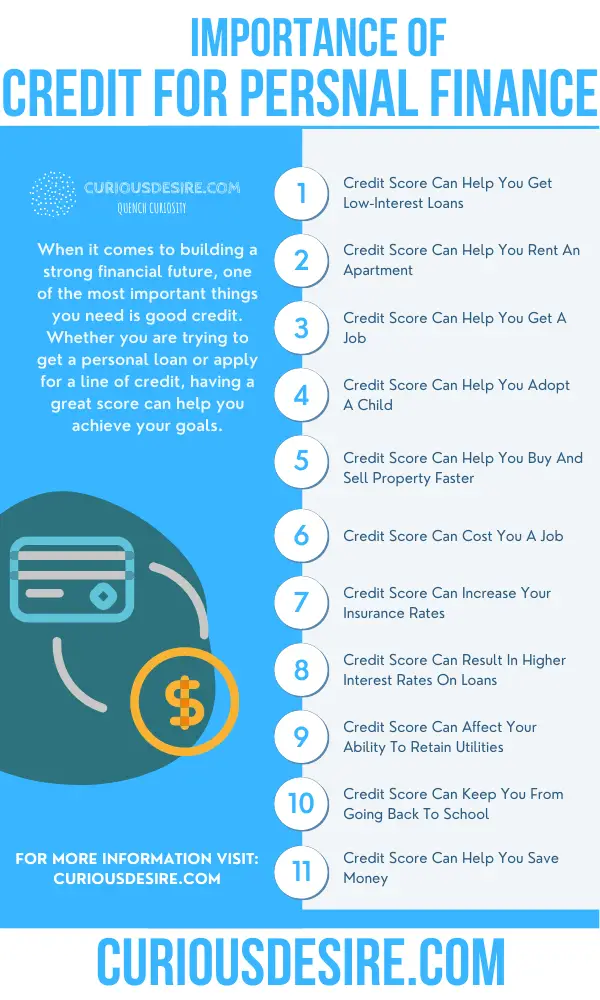 2. Credit Score Can Help You Rent An Apartment
If you are currently looking for an apartment, having a good credit score can help your chances of being approved. Landlords often check potential tenants' scores to see if they are trustworthy and able to pay their rent on time each month.
3. Credit Score Can Help You Get A Job
While most landlords check out the credit scores of prospective renters, some employers go even further by running credit checks on potential employees. Companies can be wary about giving them access to sensitive information or letting them handle money. Unfortunately for job-seekers with poor credit, have a difficult time getting hired, unless of course they have great references and are perfect for the job.
4. Credit Score Can Help You Buy A House
Another benefit of having good credit is that you will have a much easier time getting approved to buy a house or car. A lot of us dream about owning our own home, but without good credit, this might not ever happen. With that being said, even if your score isn't great, being prepared can make all the difference in the world when it comes to applying for these types of loans and receiving approval.
Related Video – Money and Credit
5. Credit Score Can Help You Adopt A Child
While most people would agree that having children is one of life's most rewarding experiences, unfortunately, adoption costs are high enough that they require financing. With that in mind, most agencies will want to see that you can support yourself and your family before they will allow you to adopt any children. A good credit score is a key component of demonstrating this ability, so if you need to buy a house or rent an apartment, having a great credit score can help make this process much easier.
6. Credit Score Can Help You Buy And Sell Property Faster
Having access to great credit can also give you easy access to financing when it comes time to buy and sell the property. Whether you're trading up from your first home or downsizing into something smaller after the kids have moved out, getting approved for these types of loans quickly and easily is important.
7. Credit Score Can Cost You A Job
Unfortunately, bad credit is a fact of life for many people and can negatively impact your life no matter what stage you are at in your career. Some employers have been known to check potential employees' credit scores when assessing whether they should be hired. And while it might not be right or fair, this practice has become so common that it could cost you a job if you have less than stellar credit.
8. Credit Score Can Give You A Hard Time Finding Home
For renters with bad credit, finding an apartment isn't always easy – even if have excellent references and good income. Many landlords will run a credit check before approving an applicant, and if your score is low you might not be allowed to lease from them.
9. Credit Score Can Increase Your Insurance Rates
Believe it or not, one of the ways that insurance companies determine how much to charge their customers is by looking at their credit score. This means that if you have a low score, you can expect to pay more for your car, health, and home insurance policies each month.
10. Credit Score Can Result In Higher Interest Rates On Loans
One of the most obvious ways that bad credit can hurt you financially is by increasing the interest rates you pay on any loans you might take out. This can add up quickly, especially if you have to take out a loan for an emergency.
11. Credit Score Can Affect Your Ability To Retain Utilities And Other Services
For many of us, the only time we think about our credit report is when we're applying for a job or leasing an apartment. However, this isn't the only time it affects our lives, if you forget to pay your gas bill on time one month and wind up with a $100 late fee tacked onto your next statement, that's also going to show up on your credit report. Eventually, poor payment history can even cost you access to utilities altogether!
12. Credit Score Can Keep You From Getting Loans From Friends
One aspect of life where having bad credit can hurt is when you need to borrow money from someone else. If your credit score is in the tank, a family member or a friend could deny your request for a loan because they don't want the risk of lending you money and never getting repaid.
13. Credit Score Can Keep You From Going Back To School
For students going back to school, being able to get into college or university is already stressful enough but if you have poor credit, it can make this process even more difficult. Funding scholarships are sometimes contingent upon whether an applicant has good credit, so if your score isn't where it should be many schools will assume that there's no way they'll ever see their money again. As a result, some of these institutions might not allow you to attend their school at all.
14. Bad Credit Can Result In Deposits When Renting A Home
If you're lucky enough to find a landlord who is willing to rent to you with poor credit, you can expect one thing, they will likely require you to put down a sizeable security deposit. This is because landlords often see people with bad credit as more of a risk, and they want to make sure that they're able to get some of their money back if you don't pay your rent on time or damage the property.
15. Credit Score Can Help You Save Money
Believe it or not, one of the benefits of having good credit is that you can save money on some of your monthly expenses. This is because many companies offer lower interest rates to customers who have high credit scores, so by maintaining a good credit rating you could wind up saving quite a bit of cash over time.
The Importance Of Credit – Conclusion
Know you understand why credit is important. While some of them might be obvious, others are probably less so. But the fact remains that if you want to be successful financially, having a good credit score is essential. So be sure to keep on top of your credit rating and work to improve it whenever you can!
References