Have you ever shared or given the things you have in your possession? Or do you know what pleasure this could bring in your life? If not, this article will make sure you acknowledge how this is changing the world and your personality.
There are many reasons why giving is important. It makes the giver happier, healthier, and more satisfied with life. It also strengthens communities and gives societies a better chance to succeed. In short, giving of yourself is good for you and the people around you.
In this article, we take a closer look at some of the benefits of giving. We present 15 reasons why sharing and charity are beneficial for everyone involved.
15 Benefits Of Giving Explaining Why It Is Important
Giving is making the world a better place to live. You will realize the value of yourself and the people around you. The 15 benefits of giving are stated below, which might make you share and do charity how much ever you can.
1. Giving Makes You Happy
People who give are happier because they have a purpose in life. That is bigger than themselves. They feel connected to others and therefore have higher self-esteem. Sharing thing they have with others makes them reliable people.
They feel happy when they help a person in need. The moment, they see a person in distress and facing any financial problem. Then they will not feel relaxed unless they help the needy person. They feel more valued and worthwhile and therefore have higher life satisfaction.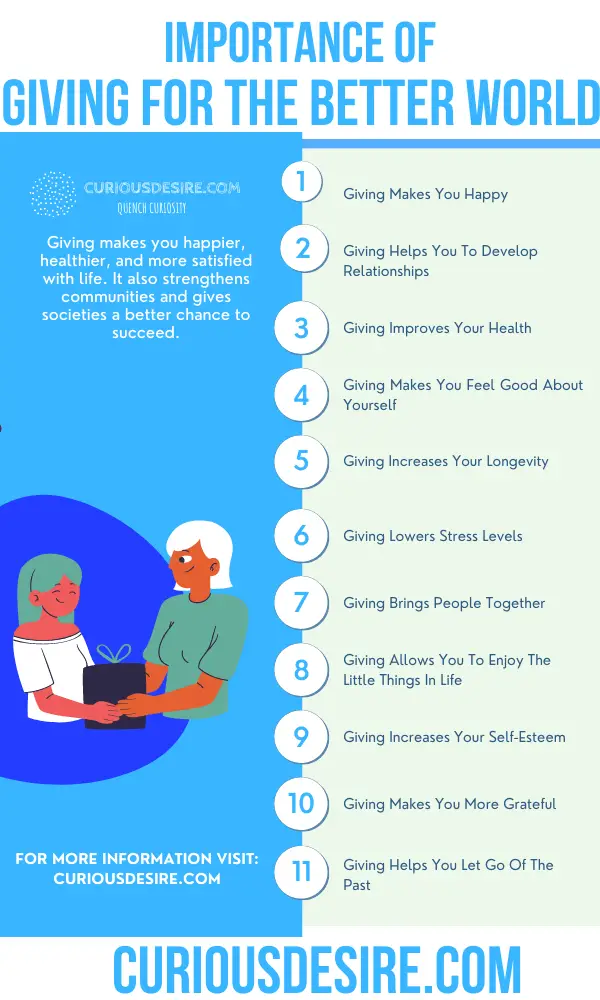 2. Giving Helps You To Develop Relationships
The act of giving can strengthen your relationships with other people by creating positive feelings in them towards you. Nothing can compare with the feeling that comes when someone does something for you unexpectedly.
People who love to do charity are more caring by nature. They feel more about people living with them. They feel free to share their stuff and even their personal space with others. Their personality makes them good partners.
3. Giving Improves Your Health
There are many benefits to giving, particularly for your health. For one thing, it can reduce stress levels through the decompression that happens when thinking about others.
It releases serotonin and oxytocin, which are feel-good hormones. It reduces your blood pressure and increases dopamine to make you happier. Giving has also been shown to boost the immune system. It creates an increased sense of purpose which brings about positive emotions.
4. Giving Makes You Feel Good About Yourself
Giving also makes other people love and respect you more. It shows that you are a caring person who has empathy for others. When you see others consider you as worthy and reliable. It makes you feel good about yourself.
Related Video – The Power of Giving
5. Giving Increases Your Longevity
A study conducted by a professor at the University of Exeter Medical School showed that people who volunteer live longer than those who do not. The social aspects of volunteering for others increase our well-being. Therefore, it prolongs life, as well as reduces stress levels.
6. Giving Lowers Stress Levels
When you give to others, whether it be time or money, you are helping them out and taking away their worry. It makes you feel good about yourself. It means that your stress levels will drop. Feel-good hormones produced by giving and doing charity will lower your stress level.
7. Giving Brings People Together
When you do something good like sharing or giving, it brings people together. Because it lets them know that we are all in this together and we should support each other. When they give or share, others will feel more connected to them.
You will be more willing to return the favor than if you had done nothing at all. It will bring the people close to you. They know you can be proper support to them, whether this is financially or emotionally. People feel free to share their emotions with you because they know you will value their feelings.
8. Giving Allows You To Enjoy The Little Things In Life
You will enjoy things more when you share because sharing helps us value the little things in life. Such as friends, family, love, and happiness. When you learn to give what you have to others so you appreciate the things you have more.
It helps you enjoy life because you are not dwelling on what you haven't got. Instead, you are valuing and appreciating everything good in your life.
9. Giving Increases Your Self-Esteem
Sharing and giving make you feel more valuable as a person. It is because it can help you achieve your dreams. You put your ideas into action that brings you closer to living the life whichever you want. You focus less on trivial matters and thoughts. Therefore, it increases your self-esteem.
Instead of questioning yourself, whenever you give you know you are doing something good and right. It will boost your confidence to be yourself even more than before.
10. Giving Helps You Let Go Of The Past
When you give, you let go of your past mistakes and regrets because you move on from them. Instead of thinking about what might have been or dwelling on the things that you did wrong in the past.
When you give it gives you something positive to focus on which helps ease any negative thoughts or feelings away. This leaves way for unconditional love and peace of mind which will bring you everything good in life including abundance and prosperity.
11. Giving Makes You More Grateful
People who give are more grateful. They know that life is short each new day brings with it a new blessing and opportunity. These blessings and opportunities can be shared and given to others. Gratitude is one of the most powerful emotions.
You can feel grateful because it brings you joy, fulfillment, peace, and love. These are all qualities that drive happiness and success in life. The more you give, the more you feel grateful for these things you have.
12. giving Makes You Appreciate Things More
When you give you appreciate the things you have more. Because you are not taking your possessions for granted. When you give, it makes the things that you own feel more special to you. Those things become a blessing in your life rather than a burden.
13. Giving Is Good For Your Community
People who give are more involved in the community. They volunteer, spend time with their neighbors, and take an interest in those around them. This is good for society as a whole because people end up feeling closer to each other and taking care of one another.
14. Giving Is The Key To A Successful Life
Most people admire success but few know that to achieve the success you have to give. Give your time, talents, and energy to something bigger than yourself. Sharing can be difficult at times but it is rewarding because not only are you giving, you are living the life you want for yourself.
15. Giving Makes You Feel More Content And At Peace
When you give, it makes you feel more content and at peace with the world. You know that your gift has helped someone else who needs it more than you do. When you give to others, it reminds you of how good life can be and what your purpose is on this planet.
Giving helps you feel more connected to each other which leads to a happy relaxed state of mind where joy, love, and inner peace flow freely.
Importance Of Giving – Conclusion
If everyone begins to believe that what they do matters. Each person's contribution, even if it's just a little bit, could change the world. You see all your efforts working together to create something beautiful out of your differences.
This is why it is important to give, share and do charity whenever possible because you never know how many lives you will touch with your sharing. Giving will create a happy and stress-free environment for everyone to live in. Giving will allow you to appreciate and feel grateful for the thing you have.
References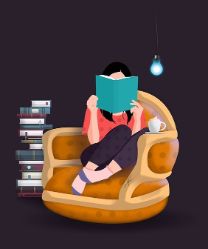 Samra has completed her master's in literature & loves to write about topics that piques her interests. Here, she is working on exploring that importance of things that matters to her.