Higher Education is important because it helps an individual to gain knowledge and skills that can be used in the future. It is a way for students to prepare themselves for the career they choose and create opportunities for better employment.
Higher Education allows students to connect with leaders in various fields of study who were once just like them. They can share ideas, knowledge, and experiences that they have gained throughout their years of learning. Here are the reasons why higher education is important.
15 Benefits Of Higher Education For Human Life
The importance of higher education has been widely debated, and in the past, many people seemed to believe that education was not as important as it is today. However, in this day and age, people have realized the importance of higher education which has made them change their minds about its true value.
When we look at all of the benefits of higher education, it is easy to see why many people have begun to value it so much. Here are some of the main benefits that come from going through higher education.
1. Higher Education Provides Opportunities For Better Employment
Higher Education not only provides skills that may be used in the future, but it increases one's possibilities of getting a job. Many companies or employers find people with degrees more attractive than individuals without degrees, which makes having a degree very important when it comes to getting hired by their company.
It also has an advantage for them to send employees for further training to keep up with the current trends.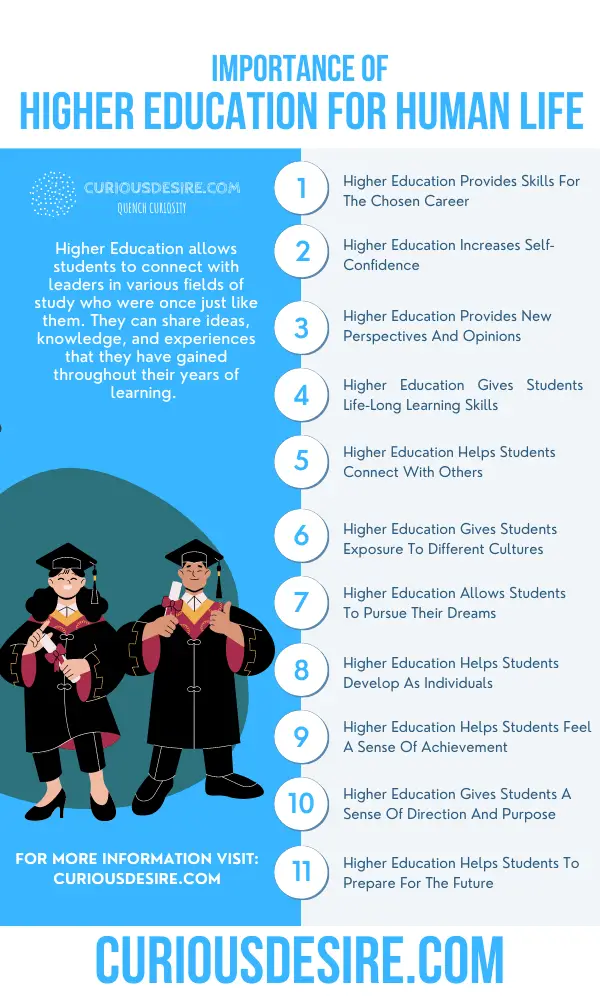 2. Higher Education Provides Skills For The Chosen Career
Higher Education does not only provide an advantage when it comes to employment but in gaining the skills needed for the future career path of an individual. Students can gain new knowledge and expertise that can be used in their chosen field of study when they graduate.
3. Higher Education Increases Self-Confidence
Having a degree can help boost students' confidence as they can become more aware of the things that they have been taught throughout their years in Higher Education. They learn how to work towards their goals despite any challenges they may come across and this boosts their self-confidence.
4. Higher Education Provides New Perspectives And Opinions
Higher Education opens up the minds of students to new ways of thinking and allows them to gather new perspectives that they have never encountered before. This can help them be more open-minded when it comes to their views on certain issues, which can create a better understanding among other people in society.
Reference Video – Benefits Of Higher Education
5. Higher Education Gives Students Life-Long Learning Skills
Higher Education allows students to learn more about themselves and what they are capable of doing. It also teaches them to never stop learning throughout their lives which helps decrease any possibility of feeling bored.
They will always have something new to learn in life whenever they wish to do so.
6. Higher Education Helps Students Connect With Others
Higher Education does not just teach students how to be more responsible and determined about their own goals, but it allows them to connect with others who are in the same field as they are. This allows them to share ideas and knowledge which will help them achieve their goals faster.
 It is also a good way for students to build relationships with others in their chosen field of interest which can turn into friendships or even romantic relationships.
7. Higher Education Gives Students Exposure To Different Cultures
Higher Education allows students (who are not from the same country) the opportunity to be exposed to different cultures and people which can help them become more tolerant and understanding towards others. They can recognize different cultures and be more open about them, which is a good trait to have in society today.
8. Higher Education Allows Students To Discover Themselves And Their Goals
Higher Education allows students to discover themselves and their true goals in life that they may not have been aware of before enrolling in Higher Education. They are also able to understand what they want to achieve and how they will go about achieving those goals, which will help them become more determined and responsible as individuals.
9. Higher Education Helps People To Gain A Better Understanding Of The World And Society
Higher Education helps people gain a better understanding of the world and society around them by allowing them to explore different cultures, beliefs, values, and other aspects that make up our society.
This is because once students gain an education, they are more likely to understand the impact that their actions have on others in society which leads them to gain a better understanding of their own culture and beliefs, among other things.
10. Higher Education Allows Students To Pursue Their Dreams
Higher Education allows students to pursue their dreams and passions in life despite any difficulties or challenges that they may come across. This is because students will always have the support of the people around them which can help them achieve anything that they put their mind to.
11. Higher Education Helps Students Develop As Individuals
Higher Education helps students develop as individuals by allowing them to think about their strengths and weaknesses. They can focus on self-improvement and how they can become the best version of themselves, which is a very important quality to have as an individual in society today.
12. Higher Education Gives Students A Better Sense Of Responsibility And Determination
Having degrees and other qualifications gives students a better sense of responsibility and determination. It will make them feel more valued as a person because once they complete their higher education successfully, it allows them to land a job in a field of interest which helps them become more valuable for that aspect of life.
13. Higher Education Helps Students Feel A Sense Of Achievement
When students have a degree, it gives them a sense of achievement which is very beneficial for their mental health. Many benefits come from having higher education, and this is one of the most important ones to have in life because it allows people to feel more accomplished with what they have achieved in life.
14. Higher Education Gives Students A Sense Of Direction And Purpose
Higher Education gives students a sense of direction and purpose by allowing them to stay focused on what they are passionate about, their goals, and how to get there. This is because once students get into Higher Education it helps them learn more about themselves which will help them achieve their goals. After all, they will know what they are striving to achieve.
15. Higher Education Helps Students To Prepare For The Future
Having a degree not only gives students the skills that may be useful for their future careers, but it also gives them the qualifications needed to land a job in their chosen careers. In addition, Higher Education also provides students with the knowledge and education that they need to meet all of society's qualifications for entering different places such as universities or colleges.
Importance Of Higher Education – Conclusion
By reading this article we came to know its importance for human life. The importance of higher education cannot be stressed enough, and currently, everyone needs to have some form of higher education.
This is because by completing these courses students can broaden their horizons which allows them to develop new skills that can help them with their careers or future goals. Higher Education helps students develop as a person and helps them to become confident in their abilities which is a valuable trait to have.
References
.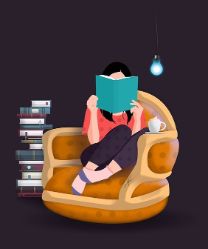 Hello, I am Aatka Azhar. I have done bachelor's degree in Computer Science. Writing articles is my passion through which I explore so many things. So, I am using my passion by working here and it will be the source of knowledge for the readers.