By now we know that HR is important for any organization. But that doesn't mean every company values it just as equally. Unfortunately, some companies are ignorant of the benefits of having a good Human Resource Department.
 If you're considering restructuring, downsizing, or just being picky about your company's next hire, you'll want to make sure a proper Human Resources Department is in place. And while some may not understand why HR is important, there are many reasons to consider it.
15 Benefits Of HR For An Organization
The best thing about having a Human Resources department in your business is they can help you with so many things. They have the knowledge and experience to make an organization run smoothly.
Here are 15 benefits why Human Resource Department is important for an organization.
1. HR Department Will Find You The Best Talent
A competent HR team knows how to recognize the potential in a candidate and knows what it takes to get the right person for the job.
An expertly trained Human Resources team will be able to figure out which skills are most relevant, even if they are not fully developed yet, and they'll be able to identify the best-fit prospect for your organization.
HR department focuses on the talent of employees so that this can be helpful for the future of an organization.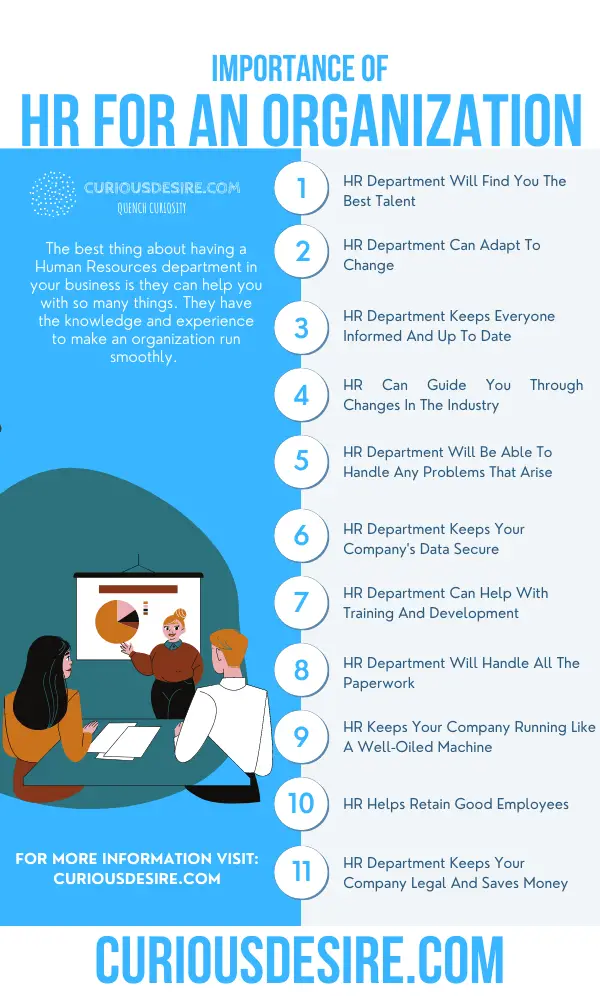 2. HR Department Can Adapt To Change
The most effective HR team is one that can overcome obstacles and adapt to change as it comes. There will be times when your business needs to switch gears and HR can back you up. The right team knows how to create a smooth transition from one project or goal to the next, making it easier for everyone involved.
3. HR Team Will Ensure You're In Compliance With State And Federal Laws
You can't assume any company is 100 percent legal. Between hiring policies, overtime pay, age restrictions, insurance regulations, and more, there are plenty of rules to follow. With the right HR team on board, you won't have to worry about crossing that fine line into illegal territory.
They'll help you stay out of hot water by making sure everything is up to code and in compliance.
4. HR Department Keeps Everyone Informed And Up To Date
There's nothing worse than showing up for work only to learn you've been given the wrong information or told inaccurate facts about something happening in the company. With a good Human Resources department, you'll never have to worry about information falling through the cracks or being misinformed.
The HR department will make sure that every employee of the company is informed about the events and different tasks of the company.
Reference Video – Importance Of Human Resource Management
5. HR Can Guide You Through Changes In The Industry
Most companies are aware that things can change in an instant, but they still fail to prepare for it. Expertly trained Human Resources professionals will keep you one step ahead by making sure your company is ready to do business in the best way possible.
HR will help you to get ready for the change in the industry all the time as they know how to deal with changes.
6. HR Department Will Be Able To Handle Any Problems That Arise
There will be times when conflict arises, and your company needs someone to handle it quickly and efficiently. An expertly trained Human Resources team will know what steps to take beforehand, so they won't be caught off guard.
 They'll have a plan in place so they can deal with the situation as soon as it arises, keeping your company running smoothly.
7. HR Department Keeps Your Company's Data Secure
A good Human Resources department knows how important customer and employee information is to a business. They have protocols set up to protect both types of data, making it harder for employees to snag the information and misuse it.
8. HR Department Can Help With Training And Development
No business will be successful if they don't have a team of qualified people ready to perform necessary functions. A good Human Resources department understands this and knows how important training and development is to an organization.
They'll be able to put together a system that ensures everyone in your company is working at their highest potential.
9. HR Department Will Handle All The Paperwork
An efficiently run Human Resources department will make sure all the paperwork gets handled on time, so you can focus on other important aspects of running a business. They know the best way to make sure all the legal documents are handled correctly, eliminating any possible hiccups.
10. HR Keeps Your Company Running Like A Well-Oiled Machine
An efficient Human Resources department will keep your company running smoothly by making sure everything gets done on time and everyone is communicating effectively. They'll also ensure employees are staying positive and motivated.
11. HR Department Handles Hiring For Your Company
When hiring a new employee, an expertly trained Human Resources professional will know what to look for in a candidate to ensure they're going to be a great fit for your organization. That means you won't have to worry about bad hires, which can lead to bigger problems.
HR department knows what kind of employees are needed for a company, so they hire the employees according to the skills required.
12. HR Department Is An Employee's First Point Of Contact
When an employee has a question or concern, their first point of contact should be the Human Resources department. A good HR team will make sure every worker feels comfortable coming forward with questions and issues they're dealing with, so you don't have to worry about them bottling up their emotions.
13. HR Department Will Help You Create A Great Company Culture
If you want your business to succeed, you're going to need a strong company culture that employees love being part of. A great Human Resources department will know how to create this kind of atmosphere by making sure everyone feels welcome and valued.
14. HR Helps Retain Good Employees
A good Human Resources team knows that a workplace should be a place people want to be, rather than hate going to every day. If companies have their employees' backs and take care of them as much as possible, they'll work harder for you and stay with your company longer.
15. HR Department Keeps Your Company Legal And Saves Money
No business will be successful if they're breaking the law or spending more money than they need to on things like insurance and taxes. A good Human Resources team knows what needs to happen for every part of your company to run smoothly, staying within the law and staying financially healthy.
Importance Of HR – Conclusion
By reading this article you came to know the importance of the HR department for an organization. The best thing about having a Human Resources department in your business is that it helps with many things.
People who are educated on how to run an organization can help you save money and keep your company running smoothly. It's important to note why an HR team is good for any business owner.
References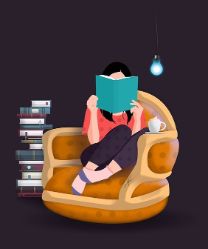 Hello, I am Aatka Azhar. I have done bachelor's degree in Computer Science. Writing articles is my passion through which I explore so many things. So, I am using my passion by working here and it will be the source of knowledge for the readers.