Lizard is a cold-blooded animal, meaning that it depends on the environment temperature. By appearance, it is a harmless little buddy. It likes to live with us in our houses but is not very open to discussion.  They are more of an introvert, as they only play with themselves. They are also sensitive to smell.
When we see a lizard, we either try to scare it away or quietly leave the room. Most of us find lizards very annoying, but every living creature has a purpose. This article will share different reasons as to why lizards are an important part of this world.   
15 Benefits Of Lizards That Make It Valuable For Us
Lizards have lived for 320 million years, they belong to a group of squamate reptiles. Over six thousand species are living across the continent except for Antarctica. They can vary in size from a few centimeters to 3 meters long. 
Lizards can shed their skin and regenerate their tail. They twist their feet just so that they can adhere to the wall. This is how they can climb on walls and ceilings.
It's also important to note that not all lizards are poisonous. There are many myths we have heard as a child. There is no harm in believing them better safe than sorry.  Let's cover different reasons why lizards are important:
1. Lizards Act As Pest Controllers
Lizards can eat flies, cockroaches, mosquitoes, and bugs. They are natural cleaners and keep insect populations in control. They can protect your family from disease-carrying insects.
Lizards can find their way to food, if you want to make them go away you might need to use pesticides. Too much pesticide can harm the land.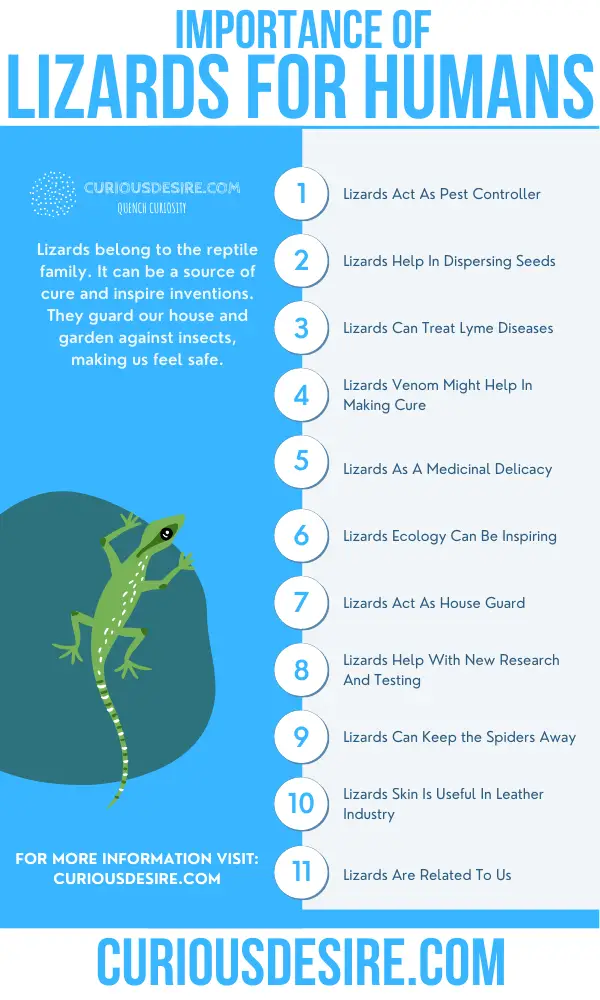 2. Lizards Protect Crops
Since Lizards eat insects, it helps in keeping the crops safe. Too many insects are harmful to the crops. Lizards also eat some fruits but not as much as it can harm the plants. With the help of Lizards and frogs, the insect population can be kept under control. Hence, there is lesser damage to crops.
3. Lizards Help In Dispersing Seeds
Surprisingly, lizards eat fruits. This is why it can disperse seed in about a twenty-meter radius. Lizards act as pollinators. Their body contact with the pollen in plants and stick to their scale. While it travels, it can find a new spot for pollen to bud.
4. Lizards Can Treat Lyme Diseases
Lyme disease is a pretty common disease in the US. It is transmitted by an infected black-legged tick bite. There is a particular protein in the lizard's blood, that can kill the bacteria causing Lyme disease quickly.
Related Video – The Unsinkable Lizard
5. Lizards Venom Might Help In Making Cure
Research shows that lizard venom affects blood protein in such a way that it might be possible to create medicine for blood clots.
6. Lizard's Green Blood Might Help In Making Cure
Research shows that some lizards have green blood due to a toxic waste product. Scientists believe they can use such lizards to cure blood-related conditions such as jaundice and malaria.
7. Lizards As A Medicinal Delicacy
Lizard has been consumed as food for a very long time. People in Asian countries like China, the Philippians, Thailand, etc. have their special recipes.
Lizard meat contains nutrients that can cure disease. There are a lot of health benefits such as providing energy, improving stamina, preventing an asthma attack, etc.
8. Lizards Can Be Found Everywhere
Lizards are cold-blooded. They can change their body temperature according to the environment. In case of a temperature drop, they go into hibernate mode. They are accessible on every continent except Antarctica making them easy to use in any field. 
9. Lizards Keep The Food Chain Balanced
This is applied to all animals. If a member of the food chain goes extinct, it will cripple the hierarchy. Lizards are one of the few animals that are found almost everywhere. Hawks, snakes, dogs, and other lizards eat lizards.
If they go extinct, other animals' food sources would be cut off. They would either die or evolve and find a new food source. On the other hand, lizards also help in controlling pests and promoting pollination. Without frogs, there will be an overflow of insects both in the garden and inside homes.
10. Lizards Ecology Can Be Inspiring
A lizard called Gecko climbs walls thanks to the tiny hair on its feet that attract molecules that help in clinging to the wall. This has helped researchers to inspire new kinds of adhesives and surgical bandages.
11. Lizards Act As House Guards
In the garden, you might find some natural alternatives for insects. Whereas inside the house, lizards are the only guard that keeps you safe. Their ability to crawl on walls and ceilings makes them available everywhere.
So, the next time you see your house guard, what should you do? Leave it or scare it away.
12. Lizards Help With New Research And Testing
Lizards have a big role in the field of medical research and testing. Stem cells and regeneration is being studied on lizards. Currently, they can regenerate their tails but it's not the same as the original one. In a study for the first time lizard grew a perfect tail with stem cells. 
This outcome can help in studying the human wound healing process and breakthroughs in hard-to-heal injuries.
13. Lizards Can Keep The Spiders Away
Lizards like to eat spiders as well. Having a lizard in the house means that you will not see any spiders. According to a controlled room study, lizards viciously attack spiders and completely eradicate them. They are a natural predator that can control spiders.
14. Lizards Skin Is Useful In Leather Industry
Usually, we hear crocodiles or snake skins used in the fashion industry while no one talks about lizard skin. It is not endorsed as much as others, but it is useful raw material to make belts, bags, etc.
There is more variety in lizard skin. It's easy to work with as their hide is thin and lacks calcium making the skin more flexible. Also, it is easy to bleach and dye.
15. Lizards Are Related To Us
According to some scientists, all animals, as well as humans, are descendants of reptiles. They came to this conclusion because of a gene called EDA, responsible for skin appendages. Maybe, the myth about the lizard man might be true.
The Importance Of Lizards – Conclusion
Through this article, you must have understood why lizards are important to us. They guard our house and gardens against insects and spiders. They are being used to cure diseases and help inspire inventions. Some may call it creepy crawlers, but it's a vital member of the house as well as for the scientific community.
References