Have you ever wondered why organ donation is increasing day by day? And how does it is bringing positivity and happiness in someone's life? Then this article will tell you why you should consider organ donation.
There are many reasons why organ donation is important not only for the patient but for the donor and the country as well. Here are 15 reasons why organ donation is important.
15 benefits of organ donation explaining how it is saving lives
Currently, there are 113,000 people on the United States organ transplant list. One person is added to the list every 10 minutes. The number of transplant lists is increasing every day. As we all know, Organ donation is beneficial for patients but it is helping in medical research as well.
15 benefits are stated below which will enforce you to be a donor and become part of a healthy society.
1. Organ Donation Prevents Medical Conditions
Organs that are donated can be used to treat many different medical conditions. Kidneys are used to help people suffering from kidney disease or failure which is one of the top reasons behind someone needing a transplant in America.
Another extremely valuable organ donation is the corneas. Corneas can be used to help someone suffering from corneal blindness. The lungs are also the most common organ transplanted for patients with pulmonary disease.
Liver transplants are common for helping people with chronic liver disease which can be caused by alcohol use, viral hepatitis C infection, or autoimmune diseases. Transplants can help many people across America have longer, healthier lives.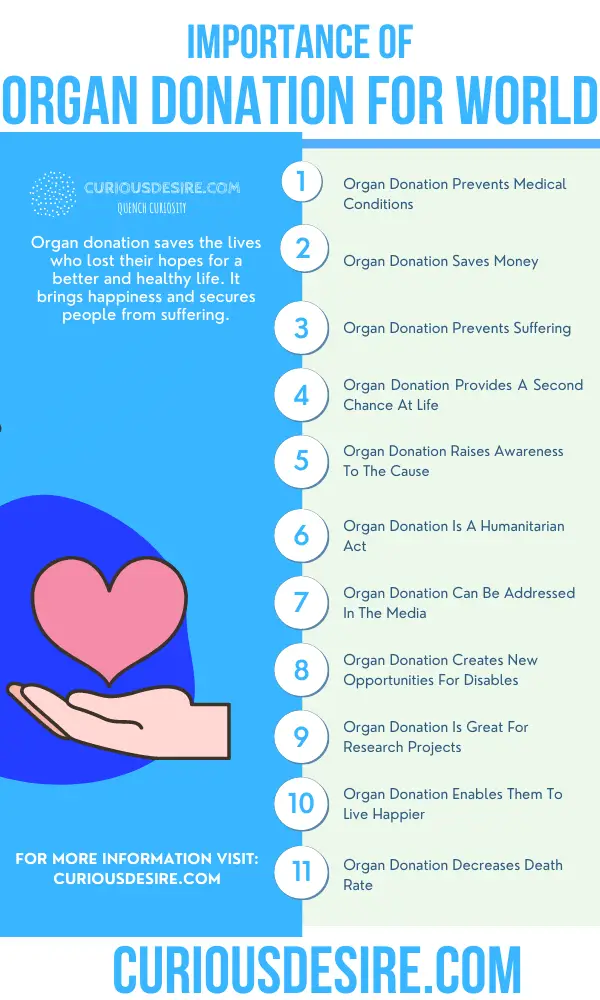 2. Organ Donation Saves Money
Every treatment requires money and when it comes to long treatments, it can shake even wealthy people. In 2010 Americans spent $34 billion on direct medical expenses related to treating patients with end-stage organ disease
If everyone who needed a transplant was able to receive one it is estimated that the cost of care for kidney disease would decrease by 60 percent with an annual savings of $13 billion.
3. Organ Donation Prevents Suffering
Being an organ donor not only gives people with fatal conditions another chance at life but it can also offer a new chance for those with non-fatal conditions. Organ transplants can help prevent people from suffering from organ disease by giving them healthy organs.
After receiving an organ, the patients don't have to endure the pain and tiresome long treatments. Organ donation saves the person from suffering which might leave an ever-after effect on their mental health as well.
4. Organ Donation Provides A Second Chance At Life
Commonly, people suffering from kidney disease, heart failure, or liver disease spend months on end waiting with no solution to their problems until someone decides to donate one of their organs. By donating your organ you can give those people a second chance to live a happy life.
Donating your organs is something you can do for this country. So, others can live longer happier lives with another chance at having fun and spending time with loved ones.
Related Video – Organ Donation and Transplantation
5. Organ Donation Raises Awareness To The Cause
Just by becoming an organ donor, you can help spread the word about how important it is to become a donor and give hope to those who may be affected by a lack of donors in the future.
Approximately 17 people die every day due to a lack of available organ donations which means there aren't always enough organs for everyone who needs them at the same time whether someone has registered as an organ donor or not.
6. Organ Donation Prevents Animal Suffering
In order to test new medical procedures, drugs, or techniques, animal testing is required in some cases. However, 12 million animals are used for this purpose every year in the United States meaning many will suffer from harmful tests that can lead to their deaths even though there may be an alternative way of obtaining the same information without harming any animals.
7. Organ Donation Is A Humanitarian Act
Donating your organs is one of the most humanitarian acts you can commit. By becoming an organ donor, you can help save someone's life. No matter how much time might be left until they pass away. It's not only a gift to them but it can be a gift to their family and friends who may feel helpless when their loved one falls ill.
8. Organ Donation Can Be Addressed In The Media
The media can help spread awareness for organ donation. By writing about the benefits of becoming an organ donor and how important it is to save lives by donating your organs. Media can also help disabled or ill people in finding donors for their treatment.
9. Organ Donation Creates New Opportunities For Disables
There are over 7,000 rare diseases in the world and a cure for each one may not exist yet. Organ transplants can give donors a second chance at life. While also offering them the opportunity to live long fulfilling lives.
10. Organ Donation Is Great For Research Projects
Organ donation creates new opportunities for medical researchers to study different diseases. They can test new medications without having to use animals which are required by law in some cases. This type of research can lead to great medical advancements.
11. Organ Donation Creates New Opportunities In The Scientific Community
Scientific advancement relies on experimentation through trials and errors. Many medical advances have been discovered thanks to organ transplants.
Not only does organ donation allow people to live longer healthier lives, but it also benefits the scientific community. It allows them to test new medical procedures and make valuable discoveries in the process.
12. Organ Donation Reduces The Need For Experimental Treatments
Experimenting on animals can be cruel and involve a lot of suffering for innocent creatures. By donating your organs, you can reduce this need and improve life for human beings. Besides this, your donated organ can save the patient from experimental treatments that are not used before.
13. Organ Donation Enables Them To Live Happier
The patients who are suffering from a painful disease and have a stressful life. When they feel hopeless and a burden to their loved ones. Your donated organ will show them new hope. So, they will plan their future without pain and medication.
14- Organ Donation Decreases Death Rate
In 2020, the death rate for the world was 7.6 per 1,000 people. It was shrunk from 12.3 per 1000 people, in 1971. Organ donation gives life to nearly dead people. The organ diseases, which were incurable and the cause of many deaths, are now can be cured by organ transplant.
15. Organ Donation Can Be Done At Any Age
Aside from being beneficial for the person who gets to live another day thanks to your donation, it can also be done at any age. As long as you're healthy enough to properly donate your organs then there's no limit on how old you can be when you decide to save lives by donating your organs after death.
This makes it possible for anyone interested in becoming an organ donor to follow through with their plans and do something that will benefit everyone and make a huge difference in the world!
Importance Of Organ Donation – Conclusion
Organ donation can save many lives of people who are suffering from rare diseases. It just doesn't save lives but also the reason for their and their loved one's happiness. Organ donation makes you feel like a human who can feel others' pain and make sure they are relieved from this pain.
Animals are also an important part of the environment. Without them, the life cycle will be in danger. Organ donations secure them by providing alternative methods for testing medicines and trail operations. Hence, organ donation is important not only for patients but also for a safe and secure environment.
References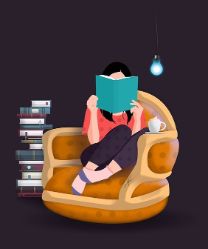 Samra has completed her master's in literature & loves to write about topics that piques her interests. Here, she is working on exploring that importance of things that matters to her.