The word fitness generally means a desirable level of physical fitness. In this sense, there are many reasons why physical fitness is important.
Physical fitness improves your appearance, productivity, mental health, and mood. If you are conscious about your physical health, your body returns you that favor two folds. Physical fitness makes your life easier and a lot more productive than it used to be before.
If you want to know why physical fitness is important and people are so fond of exercising. Then, you should read this article till the end.
15 Benefits Of Physical Fitness Explaining Its Importance
When you are fit you can go for your goals and achieve anything you want. Physical fitness ensures that you don't feel fatigued in your routine work. There are many benefits of being physically fit some are listed below.
1. Physical Fitness Is Important For A Healthy Heart
Obesity, smoking, high cholesterol levels, and high blood pressure are just a few of the factors that can have negative impacts on your cardiovascular system.  By staying physically active and eating a healthy diet you can protect your heart from these risks.
Regular exercise helps the heart become more efficient at pumping blood throughout the body while also increasing vascular strength. A healthy blood flow reduces the risk of developing dangerous conditions like clots and aneurysms.
Additionally, regular exercise strengthens the heart muscle reducing strain while also increasing aerobic capacity to keep us active well into old age!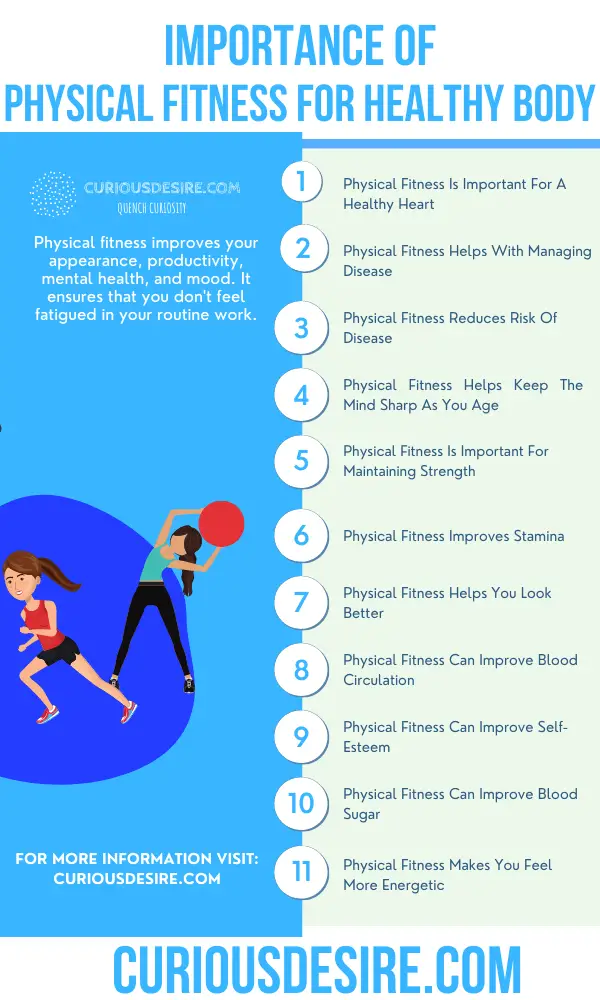 2. Physical Fitness Helps With Managing Disease
Staying active can improve one's health for people with some specific diseases like endometriosis, arthritis, asthma, and type II diabetes. Some of these diseases require special equipment to make it easier to live with the condition.
Exercise is a great way to boost general health and strengthen muscles around these aids which increases their effectiveness. Other common illnesses like depression and anxiety might also improve as a result of regular physical activities.
Since this tends to increase energy levels and motivation while reducing stress. All of these are factors that affect moods positively.
3. Physical Fitness Reduces Risk Of Disease
Being physically fit reduces your risk of various diseases such as colorectal cancer, diabetes, and osteoporosis. Exercise reduces the chance of these health conditions occurring. If you already have one or more of those conditions, exercise will help improve your overall condition.
When you exercise your body becomes stronger and healthier because it develops a resistance to common illnesses like colds or flu. Regular exercise also reduces blood pressure levels so being physically fit can reduce your risks of cardiac arrest.
Along with this, it reduces other health complications that come with high blood pressure including heart attacks and strokes.
4. Physical Fitness Helps Keep The Mind Sharp As You Age
Your body is like a machine and it begins to show signs of wear and tear as you age. Exercise helps keep muscles strong, bones healthy and joints flexible which keeps your mind sharp as well. Your memory stays better for longer and you feel happier and more satisfied with life.
Related Video – Winning The Mental Battle of Physical Fitness
5. Physical Fitness Is Important For Maintaining Strength
Regular exercise helps you keep your muscles strong and healthy. As you age, your muscle tone decreases but with regular exercise this loss of muscle is much less drastic. Keeping the right amount of strength in your muscles also helps prevent falls which can be dangerous for older people.
6. Physical Fitness Improves Stamina
When you are physically fit it becomes easier to do everyday tasks like walking upstairs, shopping at the mall, or taking out the trash because you have more stamina. Having high levels of stamina is important for maintaining a healthy lifestyle as well as preventing certain diseases because it gives you more energy throughout the day.
7. Physical Fitness Helps You Look Better
Being weak and flabby isn't glamorous thus, being physically fit will help you look better. Your clothes will fit you properly, and your posture improves. You find yourself dressing nicer because of the way your body feels so being physically fit has a big impact on how you present yourself to the world.
8. Physical Fitness Can Improve Blood Circulation
Staying physically fit is important for improving blood circulation which carries nutrients to your muscles so they can work efficiently. Functional movements like squats, lunges and push-ups are some of the best ways to get in a workout that focuses on this.
Of course, aerobic exercises like running or biking are helpful too. When it comes to physical activities that can improve blood circulation, anything goes as long as it gets the blood flowing throughout the body.
9. Physical Fitness Can Improve Self-Esteem
Many people shy away from exercise and physical activity because they think it makes them look unattractive. This fear prevents many people from starting a regular exercise routine but the truth is that exercising can help improve self-esteem.
10. Physical Fitness Can Improve Blood Sugar
Physical fitness can help in keeping blood sugar levels normal which reduces the risk of developing type 2 diabetes. Many people are at risk for developing this condition due to improper diet or lack of physical activity. Any sort of routine movement will help regulate insulin levels and keep them in check.
11. Physical Fitness Fosters A Better Attitude Towards Your Body
When people feel good about themselves they tend to treat their body with love and respect which promotes better overall health. When you start feeling good about your physical appearance. You become more conscious of how your diet and exercise influence the way you think and feel so making healthy choices becomes easier over time.
12. Physical Fitness Makes You Feel More Energetic
Being physically fit gives you a burst of energy each day which makes it easier for you to accomplish tasks throughout the day. Regular exercise improves the efficiency of oxygen-rich blood traveling through your lungs, heart, and blood vessels which means that your cells are getting more oxygen which translates into a higher energy level.
When you develop your strength and endurance by committing to a routine then it becomes much easier to tackle daily tasks without feeling fatigued. Any type of movement is helpful whether you are something light like walking or more intense like weight lifting.
13. Physical Fitness Makes You More Productive
Increased productivity is another benefit to feeling physically fit. Exercise helps your brain release endorphins which give you a natural high. It makes it easier for you to focus on tasks throughout the day. When you're feeling motivated, productive, and enthusiastic about what's going on around you, going after your goals becomes much easier.
14. Physical Fitness Improves Overall Health
When you're physically fit it becomes easier to maintain a healthy lifestyle. While exercise is a big part of the process. But it's also important to eat right and get enough sleep so you can support your body in all aspects of good health.
15. Physical Fitness Can Help Manage Symptoms
Managing the symptoms of an illness is important because it allows people to enjoy things like their career, family life, and hobbies. Moving around can help manage symptoms for people with arthritis. Nobody wants to be stuck in one place when they could otherwise be enjoying fun activities.
Getting up and doing something you love is a major step towards feeling better overall. It may seem difficult at first but any movement will make progress which makes sticking with it well worth it in the end!
Importance Of Physical Fitness – Conclusion
The more physically fit people are, the less likely they are to risk having long-term health issues such as heart disease, obesity, diabetes, and so on. Regular physical activity can help people of all ages not only lead healthier lives but also improve moods and boost self-esteem. These are the major reasons why physical fitness is important.
References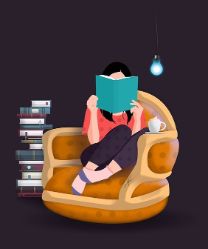 Samra has completed her master's in literature & loves to write about topics that piques her interests. Here, she is working on exploring that importance of things that matters to her.