It's a fact. Planning is important. After all, the lack of planning has been behind most of the mistakes people make in life and business. It explains why many projects failed and many dreams go unaccomplished. Don't let that happen to you and your project.
With the right planning, you can avoid most of your failures and become more successful and productive. Here are 15 good reasons why planning is important.
15 Benefits Of Planning For Human Life
Planning can have a significant impact on your life. So, how does planning work? It simply puts your goals in writing. It means breaking down your dream into parts to make it easier for you to achieve them one step at a time.
 Now, let's talk about 15 reasons why planning is important and what impact it can have on your life.
1. Planning Gives You Peace Of Mind
When you plan, it helps you get out of "autopilot" mode, enabling you to focus better on the tasks at hand. Once your plans are documented, it will be easier for you to prioritize your work and determine the most important tasks that should be tackled first. This valuable clarity and control you get with your plans will help reduce stress and give you a sense of calm.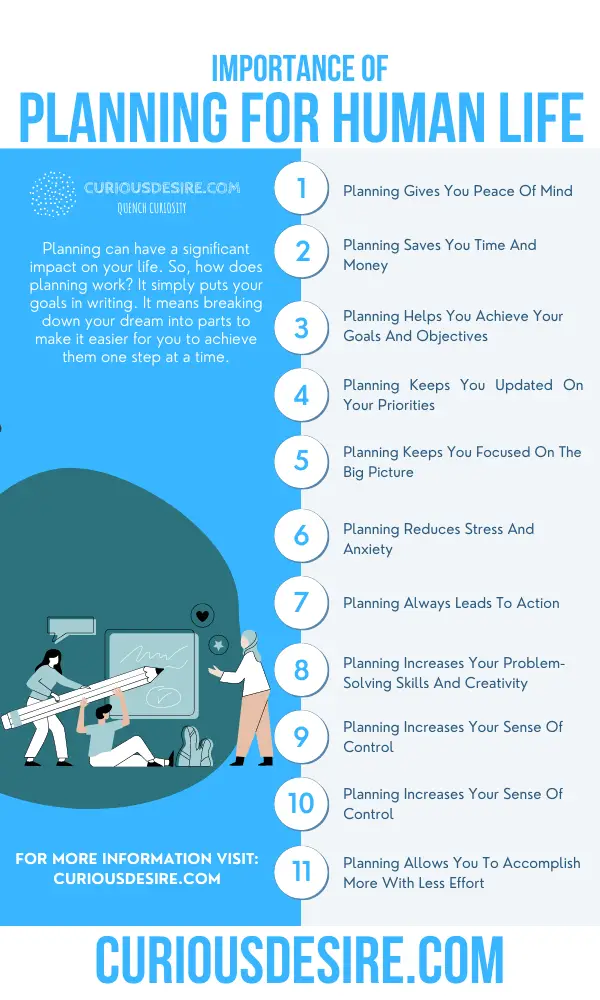 2. Planning Saves You Time And Money
Planning is an effective way to avoid impulse purchases that can end up costing you more money in the long run. If you need something, having a plan for how to get it will prevent buying it on a whim (which usually happens when you are feeling emotional and not logical).
Planning is a great way to ensure that your time is used in the most efficient manner possible. You will always know what needs to be done and when which prevents procrastination from creeping up on you. This leads to better use of everyone's time, including your own.
3. Planning Helps You Achieve Your Goals And Objectives
In business, you have perhaps one or two major goals for the year. Without a plan, it's impossible to achieve your objectives on time…and it is unlikely that your strategies were well-thought-out anyway.
Goal setting without planning is simply wishful thinking…and will never yield tangible results.
4. Planning Keeps You Updated On Your Priorities
With planning, there's no such thing as "running in circles". Since your plans are updated and modified regularly, you always know what should be done next. It is impossible to go days on end without getting side-tracked when you plan.
Planning helps you avoid unnecessary stress and wasted time. The more you plan, the easier it is to get back on track towards achieving your goals.
Reference Video- The Importance Of Planning And Time Management
5. Planning Will Improve Your Decision-Making Skills And Confidence
Improving your decision-making skills is yet another benefit of planning. When you write down your plans, you are forced to analyze them more closely and see the pros and cons of each task at hand. This way, you will be able to make better decisions.
Planning also boosts your confidence, as you will know that you are taking the most appropriate approach, maximizing your chances for success. Without proper planning, chances are high that you will lose valuable time and energy "reinventing the wheel."
Suggested Readings
Why Planning is Important in Education?
Why Planning is Important in Life?
6. Planning Keeps You Focused On The "Big Picture
How often do you get distracted because you are worried about things that are irrelevant to your task or project? Planning helps you stay focused on the "big picture" instead of getting bogged down in minor, inconsequential details.
 The end goal is what matters most, after all…and can mean the difference between success and failure.
7. Planning Reduces Stress And Anxiety
Writing down your intentions and goals is a proven way to reduce stress and anxiety levels. Having goals and plans that you can look at before going to sleep reduces or eliminates the anxious thoughts that keep many people awake every night.
 Plus, sometimes just having something written down where you can "check on it" will help ease feelings of uneasiness.
8. Planning Always Leads To Action
The act of writing down your plans will get you moving towards achieving them. As Stephen Guise writes in The Mini-Habits Strategy, "writing something down solidifies it in our memory (whether we like it or not)".
 It is much easier to give up on a vague idea than it is to abandon a plan that you worked hard to create. Planning always leads to action, which can be the hardest step in the process of reaching your goals.
9. Planning Increases Your Problem-Solving Skills And Creativity
Writing down your ideas and plans allows them to go through a kind of "review" or filtering process that makes you question them more closely. This eliminates unnecessary steps, while also exposing possible flaws in your strategy which you can fix before implementation begins.
Planning also makes you more creative, as it is easier to come up with new ideas and solutions once you have all of the relevant information and tasks on paper.
10. Planning Increases Your Sense Of Control
Making plans and writing down your objectives gives you a stronger sense of control over what happens in your life. You know what you need to do and when you should be doing it. This creates a sense of order during the chaos, helping you feel less like you are being pulled in different directions at once (which can often lead to feelings of helplessness).
11. Planning Gives You A Road Map To Get To Where You Want
When you have a plan, the bigger picture becomes much clearer. All of your objectives and tasks are laid out in front of you so that you know exactly what needs to be done to get from point A to point B. This allows for flexibility along the way but always keeps you focused on the destination.
12. Planning Increases Your Productivity
Planning gives you a sense of purpose, which makes it easier for you to become more productive. You know where your time is going and why it needs to be spent in that manner. This allows you to home in on what needs to get done first, instead of second-guessing yourself and wasting your time indecisively.
13. Planning Gives You The Feeling That You Are In Control Of Your Life
Writing down your plans and keeping them visible allows you to see the bigger picture. This gives you a sense of control over what happens next, especially if things didn't go as planned earlier on. Having visibility into all upcoming tasks and objectives can be a huge relief for those who always feel "out of control".
14. Planning Prevents The "Rush" And Focus On The Immediate Task At Hand
When you write down your plans and goals, you don't have to worry about forgetting them. This keeps you focused on the task at hand rather than rushing off to do something else (or nothing at all). Plus, it encourages you not to spend too much time on one task and keep moving towards the next objective.
15. Planning Allows You To Accomplish More With Less Effort
The act of planning all your tasks and objectives help you figure out the best way to do something with the resources that you have available (including yourself). This can be achieved passively without deep concentration but is usually hard to do when you are not organized.
However, if you do it right the first time, then not much effort will be necessary to maintain it later on.
Importance Of Planning-Conclusion
To summarize, planning is important for a variety of reasons. By documenting your thoughts and ideas in one place, you can prevent them from being forgotten or lost. This creates clarity around what you are trying to achieve in the short term, while also keeping you focused on the bigger picture.
Therefore, planning can have a significant impact on your life. Whether you are just starting, or you've been doing this for years, there is always a reason to plan and stick with it.
References
Relevant Articles
Why Planning is Important in Education?
Why Planning is Important in Life?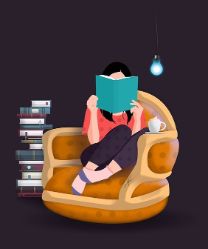 Hello, I am Aatka Azhar. I have done bachelor's degree in Computer Science. Writing articles is my passion through which I explore so many things. So, I am using my passion by working here and it will be the source of knowledge for the readers.