Prayers are part of our routine it keeps us connected to our spiritual realm. A prayer is a form of communication with our higher power, God. It is a way to express our gratitude, ask for guidance and forgiveness. Prayer is also a way to connect with other people who share the same religious beliefs. This article will share with you why prayer is important in our life.
15 Benefits of Prayer In Life
Prayers are a good way of asking for something and thanking God. They are a great way to communicate with our creator and heavenly father.
It allows us to communicate with our creator on a personal level. When we pray, we are opening up our hearts and minds towards God and are requesting his guidance, love, and support in our lives. Prayer is also a great way to connect with others who share the same religious beliefs as us.
We can learn a lot about other cultures and religions by praying with them, and it can help to build stronger relationships. Prayer is a personal experience that can be used in times of need, such as when we are battling addiction or feeling lost and alone.
According to research, 55% say they pray every day, 21% say they pray weekly and 23% say they pray seldom. It is also noted that women are more likely to pray than men.
Being aware of all the amazing things prayer can do, we have listed 15 reasons why prayer is important below:
1. Prayer Brings Us Closer To Our Creator
Prayer provides an elevated form of communication between our heavenly father and us. Through prayer, we can express our gratitude, ask for insight or forgiveness from God.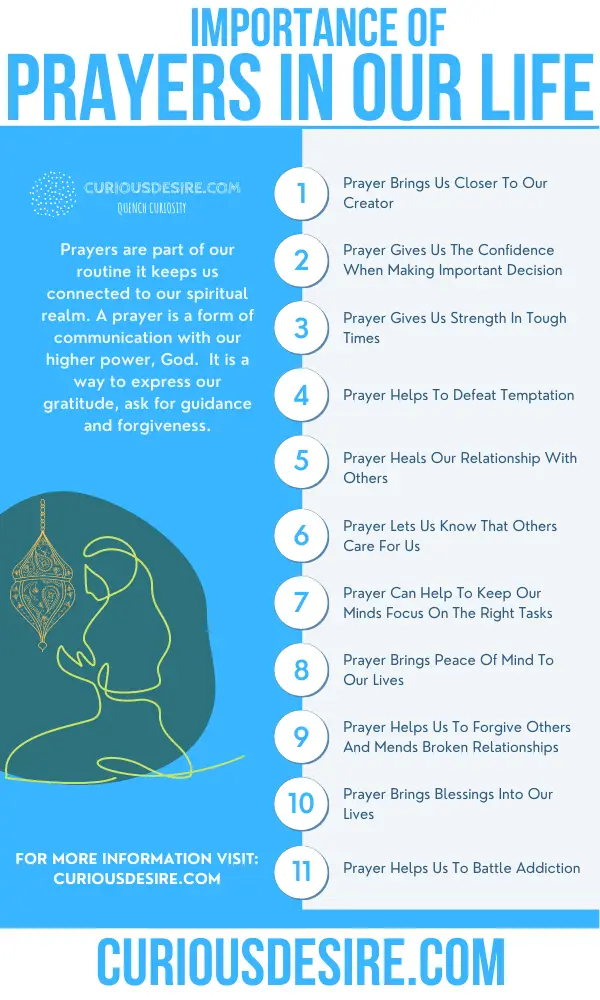 2. Prayer Gives Us The Confidence When Making Important Decision
When we are stuck in a rut and not sure which way to turn when making an important decision, it is always good to pray about it first. Prayer will help clear our minds and give us the confidence to make the right decision.
3. Prayer Gives Us Strength In Tough Times
When we are going through tough times, prayer gives us the strength to carry on. It is like having a personal support system that is always there for us.
4. Prayer Helps To Defeat Temptation
One of the main reasons why people give in to temptation is because they feel alone and helpless. When we pray, we are tapping into a higher power and we are not alone anymore. This gives us the strength to resist temptation.
Related Video – Healing Illness With The Subconscious Mind
5. Prayer Heals Our Relationship With Others
Prayer can be used as a tool for healing relationships with others that have been hurt or damaged. When we care enough about the relationship to ask for forgiveness, this shows that we are willing to make sacrifices to restore it.
6. Prayer Lets Us Know That Others Care For Us
We all appreciate when people take time out of their day to be there for us and show they care. We feel loved and special when someone makes time for us in their busy schedule. This is because God made these very same efforts for us every single day which tells us that he cares about everything that happens in our lives.
7. Prayer Can Help To Keep Our Minds Focus On The Right Tasks
When we pray before starting anything new, it helps us to put things into perspective so that our minds are fully focused on the task at hand. This helps us to stay on the right track and avoid distractions.
8. Prayer Brings Peace Of Mind To Our Lives
When we pray, it brings peace of mind into our lives since we can let go of any worries or fears that have been troubling us. We know that when we lift these burdens to God, he takes them from us and carries them all the days of our life so that we can focus on living a life without fear.
9. Prayer Helps Us To Forgive Others And Mends Broken Relationships
Prayer is a great way for forgiving others and mending broken relationships in our lives because it opens up our hearts towards love instead of hatred. It is a way for us to express our feelings and start the healing process.
10. Prayer Brings Blessings Into Our Lives
When we pray for blessings, it opens up the door for them to come into our lives. We become more receptive to the good that is all around us when we are asking God for guidance and protection in our lives.
11. Prayer Helps Us To Connect With Others Who Share Same Religious Beliefs
Prayer is a great way to unite people of different religious backgrounds together because it allows us to share our common beliefs and experiences. It also helps to build stronger relationships with those who have similar religious values as ours.
12. Prayer Can Be Used To Show Our Love And Appreciation Towards God
Prayer is a way for us to show our love and appreciation towards God for everything he has done for us. It is a way to connect with him on a deeper level and let him know that we truly appreciate all his blessings in our lives.
13. Prayer Helps Us To Battle Addiction
One of the main reasons why people fall into addiction is because they feel like they are alone and have no one to turn to. When we pray, we are not alone anymore. We have God by our side who will help us through this difficult time in our lives.
14. Prayer Can Be Used To Seek Guidance
When we don't know what to do or where to go, it is the perfect time to use prayer as a tool for seeking guidance in our lives. We can simply lift everything that is causing us stress and ask God how he wants us to proceed with these issues.
15. Prayer Is A Great Way To Connect
Prayer is a great way of connecting with other people because it allows someone else to speak through us when they are trying to convey their deepest feelings, emotions, or grief that they need to be resolved. It also helps someone who may want advice but doesn't know who they should turn to for some wisdom.
The Importance Of Prayer – Conclusion
I hope that this article has shown you why prayer is important in your life and how it can benefit you in many different ways. Prayer is a very personal experience between you and God, so there is no right or wrong way to pray. The most important thing is to be sincere in your prayers and to always keep an open mind and heart towards God. Thank you for taking the time to read this article and we hope that you will start incorporating prayer into your daily routine.
References