Prayer is the most important thing in our daily life. However, we sometimes forget that and still think finding another way to solve the problems will be better. When we look at life outside of God's will, it is very clear to us that many things are still missing.
 Once you begin to pray, your heart will be filled with contentment because all your desires will be answered when the time comes. There are many reasons why praying is important. The benefits of praying are staggering. There are immediate ones, longer-term ones, and seemingly intangible ones.
15 Benefits Of Praying For Our Mental & Holistic Health
Prayer helps achieve meaningful relationships with people and one can tell if a relationship is already meaningful because God is being involved at all times. For us to have a strong relationship with God, we must begin to pray which will help build the relationship furthermore.
We should never forget that prayer not only brings our hearts closer to God, but it gives us strength and courage to accomplish any mission he has given us so that we can tell others about the love of God. Here are 15 good reasons to get on your knees each day!
1. Prayer Reminds Us Of God's Promises
God establishes his covenant with man through prayer. When we pray, we remind ourselves of the promises of God. We are reminded that God's promises are important to us. By this, we will become close to our God.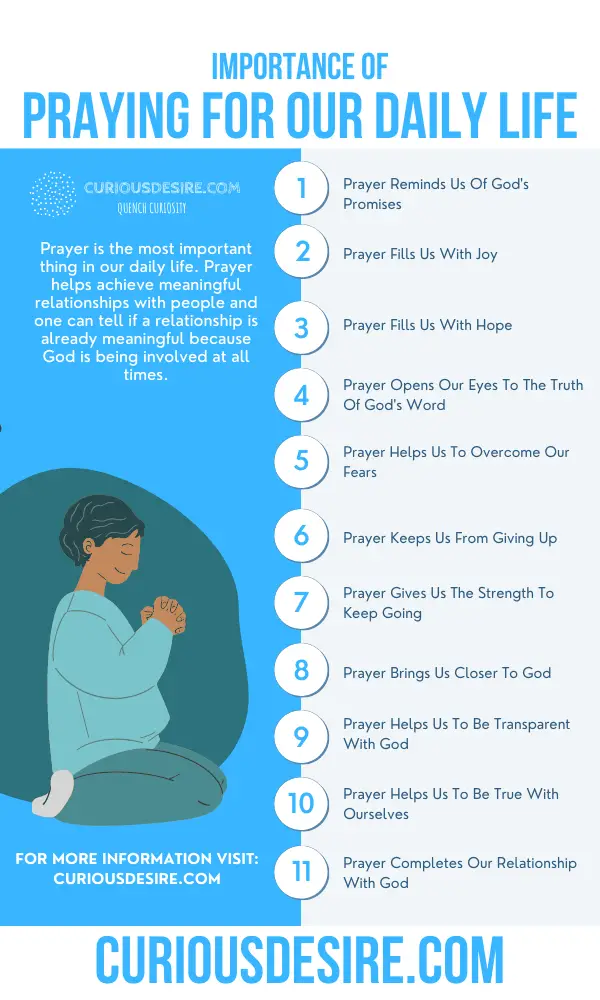 2. Prayer Fills Us With Joy
 When we pray with closed eyes, our heart becomes peaceful and filled with joy. This gives us immense satisfaction that calms our scattered minds and removes all the stress in life. It is simply amazing how prayer can make us feel relaxed.  
3. Prayer Fills Us With Hope
When we pray, we are given hope to overcome the difficulties in life. The feeling of being hopeless is replaced by great expectations that all problems will be resolved. As a result, our lives are filled with hope, and it motivates us to get things done.
4. Prayer Opens Our Eyes To The Truth Of God's Word
 When we pray, our spirit comes to life and opens our eyes to the reality of God's word. With opened eyes, all the principles are easily understandable because it is filled with truth. As a result, we can easily understand and apply the principles of God's word to our daily life.
Reference Video – The Purpose And Importance Of Prayer
5. Prayer Helps Us To Overcome Our Fears
Prayer helps us overcome our fears as we remember that all things work together for good to those who love God. As a result, our fears which hinder us from living a free and fulfilling life are conquered.
6. Prayer Keeps Us From Giving Up
 When we give up on something, it is because we no longer hope that the end will be good for us. However, when we pray, our hopes are strengthened especially if we have surrendered ourselves completely to God's plans and purposes.
By praying we will always have hope when we will do something which keeps us from giving up.
7. Prayer Gives Us The Strength To Keep Going
Prayer strengthens our faith to keep going especially during times where we face trials and difficulties in life. We may think that giving up is the best thing to do; however, prayer helps us gain strength and courage to take chances for us to get unstuck.
By praying we will become strong when we have difficulties in life, we will never stop doing anything. We will always keep going even we had faced difficult times in our life.
8. Prayer Helps Us Believe In The Unseen
 When we pray, it helps us believe in the unseen even if there is no evidence of it yet. This is a trait to have especially when we face situations where we see no way out but still believe that God will make a way for us because he is the one who sees the end from the beginning.
9. Prayer Makes Our Hopes Come True
When we pray, it reminds us of all things are possible with God's help. This prepares our minds to face situations where hope seems so weak but trusting in God that he will provide for us at the right time.  
God never fails to answer our prayers. No matter how desperate the situations are, he will always find a way for us.
10. Prayer Helps Us Believe That God Is Good
When we pray, it reminds us that all things work together for good to those who love God. It helps us believe that whatever happens, God is good, and he will always be there to walk us through tough times.  
11. Prayer Reminds Us To Have Patience While We Wait For God's Time
When we pray, it helps us remember that without the help of God, everything will be impossible for us even if we do all things right. As a result, we are reminded to have patience because we know that time is not God's enemy but his friend.
12. Prayer Brings Us Closer To God
 When we pray, it brings us closer to God as we begin to know how he feels about things and what problems he is facing. It makes our hearts one because we now want the same thing – to be close to God so that we can walk with him in every step of our life.
13. Prayer Helps Us To Be Transparent With God
As we pray, it helps us to be transparent with God which makes us closer to him. We no longer practice a lie because we know that someone is listening – the creator who knows everything about us.
It also helps us in our daily life that we are no longer practice lies.
14. Prayer Helps Us To Be True With Ourselves
 When we pray, it helps us to be true with our minds and hearts because now we are influenced by the Holy Spirit who is praying in agreement with us. As a result, our minds no longer is filled with selfishness which hinders us from doing God's will.
15. Prayer Completes Our Relationship With God
 When we pray, it reminds us once again that God is the only one who can give us what we want – abundant life which fulfills all our needs and gives us more than enough to live for eternity.
Importance Of Praying – Conclusion
In summary, prayer is something that everyone should practice because it helps us grow closer to God and the people around us. It brings harmony to our hearts, and it teaches us to be thankful for what we have.
There are so many things that will hinder you from praying but if you keep on practicing it, your heart will become peaceful and strong as you continue to seek God's will and grace. There is nothing important than praying and it should never be taken for granted because prayer brings us hope, love, and contentment in every step we take as we walk with God each day.
References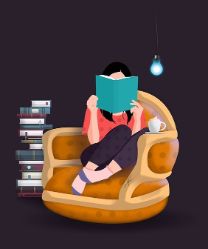 Hello, I am Aatka Azhar. I have done bachelor's degree in Computer Science. Writing articles is my passion through which I explore so many things. So, I am using my passion by working here and it will be the source of knowledge for the readers.