It is a scientifically proven fact that people can live without eating for weeks, but they couldn't last a day without sleeping. This makes sleep very important in the life of a human being.
Sleep refreshes both, the physical and mental well-being of a person. It also affects memory to great extent. There are many reasons why sleep is important for people.
15 Benefits Of Sleep For Human Life
Many people do not realize the importance of sleep. They think that getting a good night's sleep is an overrated thing and many other activities should be given preference as they see no immediate value in sleeping.
This article will tell you about all those benefits of sleeping which you might be ignoring at the moment and would make you rethink the value of sleep for human life.
1. Sleep Acts As A Natural Stress Buster
It is a scientifically proven fact that sleeping helps in reducing stress and anxiety in a person's body. Getting a good amount of sleep reduces stress and relaxes your body and mind which ultimately increases productivity at work.
 This is because a person gets a sound sleep every night of around 8 hours which helps in fighting diseases, improving memory, and also maintaining a balance between the body and mind.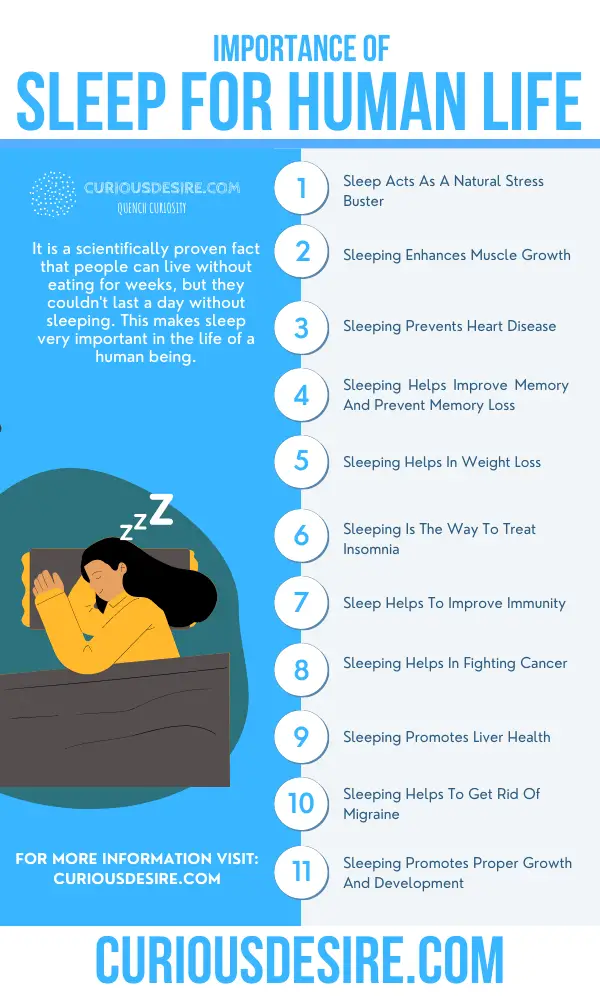 2. Sleeping Enhances Muscle Growth
A good night's sleep is very essential for a person if he or she wants to have bigger and stronger muscles. One of the reasons for this is that when a person sleeps, the body releases more human growth hormone which helps in muscle development.
Muscles break down at night when a person sleeps which results in muscle growth as the day progresses.
3. Sleeping Prevents Heart Disease
The heart and lungs both get a good rest when one is sleeping which prevents heart diseases and reduces blood pressure. Along with this, it also helps in lowering cholesterol levels and thus preventing obesity as well as diabetes.
4. Sleeping Increases Blood Circulation In The Body
Blood circulates to all the important parts of a person's body when he or she is sleeping. This helps every part of his/her body including muscles, skin, and bones to receive nutrients that enhance their health tremendously.
 Along with this it also removes waste products that are harmful to the body.
Reference Video- The Importance Of Sleep
5. Sleeping Helps Improve Memory And Prevent Memory Loss
When a person is sleeping, he or she enters into a stage known as REM sleep which has a very positive effect on memory. A good night's sleep helps in improving your memory and also helps in reducing any diseases which can affect brain function such as Alzheimer's disease.
When a person sleeps, the brain goes through various processes which help in sorting out all that information that was gathered throughout the day. This process is very important for memory formation as well as learning new things.
When a person misses sleep, he or she is not able to think properly which results in memory loss.
6. Sleeping Helps In Weight Loss
Many people tend to put on weight because they spend their time in front of the television or computer and never give much importance to sleep. Obesity increases blood pressure which is one of the most important reasons for heart diseases.
 Sleeping decreases your appetite and gives your body a good rest so that it can be energized for work the next morning. When metabolic rate increases, your body will burn more calories which helps in weight loss.
Thus, it is very important for those who want to lose weight as well as maintain a healthy body.
7. Sleeping Is The Way To Treat Insomnia
Insomnia is the most common sleep disorder which affects a large number of people around the world. It can affect your daily life to a great extent as you may not be able to concentrate on anything or work efficiently.
There are several treatments available for this problem like cognitive behavior therapy, relaxation techniques, and medicines, but the best and long-lasting treatment is sleeping. The reason for this is that people suffering from insomnia tend to sleep more frequently in the morning.
 Sleeping relaxes your mind and body and thus it can be treated effectively with proper rest.
8. Sleep Helps To Improve Immunity
People who are not able to get a good night's sleep have weaker immune systems which mean they are more prone to diseases as compared to those people who maintain healthy sleeping hours. This is because sleep regulates the functions of your immune system.
Sleep contributes to both innate and adaptive immunity.so, sleeps plays an important role to improve the immune system.
9. Sleeping Helps In Maintaining A Balance Between The Body And Mind
People who can maintain healthy sleeping hours are more focused, attentive, and motivated at work as compared to those people who do not give much importance to sleep. Thus, it is very important for a good balance between your body and mind.
10. Sleeping Helps In Fighting Cancer
Many studies have proved that people who sleep for at least 6-8 hours are less prone to cancer as compared to those people who sleep for a lesser time. This is because sleeping helps in utilizing glucose and also gives your immune system a chance to fight against diseases.
11. Sleeping Prevents Asthma
People who sleep for good hours achieve healthy breathing as the day progresses and thus sleep helps in preventing asthma. Staying up to late a missing sleep can make asthma worse. Proper sleep can prevent asthma.
A study found that a person who have less than 6 hours of sleep experience 1.5 times more asthma than those who sleep 7 to 9 hours.
12. Sleeping Promotes Liver Health
The liver is a very important organ of the body which works all day and night to filter the impurities from the blood. This makes it a very weak organ as compared to other organs because it has to work harder for maintaining the smooth flow of blood throughout the body.
Thus, sleeping helps in rejuvenating your liver by giving it a sound sleep which reduces stress on your liver and makes it stronger. This helps in preventing any disease of the liver such as cirrhosis, hepatitis, etc.
13. Sleeping Helps To Get Rid Of Migraine
People who are suffering from migraine usually complain that their headache intensifies when they don't get enough sleep. This is because your body gets restless when you do not give it proper sleep which makes your blood vessels tense and contract causing pain in the head.
Thus, by getting a good night's sleep you can avoid this problem to a great extent.
14. Sleeping Improves Productivity
People who sleep for around 7-8 hours a day are more productive as compared to those people who do not give much importance to sleeping hours. As they have got enough energy and stamina to work efficiently throughout the day, thus it helps in increasing productivity.
15. Sleeping Promotes Proper Growth And Development
Proper sleep at night is very important for growing children as it helps in the proper growth and development of their body organs. It is very important for teenagers because they are more prone to diseases when they do not get enough sleep.
 Thus, sleeping gives you sound health which helps in leading a happy and healthy life.
Importance Of Sleep-Conclusion
Thus, sleeping is very important for maintaining your health as it acts like fuel for your body which keeps you energized the whole day. Sleeping plays an important role in human life. So always maintain an adequate amount of sleep to lead a happy and healthy life.
Sleep helps to keep you healthy ,energetic through out the day and you will have productive day ahead.
References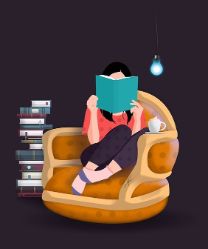 Hello, I am Aatka Azhar. I have done bachelor's degree in Computer Science. Writing articles is my passion through which I explore so many things. So, I am using my passion by working here and it will be the source of knowledge for the readers.