Standardized tests are widely used in many different educational institutions, whether it is to determine acceptance into a school or if the student will receive the proper grade for credit.
Many students do not enjoy taking standardized tests since they can be challenging and stressful; however, these tests are important because they provide valuable information that both schools and parents use to assess their child's performance and potential.
This article will share why standardized testing is important for students and schools.
15 Benefits Of Standardized Testing In Schools
Standardized tests are used for many different reasons, such as to test a student's knowledge of schoolwork or just to get an assessment on the general intelligence level of the child. They provide key information that cannot be assessed by classroom grades alone.
Many students feel stressed while taking standardized tests; however, this stress can often lead to anxiety and poor performance if it is not managed properly and efficiently. Focusing on some benefits of standardized testing can lower stress and make these tests easier to handle.
List down below are 15 benefits of standardized testing for students:    
1. Standardized Testing Can Tell If Child Is Ready for College
When the time comes for students to enter college, there is no better indicator of whether or not they will be successful. If a student has struggled throughout high school, there is little reason to assume they will do well in college. Standardized tests provide an accurate assessment of what students have learned over the years and can help predict future academic success.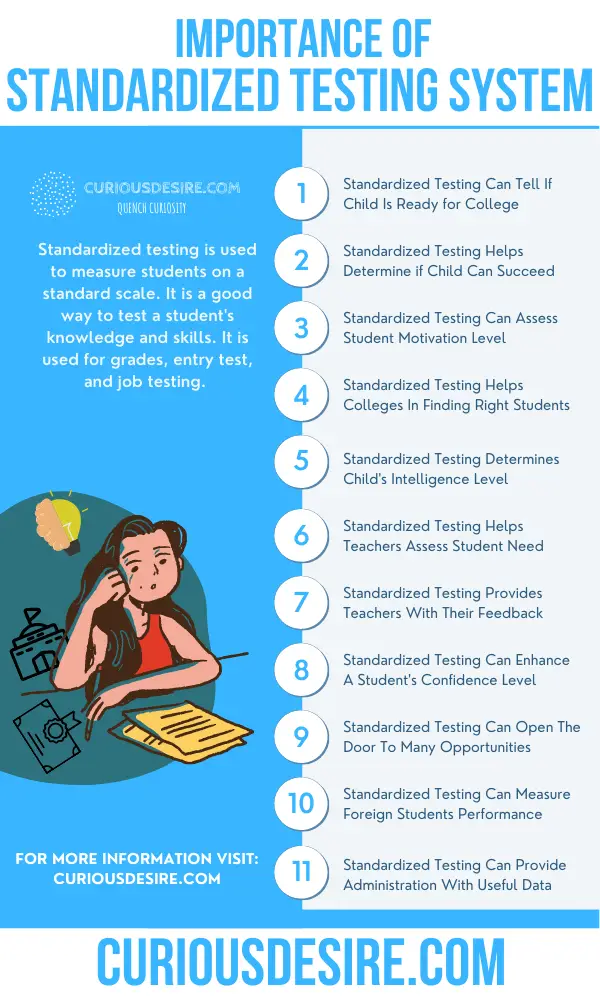 2. Standardized Testing Helps Determine if Child Can Succeed
When it comes time for students to graduate from high school or move on to college, they must be prepared for the next stage in their life. If a child struggles with taking standardized tests at certain grade levels, this indicates that he or she may be behind in some areas. They need to focus on specific subjects so they won't struggle when advancing further towards graduation.
Standardized testing provides key information about a student's strengths and weaknesses which can help teachers determine what they may need to focus on more in the classroom.
3. Standardized Testing Can Assess Student Motivation Level
Standardized tests can also see how motivated the child is for learning. A student who scores well is likely very motivated when it comes to schoolwork because they want to continue doing well throughout their academic career. A student who struggles with these same tests may need more motivation or encouragement from teachers to succeed.
4. Standardized Testing Helps Colleges In Finding Right Students
Although standardized testing cannot entirely predict whether or not a child will succeed in a particular college, it can provide some valuable information to determine which colleges fit the child best.
It is possible for a student who did poorly on these tests to still get admitted into a college due to other factors; however, the scores from these tests help ensure they will be able to handle the academic rigor of their new school.
Related Video – 2 Different Study Approaches
5. Standardized Testing Determines Child's Intelligence Level
Some standardized tests are used to indicate whether or not a child has reached his or her maximum potential. These types of tests include IQ assessments, which measure many different areas including vocabulary and mathematical reasoning. Standardized tests can play a key role in helping determine how intelligent a student really is and can help them reach their maximum potential throughout their education.
6. Standardized Testing Helps Teachers Assess Student Need
When teachers have a large class full of students, it is difficult for them to get to know each one individually due to the sheer number of students they have on their rosters. Standardized testing provides valuable information that enables teachers to see what subjects certain students excel in as well as which areas they may need more work on so they can better tailor lessons around these subjects.
7. Standardized Testing Can Give Insight On What Career Path To Choose
Standardized testing can help determine what types of careers best suit certain students so they can choose to pursue the career path that is right for them. There are many different types of tests available including personality assessments which can determine whether or not a student's personality type makes it more appealing to be an artist, criminal, computer programmer, or something else entirely.
8. Standardized Testing Can Help Students Determine Their Goals
Setting goals is essential especially when a student has to choose their academic career. Standardized tests can provide some insight into which subjects the student likes, which may help them decide on a career that requires them to focus more closely on these subjects. This can be beneficial for students who are unsure about their future plans so it makes the decision easier. 
9. Standardized Testing Can Identify Whether Or Not A Student Has Special Needs
When a child does not perform well during standardized testing, it could indicate that the child has special needs that need further attention from teachers. In most cases, this will simply indicate that the child needs help learning certain subjects or it may indicate that they have a harder time understanding material and need to be taught more slowly or with different methods than other children.
10. Standardized Testing Provides Teachers With Their Feedback
It is necessary for teachers to receive feedback through various methods in order to know what is working for their students and what may need to be improved.
11. Standardized Testing Can Enhance A Student's Confidence Level
When a child performs well on standardized tests, it boosts his or her confidence level because they know that they were able to master the material presented. This may increase their trust in other areas of life where they will have to take assessments such as applying for college or jobs later on in life.
12. Standardized Testing Can Open The Door To Many Opportunities
For better or worse, standardized testing is a major part of American education and provides students with opportunities they would not have if they did not perform well on these assessments.
13. Standardized Testing Can Help Parents Better Understand Their Children
Standardized testing can give parents a better insight into what their children are going through at school. This is especially helpful for parents who have more than one child in the same grade or if they home-school their children instead of sending them to a traditional school.
14. Standardized Testing Can Measure Foreign Students Performance
In most cases, students from other countries will need to take additional tests that provide information about not only their educational performance but how well prepared they are compared with native students.
15. Standardized Testing Can Provide Administration With Useful Data
Standardized testing allows teachers and administrators to get an idea of how well students are scoring in certain subjects. This data can be used for various purposes such as determining whether or not a school is meeting its educational goals, which methods are more effective than others at teaching particular subjects and it provides information that may help them support the individual needs of students.
The Importance Of Standardized Testing – Conclusion
Now you must have understood why standardized tests are important. It provides teachers with a much-needed opportunity to assess each student's needs and determine if one child would benefit from a different approach to teaching than another. This awareness can help teachers efficiently prepare lessons that will best resonate with their students, which is why many consider these exams to be an integral part of education.
References