Statistics is a collection of methods used to collect, organize and analyze data. It is mathematics with numbers, but it comes with a very interesting twist. While mathematics can be used to analyze and solve problems, statistics requires the use of data to solve problems.
This article will share why statistics is important as it is used in almost all areas of human life.
15 Benefits Of Statistics In Business
Statistic plays an important role in business. That's why it is one of the most preferred courses students take up during their college years. Wondering why? Read on to find out about the importance statistic plays in business.
Listed below are fifteen reasons why statistics is important:
1. Statistics Help Us In Decision Making
Statistics is an important tool for decision-making. In the real world, certain decisions cannot be taken without looking at all the possible implications and consequences of each possible action.
For example, when a company decides to launch a product in another country, they will need data regarding how many people in that country watch their TV channel and what kind of programs they prefer watching? Will it sell in that market or not? The answer lies somewhere with statistics and analysis.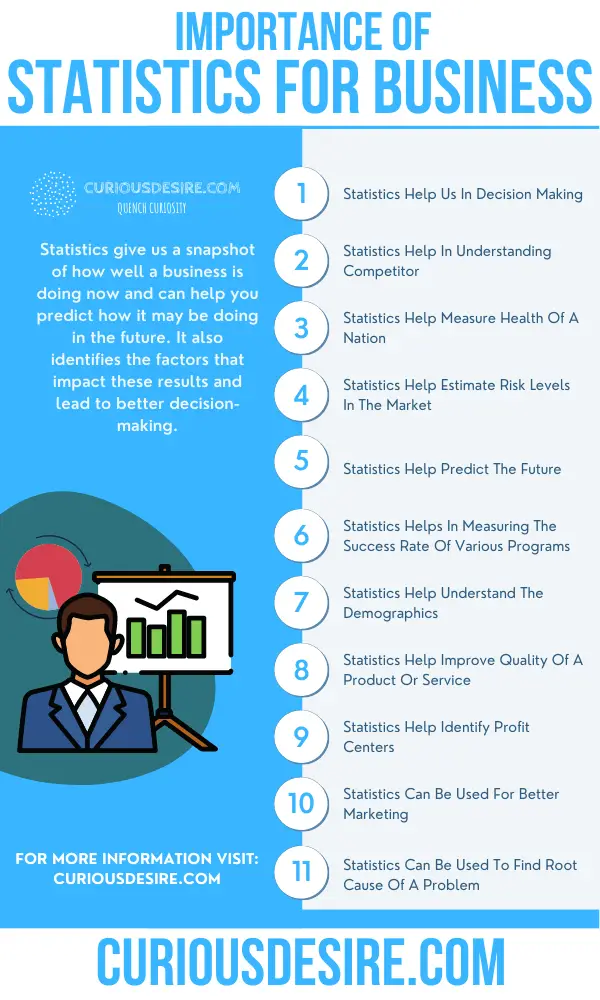 2. Statistics Help In Understanding Competitor
In business, there is competition everywhere. When you are planning to introduce your product in the market, you will have to know how many similar products are already there in the market. If you feel that your product is better than others then also you will need to know about their sales metrics. Analytics tools will help you in analyzing the competitor's product.
3. Statistics Help Measure Health Of A Nation
Ever wondered how government always has all these numbers? They need this data when they plan for the future. For example, when you are planning to introduce a new vaccine in your country. You must have all the data regarding how many people are suffering from the diseases and the death count due to these deadly diseases. This information helps in understanding whether introducing this vaccine will benefit or harm the citizens.
4. Statistics Help Estimate Risk Levels In The Market
When you want to invest in a company then first of all you need to know how risky it is. Statistics can be used to estimate the risk levels of various events happening.
For example, if we take an insurance contract then we need to know about the risks involved and the amount of money the insurer will payout in case of an event. Based on this assumption the insurance company will decide the amount of premium it will charge for this policy.
Related Video – Why You Should Love Statistics
5. Statistics Help Predict The Future
By looking at past data and trends we can predict what might happen in the future. For example, if a new iPhone is about to be launched and you need to decide whether you should buy an old iPhone or wait for a few more weeks. Then all these problems can be solved by looking at different statistics like previous sales figures, price drops, etc.
This method is not 100% correct but still, it is helpful when you are making any decision regarding buying something.
6. Statistics Helps In Measuring The Success Rate Of Various Programs
Many companies launch different programs for their employees like awarding certificates on completion of certain milestones, giving rewards, etc. These programs help employees feel motivated and work harder towards achieving these goals. It also helps in measuring the success rate of these programs.
7. Statistics Help Evaluate The Risk Involved In Projects
Every project has its pros and cons. When you are planning for something big like building an airport or highway, even though it will benefit so many people still you need to understand the risk involved behind it. Many factors are beyond your control.
For example, if you build a new road between two cities; traffic jams can occur because of accidents or excess rush on that particular road etc. All of these events cannot be predicted but statistics can give us an idea about how much risk is involved.
8. Statistics Help Understand The Demographics
If you are running a bakery and want to sell your bread in different parts of the city then before finalizing on one area, you must understand how many people live in this area and what income group they belong to, etc., this information helps in understanding which customer will be interested in buying your product. 
9. Statistics Help Make Agreements More Favorable
Statistics can help in determining the fair price of anything. You cannot buy low and sell high or vice versa because it will result in a loss for both parties. When two people are entering into an agreement based on certain parameters, which are very subjective. Then statistics comes to the rescue by giving clear information about how much profit both sides can make in their business plans.
10. Statistics Help Improve Quality Of A Product Or Service
Every company wants to increase its business. They need to understand what their customers want and how they can improve the overall quality of their products and services. All this information can be collected but are not 100% accurate. Especially when people's opinions or views might get influenced by other factors like media etc.
Here statistics again comes into play because it is based on numbers and numbers cannot get influenced by such external events.
11. Statistics Help Find Patterns
The human brain finds patterns very easily but computers take more time for the same. This ability of computers to find patterns in data is termed statistical analysis. For example, if you are living in a city where the crime rate is increasing every day then instead of condemning the whole city you need to identify problem areas geographically and then try to solve them by working on them one-by-one.
12. Statistics Help Identify Profit Centers
Every business knows that its future depends on making profits, but identifying what departments or units make maximum profit for the company can be very beneficial because other units can know how they can improve their efficiency. The information collected by statisticians helps in the overall improvement of the company.
13. Statistics Can Be Used For Better Marketing
Before launching any new product you must gather information about your target customers. This will help in coming up with a perfect marketing strategy and save money by avoiding waste of resources. Gaining insights from data by statisticians helps managers in understanding why some ideas work while others fail.
14. Statistics Can Be Used To Find Root Cause Of A Problem
Most of the times managers are presented with results that cannot make sense because too many different things can result in the same outcome, for example, data might show that sales reduced after the implementation of the new law but it is not clear whether it had more impact on domestic or foreign products. This information can be made available by using statistical techniques like regression analysis.
15. Statistics Is Necessary To Estimate Future Performance
This one is a very important part of the business planning process where companies have to estimate future performance so that they can take the necessary steps to achieve those targets. They rely on past data to come up with future projections based on regression analysis or other parameters. These figures can then be used as a benchmark against current performance.
The Importance Of Statistics– Conclusion
Now you understand why statistics is important for businesses. All the information that helps in better decision-making can be collected through statistical methods. It brings a new dimension to business research and helps managers to target their resources in the right direction.
References