There are not many individuals who have never attended a play, show, musical, or any other form of theatre. Theatre is one of the most influential art forms that go around in our everyday lives. People wonder about the impacts & power of theater that kept it relevant to humanity's art & culture, even after centuries upon centuries.
We may see greater things in it, but for now, here are just 15 of the countless reasons why theatre is important.
15 Benefits Of Theatre For Our Society
Theatre has been around for thousands of years, and it is something that cannot be ignored. There are many forms of entertainment today for people to spend their time doing but theatre brings people together for a single purpose; making them laugh, cry, or even get angry at what they are seeing on stage.
 Although it may not always be considered to be an important part of life, there are many reasons why theatre is important.
1. Theatre Allows Us To Escape Reality
Reality can be harsh and cruel, but that does not mean that we have to constantly live with it being shoved down our throats. Theatre allows us to take a break from real life by putting on a show that transports us into another reality.
Whether that involves far away lands, the past, or even the future, it is simply an escape from what our real lives are like.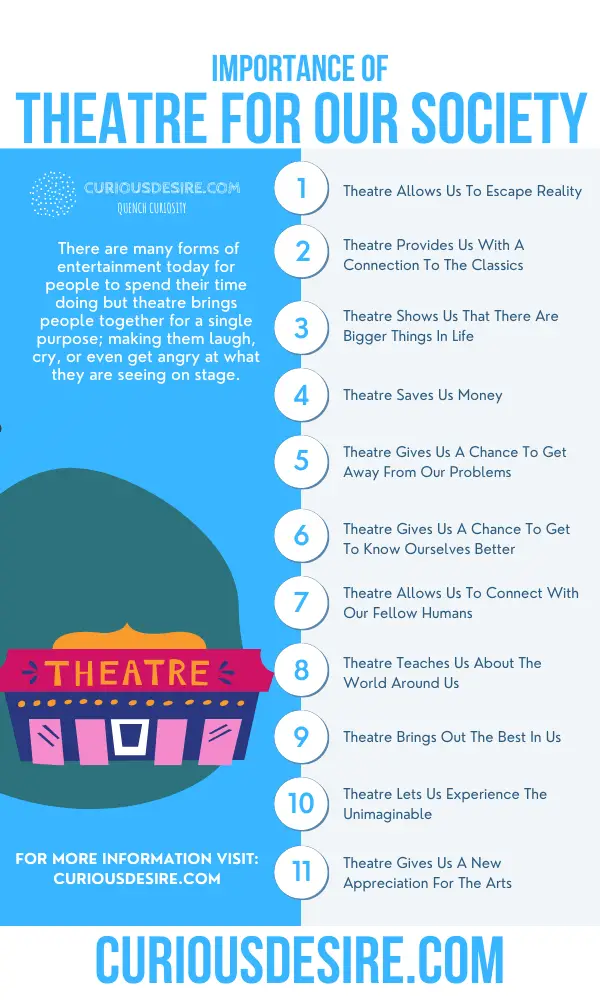 2. Theatre Provides Us With A Connection To The Classics
Whether it be Shakespeare's tragedies or musicals based on books such as Anne of Green Gables, theatre gives us a connection to the things we love and may even introduce us to new ones. Theatre allows us to be reminded of all of the important works that made such a great impact on our lives.
3. Theatre Shows Us That There Are Bigger Things In Life
A lot of times, we are so consumed by the things in our own lives that we fail to look at the bigger picture. Theatre shows us that there are things out there that are much greater than what is happening in our everyday lives.
It gives us a connection to something outside of ourselves which allows us to realize how small and inconsequential some of our worries are in comparison.
4. Theatre Saves Us Money
This may sound like a little bit of a strange reason as to why theatre is important, but it can save you money in the end. Many people go out and spend their money on dining out or other activities and shows and things which can add up over time.
However, many theatres and shows offer discount prices for seniors, children, and students which can help you save money.
Reference Video- Why Theatre Matters
5. Theatre Gives Us A Chance To Get Away From Our Problems
Whether we are dealing with family problems or school issues, it is always nice to get out of the house and away from those things for a little while. By taking in a show at the theatre, we can get away from everything for a little bit and leave all of our problems behind.
6. Theatre Gives Us A Chance To Get To Know Ourselves Better
Theatre is such an important part of human culture because it gives us such an intimate look into the workings of the human mind. By observing the characters on stage as they struggle with their problems and come out on top, we can learn from those things and try to do better.
7. Theatre Offers Us New Perspectives
To truly evolve as a species, we must challenge ourselves and expand our horizons into different areas to which we may not have been exposed before. Theatre offers so many different perspectives which can greatly help us with that and change the way we look at things in a more positive light.
8. Theatre Allows Us To Connect With Our Fellow Humans
What is life without the connections we have with other people? The theatre allows us to form deep connections with other audience members who are all experiencing the same thing that we are at that moment. It is a wonderful way to bond with people over something that you have in common.
9. Theatre Teaches Us About The World Around Us
As humans, we must never stop learning about our surroundings and those around us. By visiting theatre shows, we are allowed to learn about what is going on around us. Whether it's current events, politics, or even just history, theatre shows allow us to expand our knowledge and become better-informed individuals.
10. Theatre Can Help Us To Grow As Individuals
As we continue through life, we may find that there is something that we would like to do but never get around to it. This is because of the fear of failure and what others will think about us for taking such a risk.
However, theatre can help to encourage us to push ourselves to the limit and follow through with our dreams.
11. Theatre Brings Out The Best In Us
When we look at theatre shows, it's easy to see the negative effects such as sadness or anger; however, it also brings out the best in us. By allowing us to take in the words of the performers, we are given a chance to feel empowered and inspired.
12. Theatre Brings Us To New Places
One of the best things about theatre is that it allows for people from all around the world to come together and share one experience. This can be done by watching a show in New York and then traveling to London to see the very same thing.
13. Theatre Allows Us To Be Emotional
Sometimes we need a way to express our emotions and theatre lets us do just that. There is no such thing as being too emotional or too caring when it comes to this type of entertainment. Whether you're sad, happy, or even angry; you're allowed to feel everything that the performers are getting out there.
14. Theatre Lets Us Experience The Unimaginable
At times in life, we may wish that we could do something like fly off to the moon or become invisible for a while so that we can get away from all of the daily troubles that we have. However, most of us will never be able to do such a thing and theatre gives us a chance to experience the impossible (but only in our imaginations).
15. Theatre Gives Us A New Appreciation For The Arts
The arts are something that not everyone gets into because it isn't exactly considered to be an important part of life. However, seeing a show in the theatre opens up our eyes and shows us the true beauty of these creative expressions that are out there for all of us to enjoy.
Importance Of Theatre- Conclusion
By reading this article you came to know that theater plays an important role in our society. The theatre can be a great way to express our emotions and feelings in a safe and friendly environment. This will allow us to grow as individuals and bring the community together in one place.
Theatre is a great way for our children to express themselves and learn about the world without being judged. Theatre also allows us to teach our children important life lessons while having fun at the same time.
References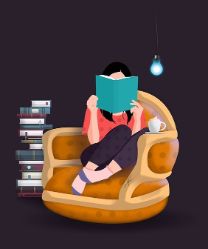 Hello, I am Aatka Azhar. I have done bachelor's degree in Computer Science. Writing articles is my passion through which I explore so many things. So, I am using my passion by working here and it will be the source of knowledge for the readers.