What is our instinct when we find ourselves in a difficult situation or enter an unfamiliar environment? We doubt ourselves or mull over what to do. Many people feel the same but have different coping mechanisms.
Confident people are not immune from such emotions. However, they know when to keep calm and present themselves poise even in the face of adversity. They usually enjoy their sense of security in such ordeals.
Though failures might make you lose the spark sometimes, yet we give you 15 good reasons why confidence is important so you build your morale again.
Benefits Of Confidence In Your Character Development
Confidence is the firm belief that your choice is the right one and you can go for it. Considered as a personality trait- a belief one has in their abilities and strengths. Here are 15 reasons why it is so important.
1. Confidence Leads To Health
Confidence corresponds to happy emotions like satisfaction and optimism, leaving an overall good impact on the body. Studies claim that confident people are healthier and tend to live long lives.
Those who lack confidence surround themselves with negative vibes and struggle with depression and fear. It impacts their health and life span too. Self-assurance drives you to achieve your goals.
People who are determined to stay fit are more likely to exercise than those who are the victims of self-doubt.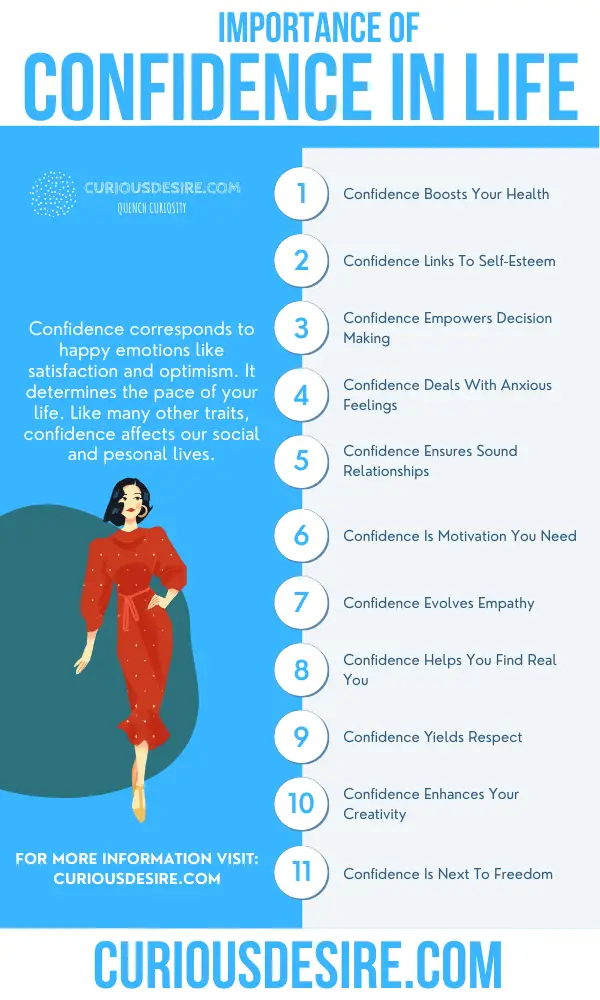 2. Confidence Links To Self-Esteem
A study with 31,000 students from 49 universities revealed high self-esteem as a prediction of overall life satisfaction. It showed that happiness and confidence connect by 47%.
Sometimes, people do have good self-esteem, but they struggle with feeling confident. But don't worry, your self-esteem will bring you joy and confidence ten folds.
Confidence can do wonders for you. It helps you build your self-esteem. Knowing your worth boosts your confidence and determines your potential.
3. Confidence Empowers Decision Making
Studies reveal that confidence has a vital role in molding our decision in future ventures.
You are inclined to assess the situation with a clear head, leading to make good decisions in the long run and keeping self-doubt out of your way. And even if it backfires, confident people can adapt to new circumstances quickly.
4. Confidence Produces A Great Communicator
We often leave our impression on the people we meet through the way we carry ourselves. Confident people are comfortable wherever they go. They are usually calmer and collected than others. Their body posture exhibits their power and leaves a long-lasting impression on the audience.
In her TED talk on body language, Amy Cuddy says that your posture determines your engagement with the audience. Your power pose sends signals to the brain that you are confident, releasing, in turn, more testosterone and lowering your cortisol level, known as the stress hormones.
Most people find it difficult to communicate while maintaining eye contact. Psychology believes that it is a powerful means of communicating with conviction and confidence.
Related Video – Confidence: What Does It Do?
5. Confidence Deals With Anxious Feelings
We all have our bad days where we feel low or out of our skins. However, confidence helps you manage nervousness effectively. Changing your "I cannot do this" to the gesture of can-do is all the push you need to get back on track.
Confidence fights with anxiety. Building confidence can help with some effects of clinical anxiety and depression. But, it is an illness that cannot be cured by just being confident. So seek medical help to cope with it.
6. Confidence Is The Safety
Confidence is all about trusting your abilities and power. It helps you navigate through life. The notion of saying no to what you do not like comes from confidence.
Most teens are building their sense of self and thus deal with different emotions. Their heightened reward sensitivity and dopamine craving cloud their minds ending them in making reckless decisions. Peer pressure is another common factor where they become vulnerable to do things even when they know better.
But the root of the issue is traced directly back to the insecurities one has about himself. Hence building your confidence is necessary to deal with peer pressure.
7. Confidence Ensures Sound Relationships
Research reveals that people find confident people more attractive in relationships. They are self-dependent, making them great partners. They respect healthy boundaries for a relationship too.
And that makes most people like them. They cherish their self-worth and are less likely to cave for those who do not respect them. Several studies find a close relation between self-esteem and relationship too.
8. Confidence Is Motivation
Higher self-confidence enhances the motivation to act. Confidence provides you with coping methods to handle setbacks. Instead of being crippled and lost at the failures that come their way, confident people do not beat themselves up for the losses. They try to learn and acquire a better grip to succeed. Their positive outlook on life helps them move forward.
The need to get better, test your abilities and achieve more in life drives confident people. They check their potential and use their abilities to the maximum when they look at their accomplishments.
This quality improves their sense of motivation. Instead of pondering on what-ifs, their self-assurance never lets them paralyze their efforts. If you triumph through ordeals, then self-doubt can never hold you down in other aspects of life.
9. Confidence Evolves Empathy
When you are sure of yourself, you do not ponder over the perceptions of other people. Confident people don't compare themselves to others. Social Comparison Theory countered that their comparison is driven by motivation. They are generally poise and relaxed, putting others at ease too, which helps forge deeper connections.
They look out for others, notice slight changes in behaviors and work to make others feel alright. This deep sense of empathy arises when you are thinking out of your box. Confidence makes you reach out to help others.
10. Confidence Helps You Find Real You
Timid people doubt their worth and lament their weaknesses. They question themselves at every opportunity, wonder whether they will be able to achieve anything. Their anxious mind hinders them. It reminds them of their flaws, and they are unable to find themselves in this process.
Confidence roots you in who you are. You accept your flaws and celebrate your strengths. You look on the brighter side of things that help you to dive in for more.
Your actions become in line with your principles, shaping you into the best version of yourself. You stand up for who you are, acquire a strong character that inspires others. Ultimately you find yourself.
11. Confidence Yields Respect
You show a sense of responsibility when you stand for the morals you have. When you put your best skills on the table to offer, people find you trustworthy. You give them the impression that you are keen and inspiring. It earns you respect.
All the best leaders in the world are confident, for they bring out the absolute best for a meaningful purpose.
12. Confidence Enhances Creativity
Confident people usually assess their personality traits and use them to their advantage. They like to experiment with new things and explore enthusiastically for new prospects.
The happy hormones keep them fresh and agile. Their self-assurance brings out the creativity in them.
Creativity comes out of feelings of calm, motivation, and inspiration. So confidence allows new ideas to thrive and expand the level of creativity in life. You produce quality work. Your levels of performance and productivity increase as well.
13. Confidence Inculcates Better Sleep
Could self-assurance bring you peaceful sleep? With reduced stress and anxiety comes happiness and freedom.
Research shows that sleep affects our self-confidence. It revealed that people with insomnia have lower self-esteem throughout the day than those who sleep 7-8 hours.
14. Confidence Reduces Social Anxiety
Confident people do not waste energy on seeking the approval of others nor let their judgment affect them. They are more likely to develop a sense of security and enjoy trust in themselves.
Confident people move in social circles without any fear of rejection. Their positive energy attracts others since confidence and positivity come hand in hand.
15. Confidence Is Next To Freedom
Self-dependency is a notable feature of confident people. They do not depend on others. This sense of freedom makes them befriend others easily. They do exciting things and keep an open mind to all the experiences life offers without fear holding them back.
Why Confidence Is Important – Conclusion
Confidence determines the pace of your life. You try new things without hesitation. It affects your social and personal life. Philosophers, writers, and psychologists all have emphasized the crucial role played by self-image in motivation and social interaction.
New experiences teach you the valuable lessons of life. You become independent and help others find their happiness too. It is in itself a pride that you have come so far in life. Believing in oneself brings opportunities no one could think of.
So don't hesitate to leap at every opportunity you get, get those inhibitions out of your mind, and see the world change with you!
References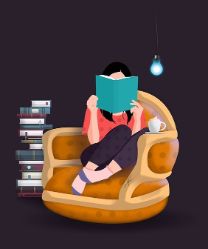 A sophomore in engineering, I'm a budding writer and an adventure enthusiast. My passion leads me on to try my hands on different things. I enjoy music, food, and good company. Making my way through life in my own ways, you'll find me holding a camera and capturing what this world has to offer.