Deserts are some of the most unique and diverse ecosystems on Earth. They cover about 39% of the Earth's land surface and are home to more than 2 billion people. They also provide a habitat for many species that can't be found in other places, including desert-dwelling animals like the kangaroo rat and cactus wren. 
What makes them so different is that they provide a home to more than 25% of all animal species found on our planet. Here are 15 reasons why deserts are important.
15 Benefits Of Deserts That Help Support Our Ecosystem
Deserts have been around for millions of years, but humans have only occupied them since 12000 BC when agriculture began in Mesopotamia. They are important for various reasons – from providing a home to species to supporting life and preserving history and minerals.
1. Deserts Are A Home To Animals
Deserts are mainly known for their sparse landscapes and lack of vegetation. But they also provide a home to many species that can't be found in other places, like the kangaroo rat and cactus wren.
Deserts provide the perfect habitat for warm-weather creatures to roam around without having to worry about finding food or shelter.
It's not uncommon for desert animals to deal with high levels of starvation during the summer months when prey is hard to find. Ninety-one mammal species, 319 bird species, and 67 lizard species call deserts their home.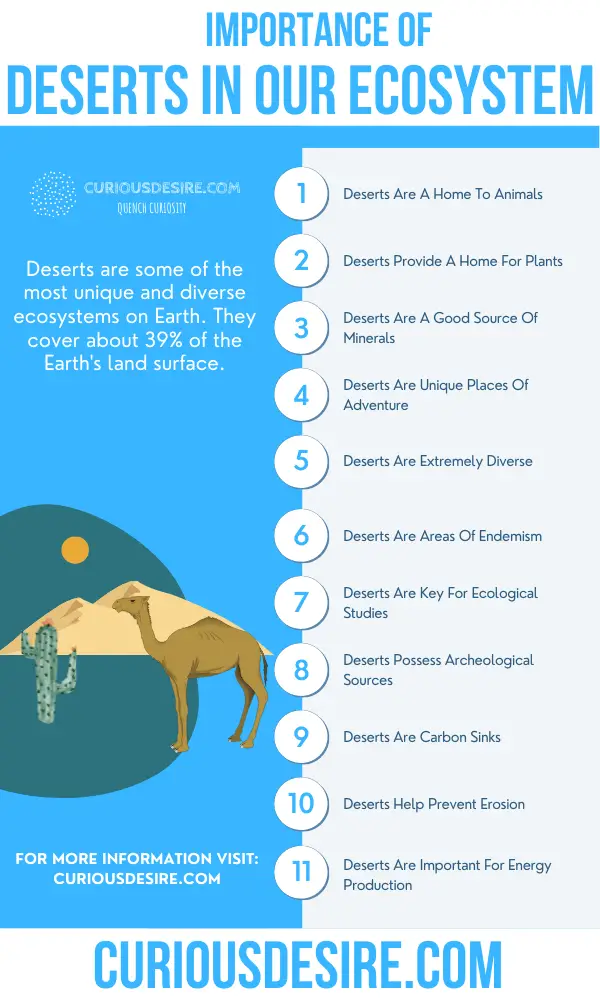 2. Deserts Provide A Home For Plants
Deserts are home to more than 25% of all plant species found on the planet. Many plants have adapted to survive the dry climate which often includes extremely high levels of sunlight, little rain or snowfall, and very sandy soils.
Despite their bleak appearance, deserts are lush with plant life. They provide a home for cacti and other plants that have evolved to survive in the harsh climate.
3. Deserts Are A Home To People
Deserts are home to more than 2 billion people who rely on their ecosystem for food security. Desert communities have developed their own culture and handicraft items that play a huge role in the local economy and trade with other cultures.
They provide a habitable place for us due to the low population density and plentiful natural resources like oil reserves and minerals.
4. Deserts Are A Good Source Of Minerals
Despite their inhospitable nature, deserts are an important source of minerals. Deserts are known as "mineral wastelands" as they have been used as a source of raw materials to make products like bricks, glass, and cement. They contain large deposits of useful minerals such as coal, copper, gold, iron ore, natural gas, and petroleum.
Related Video – Deserts 101 | National Geographic:
5. Deserts Are Unique Places Of Adventure
In addition to their mineral value, deserts also have a high rate of endemism for plants and animals. Due to the lack of water and other nutrients found in other habitats, desert species tend to be smaller or shorter than their counterparts in other ecosystems.
Deserts are home to some unique creatures like lizards that can store water in their bodies, the camel that can go weeks without drinking water, and small mice that use their large incisors to stay hydrated by chewing on desert plants.
Hence the deserts provide tourists with an opportunity to explore new destinations. Desert vacations are now becoming more popular as people want to experience the desert's barren landscape and unique animals.
6. Deserts Are Extremely Diverse
Deserts are one of the most beautiful ecosystems on Earth. Not only are they home to a variety of animals, but they also have an amazingly diverse landscape.
The Great Victoria Desert has dunes that can reach 300 meters high and stretch for hundreds of kilometers across the desert floor. It has been around for at least 100 million years and is home to 5% of all known plants found on Earth.
7. Deserts Are Areas Of Endemism
Desert soils are nutrient-poor which contributes to the scarcity of plant life and animal species. The low rainfall, lack of water, and vegetation make them good places for scientists to research endangered species and their habitats.
Deserts are located in just about every corner of the planet. They are found near the equator, in temperate regions, at higher elevations, in grasslands, in areas with high rates of precipitation, areas with extreme heat, and along rivers.
8. Deserts Are Key For Ecological Studies
Deserts are especially good for studying the effects of climate change on animal life. Because deserts are mostly isolated from other habitats, their plant and animal species aren't as affected by outside factors like humans or deforestation.
Deserts are also key study areas for scientists looking to research how different species of plants and animals can survive in harsh environments.
Deserts are home to many interesting creatures that have adapted to the climate. Humans rely on desert ecosystems for survival as they provide shelter, energy, minerals, and trade opportunities. The deserts of the world are of great importance to the planet and its people.
9. Deserts Shaped Human History
Deserts make up one-third of the Earth's surface. As humans have evolved, they've adapted to all sorts of climates including deserts. Some of our ancestors developed ways to survive in the desert environment by learning about native plants that could sustain life for weeks without water.
Deserts played a large role in human history. The Sahara helped shape the economics of Africa because it was an excellent location for trading goods, including Salt.
10. Deserts Possess Archeological Sources
Deserts contain many important sources for archaeological research. For example, the Sahara desert has been a source of many relics and artifacts from ancient civilizations. Archeologists have found numerous tombs and mummies in the Egyptian Desert that date back thousands of years.
Even though deserts are hot, barren areas with very little rain, they still have a lot of history to them. Many scientists and researchers travel to these parts of the world for this reason, most notably in Egypt where countless centuries old relics have been found.
11. Deserts Are Carbon Sinks
Since desert soils are poor in nutrients and water, they aren't great for growing crops or sustaining much plant life. However, because deserts have such a harsh climate with little precipitation, many people overlook the fact that they could be one of Earth's largest carbon sinks.
Desert sands are a significant carbon sink on Earth, according to an article in Science Daily. Bacteria that dwell in the Kalahari desert in Africa have been shown to help collect and keep carbon dioxide in their environment. The ingredients in these desert sands, such as silica and magnesium compounds, help to keep carbon dioxide out of the atmosphere.
The desert sands may play a significant part in preventing additional carbon dioxide from entering the environment and end up causing global warming.
12. Deserts Help Prevent Erosion
Deserts are the driest regions on Earth, but they are also some of the most beautiful places you can find on our planet. However, deserts often face a problem with wind erosion which can end up damaging the plants and animals that live there.
In some deserts around the world, the sand dunes are shifting to make this problem even worse. However, desert plants like "salsola" help trap in soil and prevent wind erosion in some areas.
13. Deserts Are Important For Energy Production
Did you know they also play a major role in energy production?
In the middle of the day, when it's often up to 120 degrees Fahrenheit or more, many power plants absorb and store heat from the sun. These plants then produce steam that helps create energy for homes and businesses all over the world.
In deserts around the world, there are solar thermal power plants that use large mirrors that reflect heat from the sun to create steam energy. These power plants are efficient because they only run at full capacity during times when desert temperatures are extremely high, making them cost-effective.
14. Deserts May Hold The Solution To Energy Issues And Climate Change
Deserts across the globe provide a prime location for large solar thermal power plants that convert heat from the sun into energy. These plants only run at full capacity on certain days when the temperature is extremely high, making them cost-effective in an otherwise very expensive industry.
In addition to providing a more cost-effective way to get energy, deserts are also home to some of the largest carbon sinks on Earth. The ingredients in desert sands help keep carbon dioxide out of the atmosphere by trapping it in the environment.
Scientists believe that if more people were aware of how important deserts are, they would be able to take steps towards solving many issues that our planet is currently facing.
15. Deserts Make A Great Ecosystem
Deserts are found in every single region of the world and support a large number of plant and animal species, making them an excellent ecosystem to study.
Deserts are some of the harshest places on Earth to live, but they also provide a great ecosystem for researchers and scientists to find how plants and animals adapt to changes in their environment.
The beauty and vastness of deserts are one that many people want to explore. The harsh conditions and barren landscape make it appear like another world altogether. The desert is a harsh environment for humans but has been able to sustain life for thousands of years.
Importance Of Deserts – Conclusion
Deserts are quickly disappearing due to human activity including deforestation, overgrazing, mining, construction for agriculture or industry, and off-road vehicle use.
We need to protect deserts too for our survival. The delicate balance between life and non-life is being disrupted at an alarming rate with consequences that will reverberate around the globe for generations to come if we don't take action now!
References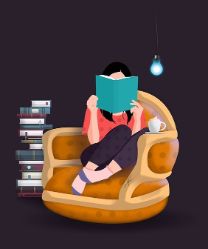 A sophomore in engineering, I'm a budding writer and an adventure enthusiast. My passion leads me on to try my hands on different things. I enjoy music, food, and good company. Making my way through life in my own ways, you'll find me holding a camera and capturing what this world has to offer.