Many people don't understand the true meaning of discipline. They think it means punishment, yelling, fighting with someone or trying to force them into doing something they clearly don't like or want. Discipline is not that at all!  Discipline simply means teaching someone something. It can mean showing them how things are done, what is right and wrong and the results of their actions.
With some clarity on discipline being made, let us explain to you 15 reasons why discipline is important for all of us.
15 Benefits Of Discipline That Can Change Our Lives
Discipline can be a wonderful gift, but more than that it is a skill that you turn into habit. You have to make sure it is given the right way and at the right time for it to work. There are many reasons why discipline is important in school and life, but here are 15 you might not have heard before. Take a look at these reasons to better understand the importance of discipline.
1. Discipline Is Important To Thrive In School
As students, we receive discipline every day in our schools. Every teacher has rules they expect us to follow, like coming on time so we don't miss anything important or trying hard not to interrupt them when they are teaching.
We also learn by example from other students who might show us how it's done. Most importantly, we learn responsibility because teachers give us assignments that must be turned in on time. The more discipline a school enforces, the better students it will produce.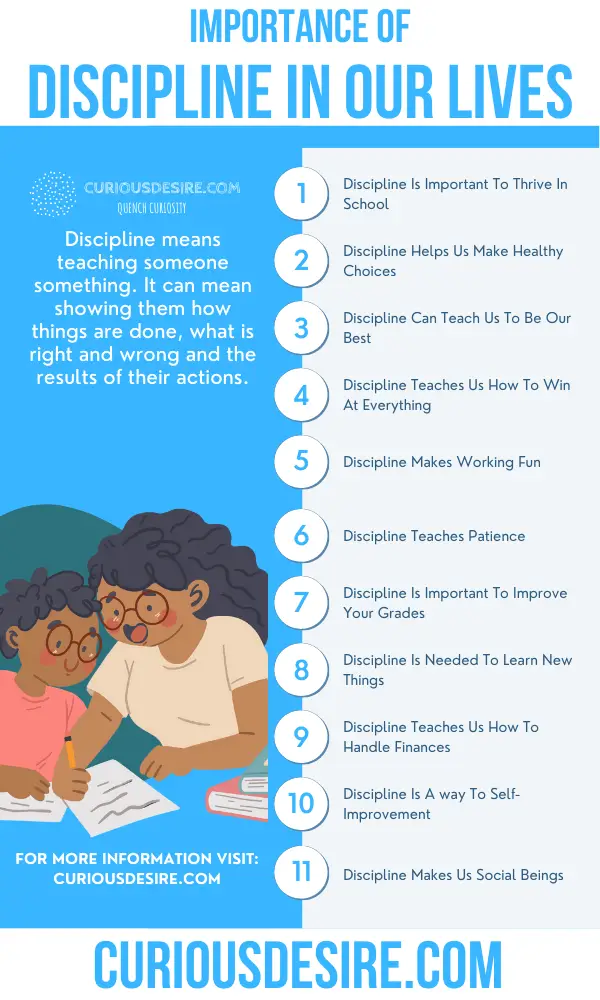 2. Discipline Helps Us Make Healthy Choices
Discipline can help us make healthier choices in school and at home too. If your school has a no-sugar policy, you'll be much less likely to eat sweets. At home, if your parents have forbidden junk food in the house, you won't have easy access to it.
Even though discipline might not always seem like fun, you'll eventually see that it makes difficult tasks easier to do, especially when difficult decisions are involved.
3. Discipline Can Teach Us To Be Our Best
When people are disciplined properly, they learn to manage their time well. It's not always easy for teens — who are still trying to figure out how the world works — but everyone can benefit from knowing which tasks are most important to accomplish first.
Managing your time properly will help you be at school on time, do well in all of your classes and complete homework faster so you have more free time to play or relax!
4. Discipline Teaches Us How To Win At Everything
One of the biggest lessons discipline teaches us is how to succeed. With every assignment , there's a criteria teachers look for ; it can be different from one class to another, but just about every teacher expects certain things . If you don't meet those standards, then you won't get good grades.
Learning that now will benefit your success later too because once you're working , employers expect the same thing . While they might not know exactly what they're looking for, they'll know if you don't meet the criteria they've set.
Related Video – How to Be More DISCIPLINED
5. Discipline Makes Working Fun
Being disciplined takes years to master. At first, it's challenging to learn how to manage everything that needs your attention, but once you get good at it, time management becomes fun! With every task you complete without stress or complications, it becomes easier and more rewarding.
There are definitely days where we all feel like giving up; sometimes life is just too much for us, but discipline can help us overcome those challenges so we can feel proud of ourselves later.
6. Discipline Teaches Patience
Everyone has bad days, but it's how you behave when you're having one that counts. Being patient with yourself can be difficult because we want everything to happen right now so we feel better about the situation at hand, but patience will help improve your self-discipline in the long run.
The more patient you are with yourself, the more likely you'll be able to finish tasks without feeling impatient or stressed out just because they seem hard.
7. Discipline Is Important To Improve Your Grades
Getting good grades is very important. It shows us what we know and determines our future. For example, if you do well in school (gaining discipline), then college applications will look much more attractive to universities, and they might even offer you more scholarships.
8. Discipline Is Needed To Learn New Things
Discipline is very important because without it, we wouldn't be challenging ourselves to learn new things. It's also all about having the courage to try something hard and take that leap into the unknown – whether it's a sport or an instrument – we need discipline to help us do that whether we're good at it or not.
9. Discipline Teaches Us How To Handle Finances
Everyone has a different style of managing their money, but for most people, discipline plays a big role in how successful their financial future will be. If someone spends too much, then they'll have less money whenever they get paid.
If spending isn't controlled, everything else will collapse too. Without discipline, people might even end up in debt because they don't know how to handle their money well. Learning how to manage it now can help you throughout your life!
10. Discipline Is A way To Self-Improvement
Self-improvement takes discipline. Whether it's sports or school, people always have to work hard to improve themselves. This can be difficult at first because you might not want to do something that seems too hard, but with the right mindset, anything is possible!
By improving yourself through self-discipline, you'll feel happier about who you are because no one else will have the same interests as you. You may also end up meeting new people along the way.
11. Discipline Makes Us Social Beings
Learning how to live with other people is an important part of life. Discipline can help you get along with your family, friends, and everyone else you spend time with. Knowing what's good for the group and what's not, will make social situations much easier on you!
Everyone makes mistakes, but it's how we handle them that counts. With discipline, we'll be able to learn from those experiences so next time around, everything will go smoothly . We won't be afraid of new challenges either because they'll seem more like opportunities than something scary.
12. People With Discipline Tend To Be More Stress-free
We'll all make mistakes, but successful people learn from them. Rather than letting one bad choice get in the way of their future, they brush it off and keep going. They know that no matter how hard something is, there's always a chance to try again.
13. Discipline Helps Us Keep Our Promises And Resolve Problems
When you don't have discipline, it's easy to break your word and let your habits run wild. You might end up suffering if you can't follow through on what you've promised others because keeping your word builds trust and helps build stronger relationships!
If we live without discipline, we're also likely to create more problems for ourselves as adults. We might also end up doing harmful things or getting hurt because we don't think before acting. The more discipline a person has, the better equipped they'll be to do what's right when confronted with problems.
14. Discipline Is Key To Success In Life
Studies prove that disciplined people tend to be more successful in life. If you want to have a successful future, then discipline is definitely something you need in your life! Without it, you won't be able to accomplish all of your dreams and goals. Without discipline, there would probably be chaos everywhere. We wouldn't have any rules and everyone would live crazy lives without order.
15. Discipline Allows Us To Accomplish More
Having the courage to face challenges head-on is what gets us through everything in life. Whether it's a new course or an extra project, discipline can help us figure out how to work through it step by step. That's the only way we'll be able to get ahead in life without wasting too much time.
Without discipline, none of our goals would ever come true. If you want to succeed, you have to learn how to do things well so that one day, all your hard work will pay off! Discipline is something everyone needs for a good future. It teaches us not to give up when things get tough and shows us what true strength looks like
The Importance of Discipline – Conclusion
Some people overlook discipline as a valuable tool because it means hard work. But nothing worthwhile comes easily! That's why discipline is so important. You have to work for your goals, but once you've earned them, you'll wonder why it took so long before you could be proud of yourself!
References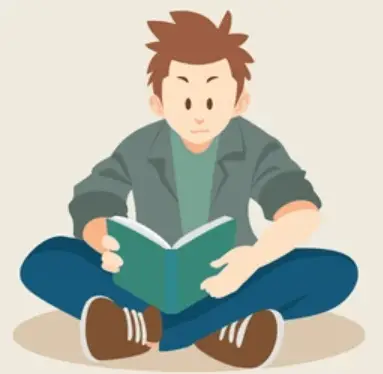 Yusuf is interested in exploring the world around him and making meaningful connections with it. He then express these ideas with words for the world to enjoy. In his free time, Yusuf loves to spend time with books, nature & his family.