In folklore, trees symbolize a link between the physical and spiritual realms. Unfortunately, the world's forests are under numerous pressures, including deforestation and human-induced climate change.
Forests provide a habitat for countless species, help regulate water cycles, prevent erosion, and store carbon dioxide from the atmosphere.
The importance of forest conservation cannot be overstated because deforestation is one of the leading causes of species extinction today.
To maintain the benefits forests provide, people need to conserve forests by planting trees in areas that have been degraded by human activity. Here are 15 reasons why forest conservation is important.
15 Benefits Of Forest Conservation That Help In Ecosystem Balance
The world loses more than 15 million hectares of forest every year, which is equivalent to 27 soccer fields per minute. Forests are crucial for survival. We need to protect nature to save ourselves.
1. Forest Conservation Can Increase Oxygen Levels
Trees are air purifiers. Forests provide cleaner and healthier air, as well as produce oxygen for us to breathe. All organisms need oxygen to survive and trees are natural recyclers for the process. They absorb the carbon dioxide and exhale oxygen to support life on the earth.
Though with the oft-repeated claim about its importance, sources show that the Amazon rainforest can only generate about 6% of the oxygen.
We are jeopardizing our own lives and the lives of everything that requires oxygen to survive if we do not safeguard our forests.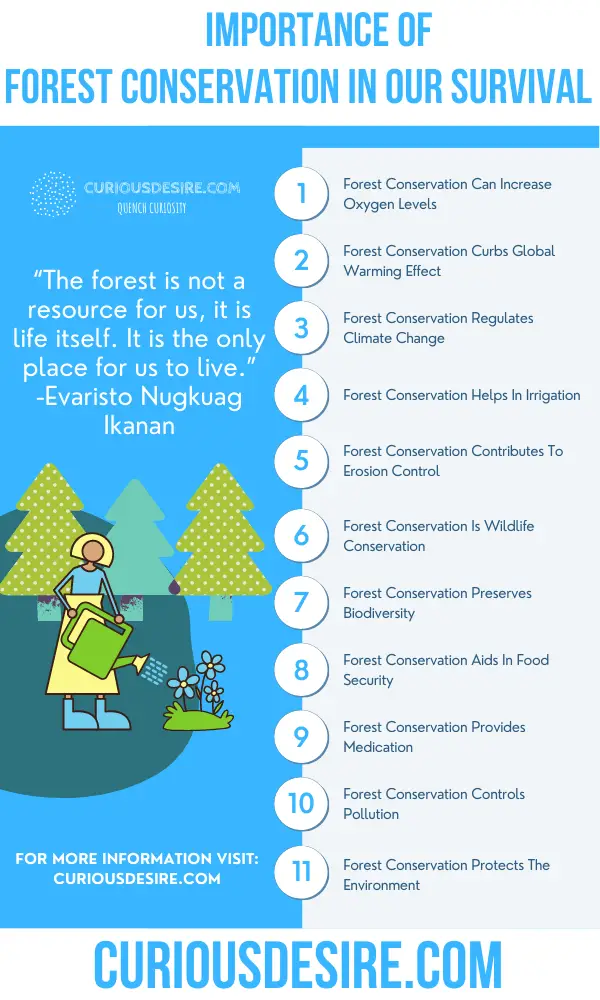 2. Forest Conservation Curbs Global Warming Effect
According to research, deforestation is responsible for 20% of the world's greenhouse gas emissions. Worldwide, forests act as storehouses of carbon dioxide.
When trees are cut down and burned to clear land, huge amounts of CO2 are released into the atmosphere. This process contributes to global warming and thus to climate change. The loss of forests contributes 15% to global warming.
Conserving forests is important because it slows down global warming. Carbon dioxide released from forest destruction can be absorbed by conserving trees through reforestation efforts.
3. Forest Conservation Regulates Climate Change
The loss of forests around the world is a significant contributor to climate change. Forests are natural carbon sinks. They store a large amount of carbon in their biomass and soil.
When trees are burned, they release more greenhouse gases into the air further exacerbating climate change. The loss of natural forests is a direct result of our unbridled carbon emissions.
If forests are restored, the world could get ⅓ way closer to meeting climate change mitigation goals by 2030.
4. Forest Conservation Helps In Irrigation
Forest conservation helps as it is a source of water for both humans and animals. Forests and plants store water that we can use for drinking, agriculture, and other purposes. They prevent erosion and landslides too.
When trees are cut down, the soil becomes more vulnerable to strong rains and winds. This increases the risk of floods. Deforestation also decreases the soil's ability to absorb water from rain, which can lead to droughts.
Related Video – The Importance of Forests | How to protect Forests:
5. Forest Conservation Contributes To Erosion Control
Trees help control the flow of rivers by slowing down water currents, preventing soil erosion along riverbanks, and mitigating landslides. When people deforest mountains and hills, the soil becomes loose and gets washed away by heavy rains or strong winds.
Once forests are gone, we lose valuable shelter for plants and animals that help block erosion and landslides.
6. Forest Conservation Regulates Water Cycle
Trees help maintain a healthy water cycle by absorbing rainwater from the soil. When forests are cut down, changes occur in areas such as temperature and humidity. Most forest conservation efforts focus on deforestation as it directly affects the flow of rivers and rainfall patterns.
Wetlands also serve as a natural water collection, filtration, and storage system in forested areas.
7. Forest Conservation Is Wildlife Conservation
Forests provide a habitat for an immense variety of wildlife, including threatened and endangered species that we cannot afford to lose.
These natural habitats can be developed into industrial plantations or other human activities, but this is harmful to the environment. No matter how well-intended people are, nature knows best how it should look.
Forests provide a safe habitat for animals and plants. They help maintain balance in the ecosystem and their loss poses a significant threat to biodiversity.
8. Forest Conservation Preserves Biodiversity
Biodiversity is an umbrella term that refers to the different forms of life on Earth. Forests help maintain a healthy level of biodiversity because they serve as habitats for plants and animals.
When we lose trees, we risk the extinction of various lifeforms. We need forest conservation as it protects areas where certain species survive. The extent of the damage to an ecosystem is determined by how many species are lost when a tree falls.
The tropical rainforest is home to an estimated 3-50 million species. The forest makes up 80% of the planet's overall terrestrial biodiversity.
9. Forest Conservation Aids In Food Security  
Forests contain food which ultimately helps in decreasing the global hunger problem. Many people depend on foods found within forests such as fruits and nuts.
Deforestation has already caused hunger in people around the world. While we can grow crops on plantations, forests provide a fertile and healthy habitat for plants and animals.
10. Forest Conservation Protects Crops
Cutting down trees in a forest reduces the amount of shade and moisture in the soil. This affects crops grown in the area as they will experience more heat and extreme weather conditions when there is no forest cover.
Without trees, rainfall becomes much less reliable which means less water for crops to grow properly. Forest conservation can help prevent crop failure and food shortages.
11. Forest Conservation Provides Medication
Forests are a traditional source of medicine. Many indigenous peoples rely on forest plants to make their own herbal medicines that treat ailments such as coughs, colds, asthma, diarrhea, pain relief, and cancer.
Forests allow these plants to grow and be used in the form of modern medicine.
12. Forest Conservation Controls Pollution
Forests play a vital role in the Earth's carbon cycle and help improve air quality by removing harmful pollutants from the atmosphere.
They remove carbon monoxide, nitrogen dioxide, and sulfur dioxide from the air. Trees utilize their stomata to absorb all types of gases and particles before filtering them from the atmosphere. It controls pollution around the world.
13. Forest Conservation Provides Livestock And Feed  
Forests are home to many animals which serve as food for humans. Cattle, goats, pigs, and chickens all require forests to thrive. Forests also provide forage and grazing land that supports animals such as sheep, horses, elephants, and deer.
Forest conservation helps protect the many herbivores which we can hunt for food. Forests also serve as windbreaks to help with livestock feed.
14. Forest Conservation Is Good For The Economy
Many people around the world rely on forest resources for their livelihoods. They use them as a source of income from the soil.
Many industries benefit from forests. Forests provide timber to support construction, paper making, and furniture manufacturing and these services and products provide jobs for people. Hence, conserving trees will combat poverty.
15. Forest Conservation Protects The Environment
Trees serve as a filter for water pollutants and toxins in the soil, which helps keep waterways safe and healthy for drinking. Forest conservation protects endangered species
Forests serve as a natural filter for the environment. They provide a natural balance to the ecosystem. Hence trees are the guardians of the environment.
Importance Of Forest Conservation – Conclusion
Forests are now being cleared twice as fast as they were 25 years ago according to the UN Food and Agriculture Organization. Forests are home to numerous types of plants and animals that we need to protect for future generations. Take away a keystone species and the rest will be affected. Hence we all must join hands in conserving the forests to keep the balance.
References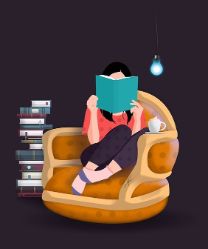 A sophomore in engineering, I'm a budding writer and an adventure enthusiast. My passion leads me on to try my hands on different things. I enjoy music, food, and good company. Making my way through life in my own ways, you'll find me holding a camera and capturing what this world has to offer.