Web hosting refers to the services and servers used by websites and online businesses for storing data and serving content. We need reliable hosting service providers with powerful server speed to keep up with our ever-growing traffic demands.
The best companies are those that offer competitive pricing. They have excellent security features and provide fast load speeds for quick access. Today, good web hosting includes eCommerce solutions for online sales. Web hosting impacts the success rate of any website. Here are 15 reasons why good web hosting is important.
15 Benefits Of Good Web Hosting That Highlight Its Significance
Web hosting is the foundation of any website, and it's important to understand what you're getting when you buy. It has a huge impact on your business.
1. Good Web Hosting Provides High Uptime
When a website is down, it can be difficult to generate traffic. Customers are less likely to trust your business if they have issues with any part of the shopping process, including finding you on the web or buying products.
If there's high uptime, your customers will find your site easily and stay online long enough to make purchases. Good web hosting ensures that your website has high uptime, people can reach and surf through your website. This means you're not coming down anytime soon!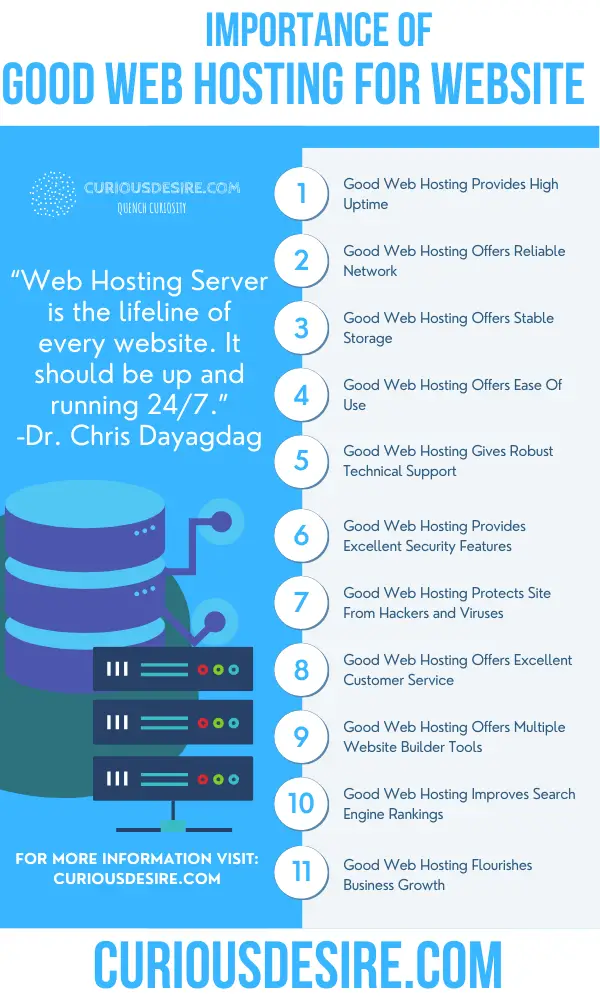 2. Good Web Hosting Offers Reliable Network
A reliable network is the backbone of your entire operation. If you go with a web host that has unreliable or overloaded servers, everything from uptime to page loads will suffer.
The best web hosting companies don't overload their servers, which helps you avoid downtime. They also have reliable networks to handle everything from traffic spikes to routine maintenance without any issues.
A large network ensures that there are enough resources available for your website, even if the server experiences high levels of traffic or has other users on it.
3. Good Web Hosting Offers Stable Storage
Storage is important for many reasons, but the main one is that any data your website uses – including images, videos, and documents – must be stored on the servers. Without this, your customers won't be able to access the content they're looking for.
Good web hosting gives you stable storage. This means it ensures that all of your important data is backed up to keep it safe in case anything happens to the primary systems.
It's also necessary for any online business thinking about growing or expanding its operations because it will store every file, every piece of content, every tweet, and every post.
4. Good Web Hosting Provides Fast Page Load Times
For customer satisfaction ratings to be high, you need fast page load times. If you don't have fast load times for quick access, visitors might get frustrated and leave before performing any transactions. This means less revenue for your business.
No one wants to wait for a page to load, and good web hosting ensures that it won't happen. Remember that your web hosting can impact not only how many people get to your site, but also their experience once they're there.
Related Video – 5 Things You Need to Know About Web Hosting:
5. Good Web Hosting Offers Ease Of Use
Some hosts make it difficult to get started, and the user interface is hard to navigate. If you're limited in your technical abilities, you'll want to look for a host that offers easy setups so you don't waste your time trying to set up the basics.
Good web hosting offers ease of use because it is designed to be user-friendly and help new users get started with their websites quickly.
A simplified control panel helps reduce the learning curve so you can focus on building your website or app instead of trying to learn how to use the web hosting interface.
6. Good Web Hosting Gives Robust Technical Support
If you experience any issues with downtime or server performance, you'll need to contact technical support as soon as possible.
It's important to find a web host with 24/7 support that can provide reliable, round-the-clock assistance when needed. Good web hosting offers robust technical support because your website depends on it.
Technical support will restore any downtime issues quickly and resolve server problems efficiently within a short period. They will be able to help you avoid downtimes and easily resolve other technical issues.
Good web hosting offers reliable support because they understand the importance of keeping your site up and running at all times. It increases the trust of customers too.
7. Good Web Hosting Provides Excellent Security Features
Good security is necessary to keep your customers safe. It also minimizes the risk of hackers trying to steal customer information or business data.
Good web hosting offers excellent security features that work to prevent these problems from happening.
For example, good web hosting will do regular backups and might even use a RAID storage system to ensure that any lost data can be restored quickly without taking down the website.
8. Good Web Hosting Protects Site From Hackers and Viruses
Many hackers look for vulnerabilities in the code of websites to exploit them and cause problems for website administrators. Good web hosting will protect you from these vulnerabilities, as well as viruses that can affect performance.
Good web hosting understands how important it is to keep your business safe at all times. It has the tools needed to secure a website properly from hackers and viruses, giving you peace of mind.
9. Good Web Hosting Offers Excellent Customer Service
Customer service is important because mistakes happen, even at web hosting companies. When they do occur, you must have someone you can talk to about the problem and a solution that works for you.
A reliable web host offers great customer service. They are constantly improving their customer service to keep up with industry trends and attract new business.
Good web hosting will offer quality 24/7 support, offer contact options like live chat and email. This creates an overall good impression of the website on customers.
10. Good Web Hosting Offers Multiple Website Builder Tools
A good website builder should be easy to use and let you create your website without any hassle or confusion. It should also provide a range of templates that give you different design options to suit the needs of your business and its customers.
Good web hosting offers website builder tools that are easy to use. They provide many templates so you can get started quickly with your website design. Hence, good web hosting is essential for developers and website owners too.
11. Good Web Hosting Offers Tools for Managing Server Performance
When it comes to website performance, you should always be looking for ways to improve it. It can be done with tools that monitor server performance regularly. Good web hosting offers tools that help monitor the performance of your site so you can ensure it remains stable and always accessible to visitors.
12. Good Web Hosting Improves Search Engine Rankings
When you have good web hosting, it can increase your website's visibility on search engines. The content of the site is more likely to be found and indexed by search engines if they're looking at an optimized website with original content.
Search engine bots crawl the files of a website and index them accordingly so that users can find the content they're looking for when they search. If a site is poorly organized, bots won't be able to index it properly and your rankings will suffer because of a lack of visibility. Your server's location also affects SEO, so check to see if your website and web host are both in the same country.
Good web hosting services offer website owners an easy way to ensure that their sites can be easily found online by using tools like sitemaps that boost search engine visibility.
13. Good Web Hosting Creates A Good Reputation For Businesses
A good reputation is necessary to survive in the markets. The world is now adapting to digital marketing and trade. It is vital to create a good brand image in the eyes of investors and clients.
Good web hosting can help your business increase its online presence and become more well-known. It will definitely improve the reputation of your website or blog, which is great for marketing purposes.
Good servers make it easy to build trust with customers because they perceive good web hosting as an indicator of a quality site. Customers feel safer doing business with companies that have servers they trust and rely on.
14. Good Web Hosting Provides a Secure Connection with SSL Certificates
SSL certificates encrypt connections between web servers and users' browsers to prevent access to private information by malicious third parties. This is very important for eCommerce sites to protect customer credit card information, addresses, names, and other sensitive data.
Good web hosting services utilize SSL certificates. It secures the information shared between visitors and online merchants.
The rules of good web hosting require professionals to provide security in the form of privacy and data integrity. They will protect your website from malware, hacking attempts, and data loss.
15. Good Web Hosting Flourishes Business Growth
Good web hosting makes it easy for website owners to grow their business because they offer everything that's needed in one package.
This includes all of the tools you could ever need to make your site functional and attractive. It is a necessity if you want to take your website or blog to the next level and reach more users.
The main purpose is to increase sales and good web hosting ensures that the business is on the roll!
Importance Of Good Web Hosting – Conclusion
Your website is your company's first impression in today's digital world. It's so crucial to choose the right web host for business. Ultra-fast page load times, excellent security, and scalable storage are just a few of the benefits you'll enjoy when you find a great host.
In a nutshell, good web hosting attracts more audiences. It makes the developers' job easy. Website owners feel at ease when expanding their business. Good web hosting is important for the success of your website.
References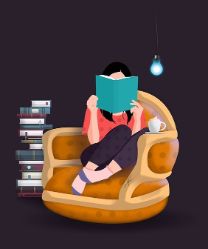 A sophomore in engineering, I'm a budding writer and an adventure enthusiast. My passion leads me on to try my hands on different things. I enjoy music, food, and good company. Making my way through life in my own ways, you'll find me holding a camera and capturing what this world has to offer.