Information security is important for any business. Data is often referred to as an organization's most valuable asset. Information security helps protect the data of an organization, its employees and customers against many different types of losses or failures.
Data breaches can cost millions of dollars in both direct costs associated with remediation and indirect costs related to customer churn after a data breach. The following are 15 reasons why information security is important.
15 Benefits Of Information Security That Will Force You To Implement It
The security of the company's data is vital. If information is stolen, or an unauthorized individual gains access, then reputations can be affected and the business may fail. After all, if customers cannot trust that their data will be safe when they hand it to a company, then why would they use that company in the future?
Data breaches can be as weird as it can get. Following are 15 reasons why information security is important to help you realize the value of this solution:
1. Information Security Prevents Data Breach
A data breach is when data is accessed or modified by an unauthorized source. This can happen when a hacker gains access to a database and changes customer records, or when employees steal credit card data.
A company might not know that it has lost sensitive data for months or even years, which can result in significant financial loss and damage to its reputation. Thanks to these systems, you get notified of the breaches quickly.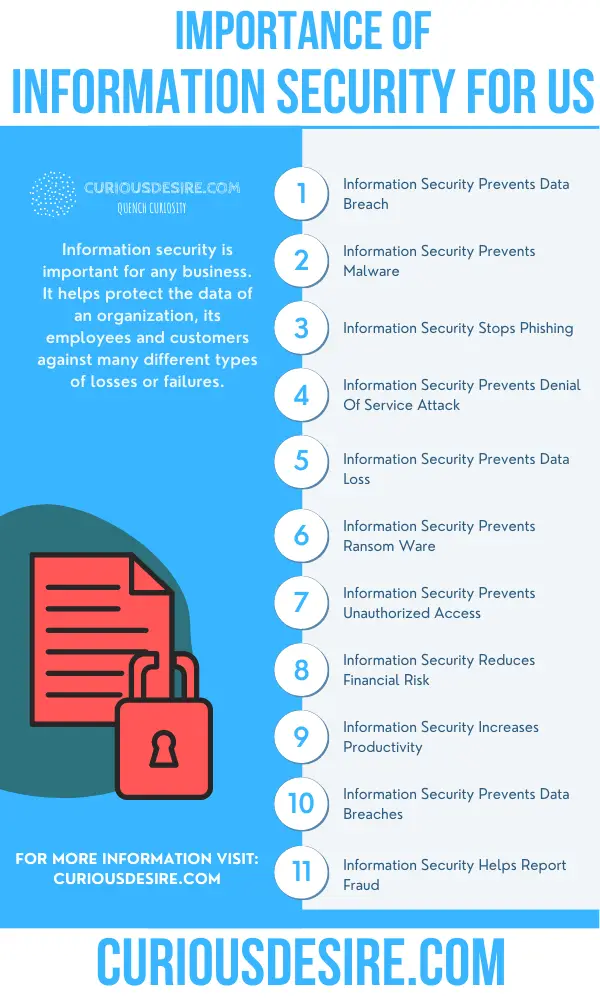 2. Information Security Prevents Malware
Information security can help prevent malware such as viruses, rootkits, worms and Trojan horses from infecting a network .
Hackers use malware to gain access to confidential information. Malware can slow down network performance or allow a hacker to steal data, such as personal information or credit card numbers.
3. Information Security Stops Phishing
Phishing is an attack designed to trick people into revealing their login credentials for sensitive accounts, such as online banking accounts, PayPal, Gmail and Facebook.
Phishing involves sending emails to users that appear to come from trusted sources. These emails contain hyperlinks or attachments which can install malware on the user's computer if opened. Thanks to information Security, phishing attack prevention is possible.
4. Information Security Prevents Denial Of Service Attack
A denial of service attack is an attempt by a hacker to make a computer or network resource unavailable to its intended users.
Denial of service attacks can stop services such as email delivery, network connections and remote logins from working properly.
Related Video – Why Information Security is Important?
5. Information Security Prevents Data Loss
Data loss prevention software is designed to monitor and prevent unauthorized use of confidential data. It can record every time that a user copies, prints or downloads information.
It can also stop sensitive data from being sent outside of the organization in unauthorized emails. Data loss prevention software can help companies comply with government regulations.
6. Information Security Prevents Ransomware
Ransom ware is malware that locks users out of their device until they pay a ransom. Hackers can gain access to a computer system through phishing or drive-by downloads, which occur when users visit infected websites without intending to do so .
Ransom ware encrypts systems and makes them unusable until the victim pays the ransom, which is usually requested in Bitcoin crypto currency.
7. Information Security Prevents Unauthorized Access
Unauthorized access occurs when a hacker gains access to a computer without permission. The unauthorized person can read or modify data, such as customer records or intellectual property, and install malware.
8. Information Security Reduces Financial Risk
Financial institutions often face fines for not complying with regulations designed to protect customers' personal information.
 Hackers can break into systems through email attachments, links in websites or removable media. This has resulted in the loss of millions of dollars for these businesses.
9. Information Security Increases Productivity
Businesses that implement information security measures often enjoy increased productivity due to improved computer performance and fewer employees solving basic IT problems.
By preventing unauthorized access, businesses can also reduce the costs of hiring temporary IT staff.
10. Information Security Prevents Data Breaches
Data breaches are an inevitable consequence of using computers and the internet without information security measures in place.
Many businesses have experienced data breaches that have led to significant losses for their organizations. For example, highly sensitive records of 4.7 million employees were stolen from the US government's Office of Personnel Management in 2015.
11. Information Security Helps Report Fraud
Many individuals are unable to check their bank accounts on a daily basis for fear of triggering financial red flags.
 However, with data security measures in place, individuals can monitor their bank accounts for unauthorized activity.
12. Information Security Prevents Identity Theft
Identity theft occurs when someone uses another person's personal information to impersonate them in order to access their financial accounts or other resources.
 This can result in the loss of thousands of pounds for victims, who are often unaware that they are even victims until their bank accounts run out.
13. Information Security Helps Prevent Extortion
Extortion occurs when an individual or organization is threatened with harm unless they comply with the demands of the perpetrator.
Hackers increasingly use extortion in order to gain access to protected information and valuable resources, such as personal data and account passwords.
14. Information Security Prevents Loss Of Sensitive Data
Although it is impossible to completely protect information from unauthorized access, information security can make it difficult for hackers to gain access to sensitive data .
Users with the authority to change passwords, install software and delete files are responsible for implementing security measures within a business.
15. Information Security Prevents Cyber bullying
Cyber Bullying involves using technology, such as cellphones and computers, to harass or harm another person .
Typically, the perpetrator tries to hide their identity by utilizing a pseudonym or fake social media account in order to commit the crime. With information security measures implemented, cyber bullying can be prevented in an organization.
The Importance of Information Security – Conclusion
In conclusion, information security plays a vital role in protecting businesses and individuals from threats such as theft, fraud and extortion.
Information security also helps prevent data breaches, which can result in a loss of millions of dollars for organizations. Information security helps reduce the negative consequences associated with bullying and ensures that users feel safe when they access their bank accounts online.
The benefits of information security include increased productivity, reduced financial risk and minimal malware in filtration.
Although it is impossible to guarantee that data will not be breached or sensitive information stolen, thorough precautions can minimize the damage caused by cybercrime.
References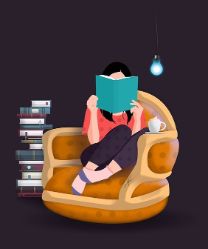 Passionate about literature, books, and weaving words into phrases, I'm pursuing an academic career in English Literature and Linguistics and have been working as a content writer since 2016. Writing, to me, is the smoothest way to explain things to others and share knowledge with them. On this platform, I aim to utilize my passion for writing in the best possible manner, using it as a medium to share whatever knowledge I have with the readers.