There are many reasons why women wear makeup. Some girls believe they cannot look pretty without it, while recent surveys show that women wear makeup only to look good for themselves. Regardless of the reason you have for wearing makeup, or not wearing makeup, these following facts will show you why makeup is important & how useful it is.
15 Benefits of Makeup that You Probably Didn't Know
Below are 15 pointers on the importance of makeup that everyone should know:
1. Makeup Makes You Confident
The global makeup industry is worth $511 billion. This means makeup is surely something that has significant effects on people's lives. One such effect has to be makeup's ability to boost people's confidence. Makeup enhances your everyday experiences by giving you more self-confidence than before.
That means you become naturally beautiful inside and out! When you wear makeup people are more inclined to think you're more attractive than if you weren't wearing makeup. For some people, this can be a boost to their pride and confidence. When you feel confident in what you wear on the outside, you can definitely feel more accomplished in life.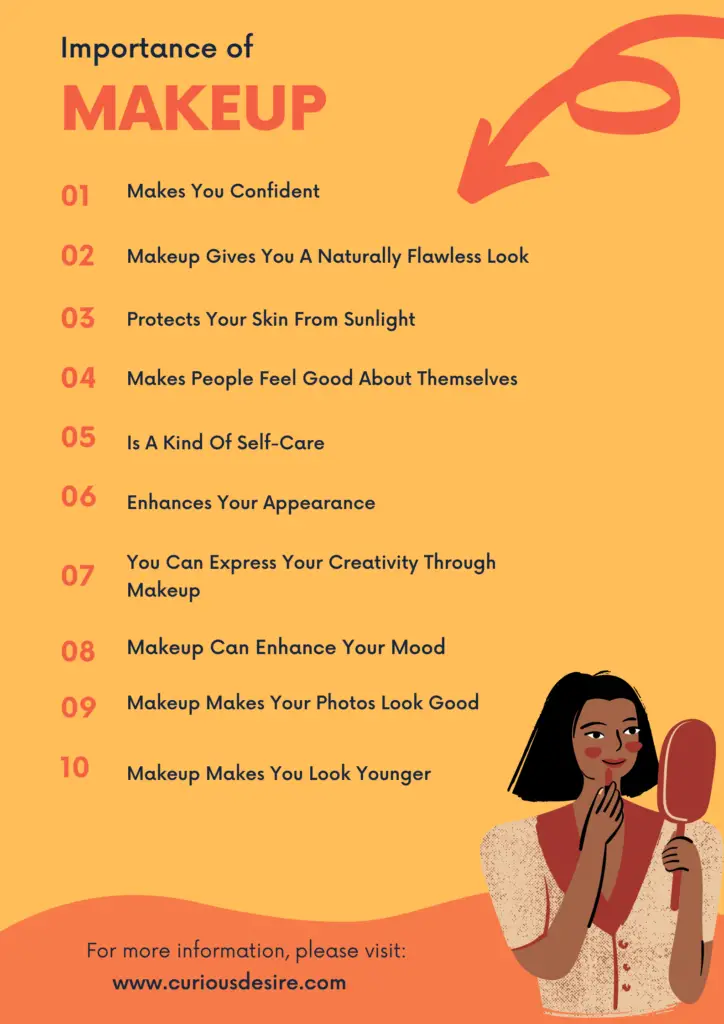 2. Makeup Gives You A Naturally Flawless Look
One of the first things people notice about you is your face. This makes sense; after all, it takes up the majority of our field of vision. When someone looks at us, they naturally start in this area. A big part of looking "put together" is having a nice complexion and wearing makeup can help with that.
Applying foundation and concealer helps to even out your skin tone so you look more natural. It further covers the blemished and conceals acne marks and discoloration that we might have. So, when it comes to presenting a flushed, yet natural, face; a little makeup can go a long way.
3. Makeup Protects Your Skin From Sunlight
One of the things that many women don't know is that a lot of their skin damage isn't from age, it's from going out in the sun without protection. It can take years for you to see the damage that's been done, but it's something that you should be wary of. Makeup acts like sunscreen when it comes in contact with your skin.
In fact, some kinds of makeup contain added sun-screening properties in them, meaning that when you wear it outside, you're practically protecting yourself from the harmful sun rays while looking great.
4. Makeup Makes People Feel Good About Themselves
It's a fact – everyone feels better when they put on makeup. Even if someone doesn't feel good about themselves, makeup can help them to look like they do!  When people are feeling down or depressed, sometimes all they need is a little pick me up. And makeup is the perfect solution! It can cheer us up, make us more productive, and help us feel better about our day.
Related Video – Makeup Artists Perspective On Beauty
5. Makeup Is A Kind Of Self-Care
Makeup is a kind of self-care because it helps people to build up their confidence and be happy with their appearance. It's a great way to feel good about the world around you.
Everyone is responsible for taking care of their own self-esteem and feelings about themselves. Wearing makeup encourages that self-care by giving people something positive to focus on. When a person puts effort into their appearance, they can take pride in themselves and feel confident about the world around them.
6. Makeup Enhances Your Appearance
When people wear makeup, they look their best! Everyone wants to look as attractive as possible, and it's almost impossible without some sort of cosmetic product on your face. Makeup can enhance your appearance, making you more attractive for the people who are interested in you. It can also improve your confidence. If you look good, it's easier to feel good!
7. Makeup Can Enhance Your Mood
Let's face it, when you're wearing that tube of lipstick or that full coverage foundation, you feel like a million bucks. You look in the mirror and something just clicks inside of you; if only for a moment, your entire mood changes. You can experiment with different shades of blush, lipstick colors and what not to enhance your appearance and mood. Also, when we look good we feel good, so it is best to wear makeup before going out somewhere or even just when you're running errands.
8. Makeup Makes Your Photos Look Good
Makeup is very important when it comes to taking photos because people who wear makeup in their pictures tend to look better. And that's why you should never leave the house without wearing your favorite face of makeup – even if you're just going to the store!
9. Makeup Makes You Look Younger
Makeup enhances the natural beauty of your skin and evens out your complexion. It can give your cheeks a youthful blush and can hide those fine lines and wrinkles easily. When done correctly, it can make you look like a fresh-faced, all-natural beauty and this freshness makes you look young. Also, when you are wearing makeup regularly, you are more inclined towards taking care of your skin. This is another factor that keeps your skin younger for long.
10. You Can Express Your Creativity Through Makeup
Making different styles using makeup is a good way of expressing yourself. It can be used in special occasions, in your free time or when you want to change the way you look in general. There are many books that teach people how they can use makeup to express their creativity.
11. It Makes You Appear More Competent And Promotes Leadership Skills
Makeup helps in projecting a look that is more professional and mature. It continues to work its magic even when you sweat or when some of it starts to wear off. This helps people in positions of authority, business and management as they can look more competent and mature with the right application of makeup
12. It Show Your Self-Loving Abilities
You can achieve various degrees of self love and care with the help of makeup. You can use it to hide a pimple or a blemish on your skin and look better without having to go under heavy-duty beauty treatments. It makes you look good so that you feel more confident. All of these things show
that you love yourself and are ready to do anything to keep yourself above others.
13. It Can Help In Defining Personal Style And Image
Makeup can help you define your personal style and image, thanks to the vast range of products available in the market these days. Before you know it, your friends and colleagues will start associating you with your new look and this can go a long way in helping you with your personal style. It can also help people who are "afraid" of experimenting with their looks as they are not confident enough to do it alone.
14. It is A Good Way Of Expressing Yourself
Makeup is a good way of expressing yourself. It can help you let your personality shine through the face. Many people are afraid of experimenting with their looks because they are not confident enough to do it alone. This is where makeup comes in handy as you can experiment in the privacy of your room and then take it out when needed, without having to worry about your image.
15. It Can Help In Setting Personal Trends
One of the best things about makeup is that it can help people set personal trends. Makeup is all about experimenting with different techniques and products until you find just the right one for yourself which means if your friends like what you do, others will soon follow suit and everyone will be using the same techniques.
Why Makeup Is Important? – Conclusion
Makeup can be used for all of the above reasons and more. However, you should always make sure that you do not overdo it because this can undo all your efforts completely. You might end up looking ridiculous instead of attractive if you go overboard with the makeup so just keep it simple and use only what is necessary.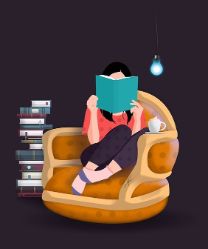 Passionate about literature, books, and weaving words into phrases, I'm pursuing an academic career in English Literature and Linguistics and have been working as a content writer since 2016. Writing, to me, is the smoothest way to explain things to others and share knowledge with them. On this platform, I aim to utilize my passion for writing in the best possible manner, using it as a medium to share whatever knowledge I have with the readers.