People today are often glued to their cellphones, tablets, and other gadgets. Exposing individuals to long periods of screen time has an impact on their mental, physical, and psychological health.
Outdoor games are important not only because they give us an opportunity to play and exercise, but also promote the development of many skills.
Here are 15 reasons why outdoor games are important for you so you go out on a sunny day and enjoy nature to the full swing!
15 Benefits Of Outdoor Games to Boost Your Stamina
Outdoor games provide physical activity, promote social skills, and give children opportunities to learn about their environment. They provide a fun and creative outlet to everyone. Playing outside produces valuable life skills that can be put into practice one day when you go out for real life adventures.
1. Outdoor Games Are Cost-free!
Outdoor games are a great way to spend time with family and friends. Many activities nowadays require some form of entrance fee. But most outdoor games are totally free of charge, which makes them an easy choice for entertainment.
Tax dollars fund public parks where you find sports facilities. You usually require an open area to play outdoors. Everyone may enjoy the outdoors, regardless of their financial situation.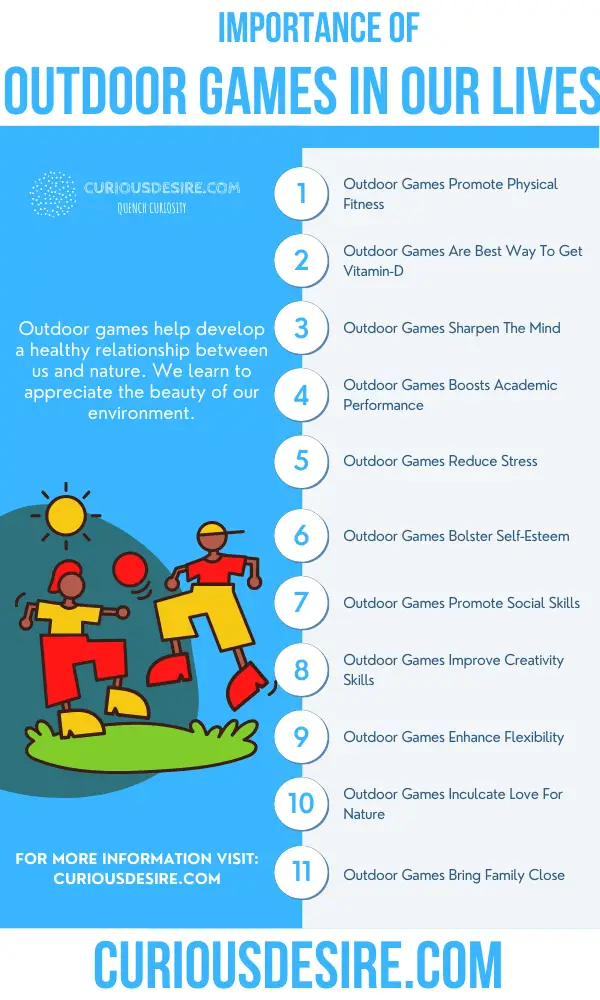 2. Outdoor Games Promote Physical Fitness
Outdoor games that encourage physical activity improve your cardiovascular health, muscle strength, and overall fitness.
Exercising outside, breathing fresh air, and being in nature boost your energy levels. According to research, 90% of people have more energy after being outside.
Individuals who engage in activities such as jogging, skipping, jumping rope, and hiking achieve better all-around health and fitness levels.
3. Outdoor Games Are Best Way To Get Vitamin-D
Exposing your skin to sunlight improves your mood, energy levels, and overall well-being. Sunshine also boosts the body's ability to produce vitamin D. You can get a good dose of vitamin D by playing outdoors.
Taking in vitamin D through foods is not as effective as getting it from natural sunlight exposure. For most people, 5-10 minutes of sunshine 2-3 times a month is enough Vitamin D. So get your skin a natural glow with spending time outside!
4. Outdoor Games Sharpen The Mind
Outdoor games strengthen the mind by stimulating various brain processes including memory, context recognition, and strategizing techniques. Outdoor games are great for both adults and children as they provide an immersive learning experience.
Studies show that playing outdoors promote the development of thinking abilities such as problem-solving skills and critical thinking. These mental activities improve memory retention and sharpens focus ability.
Related Video – 7 Reasons Why Kids Need to Play Outdoors:
5. Outdoor Games Boosts Academic Performance
Research suggests that outdoor games help students to improve their academic performance through increased focus, increased memory retention, and improved problem-solving skills.
Learning specific knowledge is vital for academic success; however, you also need to develop personal skills in order to adapt in society.
Outdoor games provide the much-needed exposure where individuals can learn how to cooperate and communicate with others too. It polishes your brain and you perform better in tests.
6. Outdoor Games Reduce Stress
Studies reveal that playing outdoors decreases the level of stress hormone cortisol and increases the level of serotonin in the body. Connecting with nature soothes your mind and body. It unwinds tense nerves and allows us to relax. You feel light and joyful!
Higher levels of serotonin can reduce anxiety and stress while improving your mood and self-esteem.
7. Outdoor Games Bolster Self-Esteem
Self-esteem is crucial for the development of positive self-image. Participating in outdoor games can boost your confidence by helping you accomplish goals.
Successful completion of challenges within the game gives you a sense of accomplishment, which boosts your self-esteem levels.
Another important benefit of outdoor games is that it allows you to learn from your mistakes. You can focus on your strengths and challenge yourself to work on your weaknesses.
8. Outdoor Games Promote Social Skills
Outdoor games help people bond and interact better with others of different ages and backgrounds. These games break down walls that may exist between people from different social groups or cultures.
Studies reveal that children who play outdoor games also learn important social skills for teamwork, communication, leadership qualities, and conflict management.
9. Outdoor Games Improve Decision-Making
Outdoor games require participants to make quick decisions, which tests their crisis-management skills. Decision-making involves efficiency and speed, which improves the overall response time.
These outdoor games help with decision making by allowing you to think quickly under pressure and do not stop for a second thinking about your next move.
10. Outdoor Games Improve Creativity Skills
Outdoor games improve creativity skills as they involve problem-solving techniques and strategy. They allow individuals to think freely and come up with creative solutions and ideas that can be used in real life situations.
Playing outdoors enhances a child's inquisition. They become agile. They're more attuned to their surroundings than an adult, and they notice things that adults overlook.
11. Outdoor Games Improve Attention Span
A quick and effective way to improve attention span is by playing outdoor games. Outdoor games require you to focus on complex tasks without becoming distracted.
They help the brain remain focused as they give children a chance to work with their hands through physical movement, which assists in promoting mental alertness.
For children, outdoor games assist their ability to cope with attention deficit disorder, ADHD, and anxiety disorder.
12. Outdoor Games Enhance Flexibility
Outdoor games require constant physical movement and stretching. These activities help to improve motor skills in our bodies.
As they stretch and move, players can achieve a flexible body and become mentally alert to adapt to new situations. Outdoor games also reduce the risk of contracting muscle-related injuries since it requires students to engage in physical activities.
Outdoor games help to improve flexibility and balance, which is necessary for coping with physical and mental decline associated with aging.
13. Outdoor Games Induce Better Sleeping Patterns
Outdoor games help children to get a good night's sleep by relaxing their mind and body after all the fun and excitement.
Research claim that it keeps us healthy. It can also help us relax and sleep faster because it aids in the release of pent-up energy. Encouraging children to participate in outdoor games can help them sleep better.
14. Outdoor Games Inculcate Love For Nature
Outdoor games help develop a healthy relationship between us and nature. We learn to appreciate the beauty of our environment.
This encourages us to take care of the environment as we grow up. We understand that nature needs protection. We are concerned with issues like pollution and global warming. We search for the causes and can assist in finding a solution.
15. Outdoor Games Bring Family Close
Outdoor games also encourage family members to spend time together. Sitting in front of the TV or spending hours on the phone affect their social lives.
The whole family will benefit from participating in outdoor activities. You connect with loved ones on a deeper level. These games improve physical health and mental well-being for everyone involved. And create memories that last a lifetime.
It is an activity that can be enjoyed by people of all ages.
Importance Of Outdoor Games – Conclusion
Outdoor games benefit people in many ways. There's no better time than now to take advantage of these health benefits by playing outdoors as much as possible.
The outdoors is a great place to be! Whether you're looking for ways to improve your health, sharpen your mind, or socialize with friends and family – outdoor games are the way to go.
References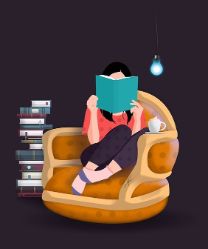 A sophomore in engineering, I'm a budding writer and an adventure enthusiast. My passion leads me on to try my hands on different things. I enjoy music, food, and good company. Making my way through life in my own ways, you'll find me holding a camera and capturing what this world has to offer.