Most of us spend more time in the class e.g. math or science, than we spend learning about physical education. However, have you ever wondered what are the benefits of this less popular subject?
Most people would agree that it is important to be healthy. However, some may not think that vital information on being physically active can be taught through physical education lessons. With these reasons I hope to convince you otherwise!
Here are 15 reasons why physical education is important:
15 Benefits Of Physical Education That You Might Never Have Heard Of
Physical education is important because it allows the transfer of more oxygen to our brains. It helps us think better and learn better. Just 20 minutes of exercise can enhance both mental health and cognitive function.
Though we all know that physical education is important for health and fitness, you might not have known about the following reasons why physical education is important:
1. Physical Education Reduces Obesity
Obesity is a national epidemic in America with statistics showing one out of three American children being obese. Physical activities such as basketball and soccer help burn off excess calories while also developing muscle strength and endurance through games like dodgeball or tug-of-war.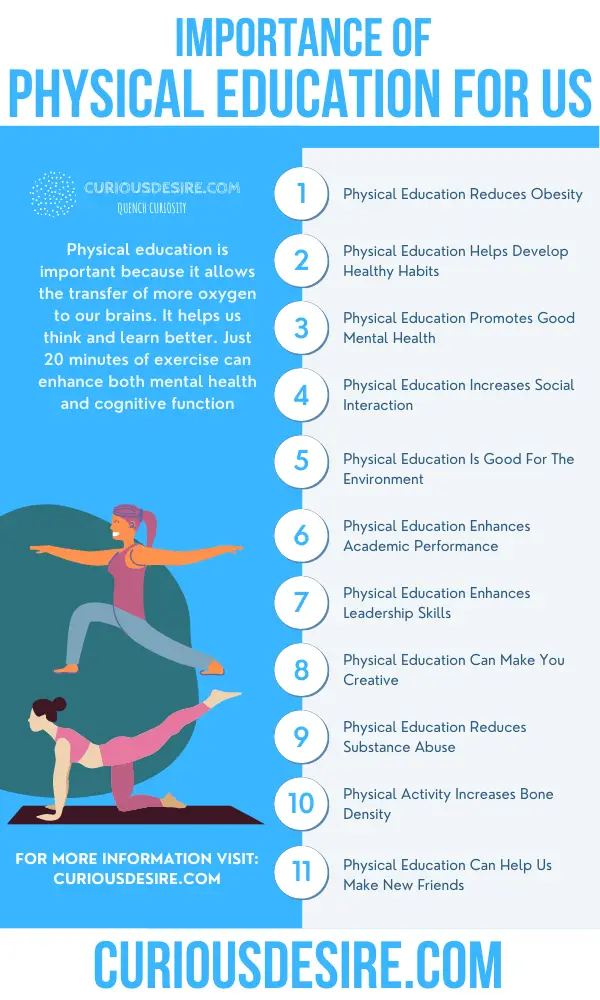 2. Physical Education Helps Develop Healthy Habits
Adolescents often tend to experiment with drugs, alcohol and other dangerous practices simply because they did not receive proper guidance from their parents on how to live a healthy lifestyle.
The only way we can prevent this early experimentation is through physical education at an appropriate age in the education system in the country.
3. Physical Education Promotes Good Mental Health
The more you exercise your body, the better off your mind will be. Exercise actually helps release endorphins which are feel-good chemicals that promote mental wellness by helping to keep stress at bay.
It also prevents depression if done regularly because working out releases mood-boosting neurotransmitters called monoamines which prevent chemical reactions in the brain associated with depression and anxiety.
4. Physical Education Increases Social Interaction
Since physical activities encourage team work through games of basketball or soccer, it increases opportunities for kids to improve their relationship skills while developing necessary life-long relationships among peers of differing backgrounds.
Related Video – Importance of Physical Education
5. Physical Education Is Good For The Environment
When we engage in physical activities such as jogging and weightlifting, we help reduce green house gases that cause global warming.
Our carbon footprint will be reduced with improved cardiovascular health and improved metabolism which help us increase our oxygen intake at a faster rate than normal. We must all play an active role to ensure environmental sustainability of the planet!
6. Physical Education Enhances Academic Performance
Getting physically active boosts brain power by 7%. Students who are physically fit have been shown to perform better academically because of their high energy levels and increased focus from taking part in activities such as basketball or swimming often lead to improved test scores.              
Physical activities also help students develop better math skills through games such as dodgeball because it teaches students to quickly calculate their next move with the help of physical agility.           
7. Physical Education Enhances Leadership Skills
Teaching organizations such as Red Cross and Peace Corps have been teaching kids leadership skills through games like tug-of-war which is a great way to develop teamwork among our future generation.
The more they play these games, the better prepared they will be for national challenges in college or at work where group projects are part of everyday life!            
8. Physical Education Can Make You Creative
Physical Education also gives people a chance to show off their creative side as most activities have several variations you can use to keep games fresh and new every time you which helps children hone up on their decision-making skills.
Physical activities also help enhance cooperation skills as kids learn to work together with their teammates through games of football or basketball.
9. Physical Education Reduces Substance Abuse
Teens who take part in extracurricular activities such as cycling, volleyball and aerobics are less likely to abuse illegal substances than their peers.       
A lot of drug abusers were taking drugs because they were trying to cope with the stress brought about by peer pressure or low selfesteem so it is best for children to try their best to avoid situations that lead them into this path.
Physical activity also helps reduce anxiety which many teens today suffer from due to lack of self-confidence thus making them more comfortable around others even if they don't know anybody at all.
10. Physical Activity Increases Bone Density
Improving bone health has major benefits which include improved posture, reduced risk of falls and fractures among the elderly and also increases height.
This is especially important for women because menopause can start as early as 40 years old! Therefore, it becomes more vital for females to stay active to reduce risk of osteoporosis which typically occurs at this age.
11. Physical Education Helps Students Develop Better Social Skills
One-on-one time with your friends will be reduced when you're busy taking part in sports like basketball or football which forces children to work in groups thus helping them create social bonds that would otherwise not exist if they were playing video games all day long.           
12. Physical Education Can Help Us Make New Friends
Physical Education also gives us a chance to meet new people with similar interests as us as we tend to gravitate towards people who have similar lifestyles as ours.  
Physical activities also enhance students' ability to form deep relationships with their peers knowing that a simple handshake can sometimes be a great ice breaker!
13. Physical Education Develops Good Work Ethic
One of the best benefits of Physical Education is that it develops kids' work ethic as they try to finish their games in time before class ends. This also applies when they grow up and start working for a living as it makes them more punctual especially if they know that somebody's counting on them.
Staying active helps develop great habits which can be carried over into adulthood!
14. Fitness Enhances Your Mood And Emotions
Physical education gives children the chance to listen to music while doing activities such as biking or jogging which makes exercising fun and less monotonous than lifting weights every single day. 
Physical activity also releases endorphins which give you a feeling of happiness and energy thus making it easier for children to tackle their studies and other daily activities.
15. Physical Education Helps You Achieve Your Dreams
If you want to become a star athlete, you'll need to stay physically fit thus making it easier for you to achieve your dreams through hard work and healthy living.
Some famous celebrities such as Lance Armstrong and Tom Brady were able to reach stardom because of their commitment to good health that started during childhood.  
The Importance Of Physical Education – Conclusion
All in all, the benefits of Physical Education are immeasurable as this doesn't only help develop fitness but also builds better character among the next generation!             
References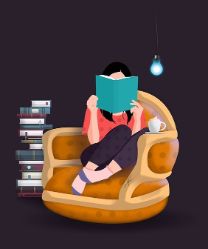 Passionate about literature, books, and weaving words into phrases, I'm pursuing an academic career in English Literature and Linguistics and have been working as a content writer since 2016. Writing, to me, is the smoothest way to explain things to others and share knowledge with them. On this platform, I aim to utilize my passion for writing in the best possible manner, using it as a medium to share whatever knowledge I have with the readers.