We all had times in our lives when we hated going to school and couldn't wait until it was time to leave. At that moment, school must seem like a horrible place where learning is boring and pointless, filled with people who hate us and teachers who don't care what we do. But, if we think about it, school is one of the most essential aspects of our lives.
Can't believe this? Well, below are 15 reasons why school is important:
15 Benefits Of School That Make It So Essential For Everyone
Why would anyone want to go to school? If given the choice between watching TV every day for the rest of my life or going back to school, we'd take the remote without blinking an eye. But after thinking about it more carefully, school has so many benefits that make it so essential for everyone. Some of these are as follows:
1. School Helps You Realize Your Potential
If you think about it, everyone has ideas they're good at and some they're not so good at. It's only natural that on a standardized test or an assignment for English class, some kids will score higher than others.
But while this might be frustrating if you happen to get a bad grade, what matters is realizing where your strengths and weaknesses lie. If there were no standardized tests and classes only taught things we were already good at (like art or history), we'd never know what we're capable of and we'd never grow as people.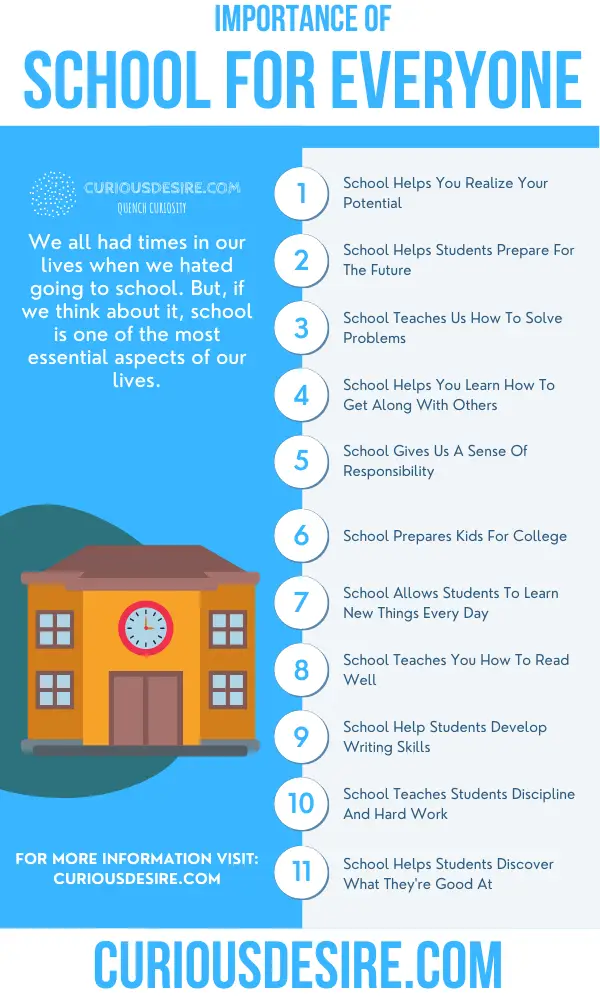 2. School Helps Students Prepare For The Future
Another great thing about school is that it opens up your mind to all sorts of possibilities for your life after school is done. Many kids don't realize that their teachers and parents have been preparing them for college since they started kindergarten, but now more than ever, getting ahead in life requires a good education – so take advantage of the opportunities you already have!
3. School Teaches Us How To Solve Problems
One of the most important skills you can learn in life is how to deal with issues when they arise. If someone cuts you off on the highway or gets angry with you, how should you respond?
If your homework assignment is late and the teacher's not sympathetic (or if you forgot to do it and don't know who did), what should you do? When problems like these happen in life outside of school, we often don't have the skills we need to deal with them – but at school, we get plenty of practice.
4. School Helps You Learn How To Get Along With Others
Even though your classmates might be obnoxious (or worse), you still have to learn how to get along with them. And the teachers, after all, are just people too. Learning how to navigate your relationships at school can help you do better in life outside of it as well.
5. School Gives Us A Sense Of Responsibility
Responsibility is an important virtue that most people develop before adulthood. In school, students are expected to show up on time, turn in their assignments when they're due, obey their teachers' instructions, etc. Learning good habits from school makes it much easier for kids to take responsibility for themselves later on in life.
6. School Prepares Kids For College
College is now something everyone has to think about – even if you don't want to go, having the option is important. And most colleges require that their applicants (at minimum) have taken certain subjects in school and earned good grades in them, so it makes sense that schools begin teaching those subjects early on.
This way, students actually know they're learning stuff useful for their futures before they graduate!
7. School Allows Students To Learn New Things Every Day
It's not like TV or video games where you pretty much know what you're getting into before you start playing. Every day at school there are new lessons to be learned and new for exploration! The more people know, the more they can do – and because of school, students are constantly learning new things every day.
8. School Teaches You How To Read Well
A lot of people don't realize this, but reading is a very important skill that takes practice! Reading is one of the best ways for us to learn about other cultures and different points of view, two things that are essential for our planet to function properly. Unfortunately, so many kids today struggle with being able to understand what they're reading – which is why it's so important for schools to teach them how.
9. School Help Students Develop Writing Skills
Writing is an art form all its own! And if you think it, there are actually tons of people you can find who will pay you to write for them! Whether we're writing a story, taking notes in class or just sending an email, we rely on the written word every day. And because of school, many kids develop these skills and gain access to this career path.
10. School Teaches Students Discipline And Hard Work
Of all the reasons on this list, this one might be the most important thing school has to offer. Kids who learn how to manage their time well and get their work done ahead of schedule are going to go far – which is why it's so important that parents help their children with homework even when they don't want to do it themselves!
11. School Helps Students Discover What They're Good At
Why are some people successful artists or entrepreneurs, while others are doctors or scientists? The answer is because they're good at different things! And the only way to figure out what you're good at is by testing your skills and trying new things. At school, students have the opportunity to do this every day!
12. Schools Helps With Personal Growth
School does more than teach kids about academics – it helps them grow as people too.  Your social life during school isn't just learning how to behave in class – it's also getting to know other kids who might be future friends for life! It's learning how to ask a girl out on a date and figuring out which ones will say yes (or no). And it's developing a sense of humor and learning the value of a good laugh.
13. School Makes You An Independent Thinker
At school, kids are encouraged to ask "Why?", even if they already know the answers! And whether we're researching for a science project or brainstorming ideas for an art piece, we're always thinking about new ways to create something different and unique.
14. School Lets You Develop Interests And Passion
Being able to choose your own path means that you'll get more out of life than someone who follows other people's specific instructions all day long. At school, students get the opportunity to go down specific paths in order to prepare themselves for what they want – which is why it so important for kids to take advantage of these opportunities!
15. Schools Make A Nation Better
When school opens up a lot of different career paths, it improves the local economy and education.  In order for cities and towns to thrive, they need people to live in them and spend money there. But if you don't have great schools and teachers, then no one is going to want to move there – which means businesses will be forced to close down because no one's buying their products or renting their homes.
That's why it's so important that we support our school systems and build our communities around successful schools.
Why School Is Important – Conclusion
After reading this article, there must be no doubt that school is one of the most important things in our lives. Sure, enrichment programs can help students learn about new interests – but without being at school every day where they have teachers who are actually qualified to teach these subjects, kids are going to be stuck with an incomplete education.
References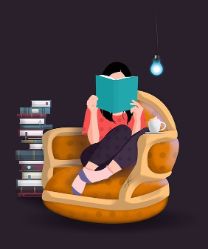 Passionate about literature, books, and weaving words into phrases, I'm pursuing an academic career in English Literature and Linguistics and have been working as a content writer since 2016. Writing, to me, is the smoothest way to explain things to others and share knowledge with them. On this platform, I aim to utilize my passion for writing in the best possible manner, using it as a medium to share whatever knowledge I have with the readers.