Sweating is important for regulating our body temperature. No matter how much it becomes a nuisance in heat and humidity, it does have its benefits.
Sweating is not only an indication that you're working too hard but it also helps keep your skin healthy by flushing out toxins and excess sebum. It protects our skin from possible infections or diseases. And yes, it makes us smell better!
Sweating is important for survival and maintaining good health so we bring you 15 reasons why sweating is important.
15 Benefits Of Sweating That Makes It Worth It
Here are 15 functions that sweating performs that highlight its significance.
1. Sweating Regulates Body Temperature
Healthy adults perspire on average 0.4 to 1.6 liters per hour and lose about 600 to 1000 ml of fluid each day through sweat.
When you're working hard, you start sweating so that your body can maintain its internal temperature at 37°C. This internal temperature must be maintained for proper enzyme activity and cellular processes.
Your body automatically cools you down by increasing the blood flow to your skin, widening the blood vessels around the sweat glands, and allowing more sweat to form. This helps regulate the body temperature.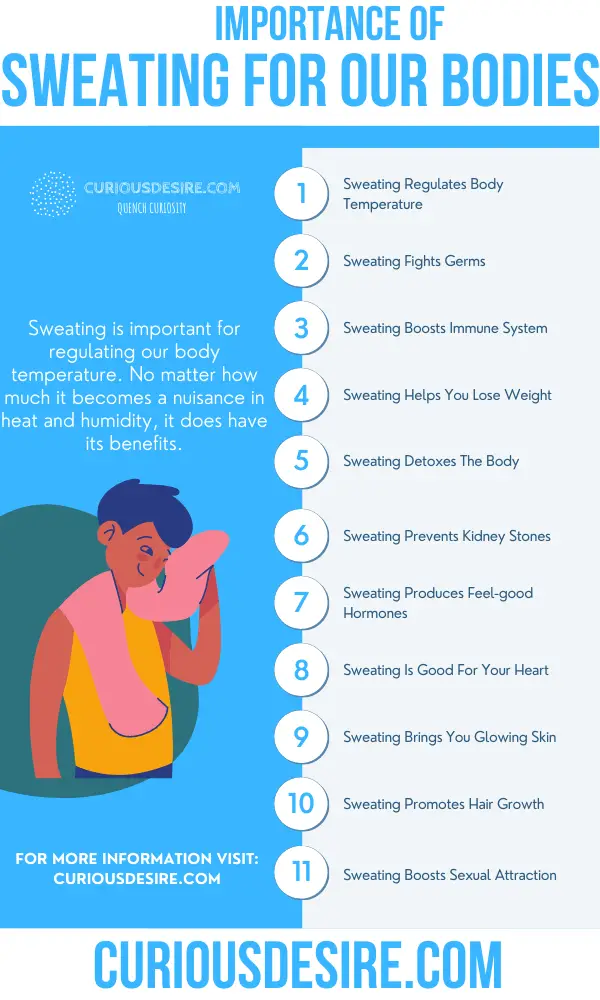 2. Sweating Fights Germs
Sweating helps you fight germs. As sweat evaporates it cools off our body and since this is what facilitates proper evaporation, it has effective germ-killing abilities. The increased blood circulation brought about by perspiration also makes it easier for our immune system to reach infected areas.
3. Sweating Reduces Inflammation
When you break a sweat while working out or while in the heat, it helps reduce any possible inflammations or swelling you might have experienced. As the sweat evaporates, it also cools down your skin which also reduces inflammation.
4. Sweating Boosts Immune System
Increased blood circulation as an effect of sweating, makes our immune system more efficient. This means that it will be easier for us to fight off infections and diseases that we might otherwise succumb to if we didn't sweat.
Because vitamin K2 is essential for the formation of blood coagulation proteins, it's also considered an important component of the immune system. It makes sense because it's typically the first line of defense against everything you come into contact with daily.
Related Video – How Sweat Is For Good Health:
5. Sweating Helps You Lose Weight
Did anyone say weight loss?!! Some people take advantage of their increased perspiration through exercise to lose weight by taking in more water than usual to avoid dehydration and using salt to avoid hyponatremia or water intoxication. Others strive to achieve a similar effect by eating spicy food that causes them to sweat more.
Because your body is so focused on cooling you down, it is also expending energy and burning calories, which contributes to longer-term weight reduction.
6. Sweating Detoxes The Body
Excess alcohol, salt, and cholesterol are released from the body when we sweat. It's your way of detoxifying.
Sweat contains toxins, which are secreted through your pores including salt, urea, lactic acid, and other toxic compounds that are eliminated through the skin.
You can also use herbal sweat-inducing products to detoxify yourself. Add these products to a bath and enjoy a sweat session!
7. Sweating Prevents Kidney Stones
Sweating helps you get rid of excess salt, which makes it possible for your kidneys to expel less water from the body so the blood becomes thicker. Kidney stones are more likely in people who eat a diet high in fat and salt, have trouble emptying their bladders regularly, or both.
Sweating promotes drinking plenty of water that aids in the prevention of kidney stones.
8. Sweating Produces Feel-good Hormones
Sweating, like any other form of exercise, can produce endorphins- your feel-good hormones. This has a significant impact on your mood and general health.
Sweat glands produce a variety of chemicals. One of these peptides has a direct effect on the brain and it provides direct evidence for the idea that physical activity is as important as diet in regulating mood.
Small, short bursts of activity help to reduce pain and promote a more positive mood.
9. Sweating Can Improve Your Mood
Sweat has been linked to improved mood, memory, and self-esteem.
So next time you're feeling a bit under the weather, go for a run or do exercise to perspire. Remember that sweating can boost your spirits just as much as it boosts your metabolism!
10. Sweating Is Good For Your Heart
Prolonged, consistent cardio workouts have been shown to increase nitric oxide production by the body. This is a naturally occurring compound that has many benefits including improving cardiovascular function and lowering blood pressure.
So remember, next time you want to skip your workout because it's too hot outside- think of all the amazing things you're doing your body!
11. Sweating Brings You Glowing Skin
Sweating opens up the pores on your face, allowing germs to surface. Sweating helps clear the body of pollutants that can clog pores and cause pimples and blemishes on the skin.
Studies reveal that sweat also helps prevent rashes and inflamed skin — both of which are caused by accumulated filth settling back into your pores.
So get glowing skin with a little sweat in no time!
12. Sweating Promotes Hair Growth
Sweating has recently been linked to improving hair growth. It's said that the release of toxins is what causes your scalp to become dry, which can contribute to hair loss.
On the other hand, when your body perspires it opens up pores on your scalp allowing necessary oils and nutrients to reach follicles.
Washing your hair after working out is vital so any extra sweat doesn't accumulate on your head for an extended time.
13. Sweating Deals With Menopause Symptoms
During menopause, the lack of estrogen in the body can cause women to feel depressed and "draggy."
When you're sweaty, it's game on! Studies reveal that when you sweat, you're actually giving your brain a boost because there are more active nerve endings in your skin that react to the sweat glands.
The results of the study found sweating is linked to improved mood, memory, and self-esteem. It helps with menopausal depression because it encourages major hormone production such as dopamine and serotonin which are responsible for feelings of happiness.
14. Sweating Aids In Sickness
Sickness occurs when there is a high level of toxins inside of your system that needs to be expelled. If your sweat ducts become clogged and the toxins stay trapped, it's more likely you'll get sick and feel sluggish.
During illness, avoid wearing skin-tight or synthetic fabrics that suppress sweating because those clothing items can cause those harmful toxins to remain in place even longer!
The perspiration opens your skin pores to release toxins. It's about reducing the germs and bacteria that made you sick in the first place, preventing a common fever become high enough to be deadly.
15. Sweating Boosts Sexual Attraction
Sweat contains pheromones after it is released. While our noses may not be able to detect the scent, our brains do.
Women who sniffed the chemical androstadienone, which is found in male sweat and is an ingredient in fragrances and colognes, experienced altered mood, sexual arousal, physiological arousal, and brain activity in a research.
Importance of Sweating – Conclusion
Sweating is an essential part of our bodies that we don't always think about. The act of sweating regulates body temperature, fights germs, reduces inflammation, boosts the immune system, and even helps you lose weight while detoxing your body.
There's no need to worry about being sweaty because it keeps us healthy. All these benefits are just scratching the surface when it comes to what sweating can do for you!
References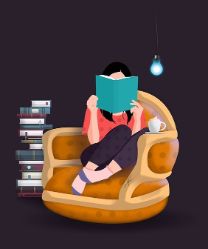 A sophomore in engineering, I'm a budding writer and an adventure enthusiast. My passion leads me on to try my hands on different things. I enjoy music, food, and good company. Making my way through life in my own ways, you'll find me holding a camera and capturing what this world has to offer.