When working together, the team shares skills and ideas to reach a goal faster and more efficiently. It also creates a sense of camaraderie, which helps foster good morale.
Teamwork is important because it can help you accomplish more than you could as an individual. Working in a team is not only fun, but it is also important for your success. We bring you 15 convincing reasons why teamwork is important.
15 Benefits Of Teamwork In Life To Highlight Its Significance
The benefits of teamwork are endless. When people come together to complete a task, they are more productive. This is because of so many different perspectives put into the situation at hand to help solve the problem. See why teamwork is significant for us in our lives and workplaces.
1. Teamwork Helps In Accomplishing More
A team can accomplish more than an individual because there are different skills, ideas, and abilities that come together. This benefits everyone involved to have a winning chance at reaching the goal faster.
According to research, employees who function as a team complete tasks much faster and more successfully than individuals who work alone.
Working as a team on various tasks minimizes the burden on all workers by pooling responsibilities. This makes you achieve more in minimum time.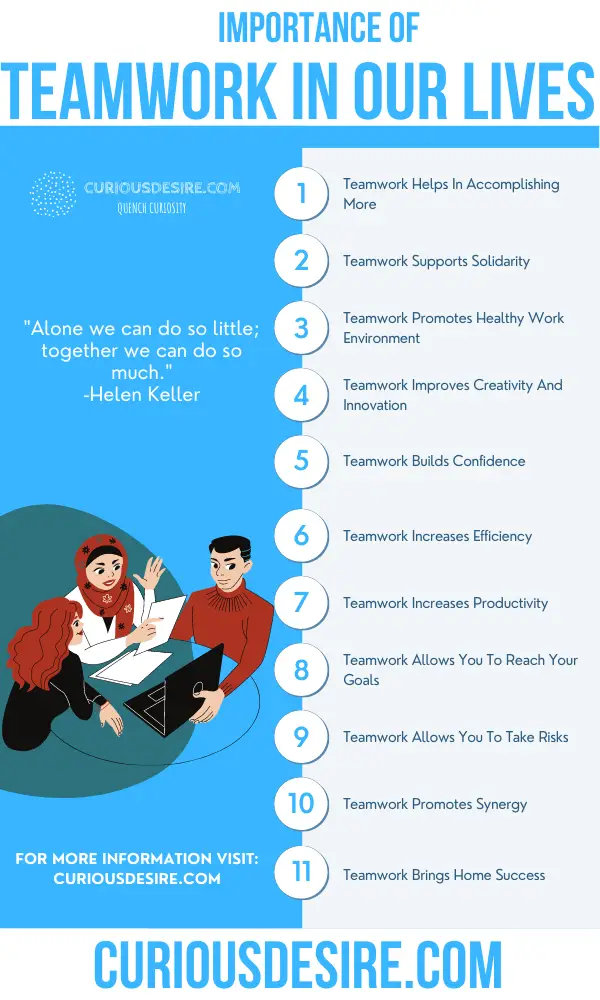 2. Teamwork Supports Solidarity
When people work together they create a bond, which helps foster good morale. When an individual works towards a goal, they feel motivated and empowered. They act as a driving force for other members too.
This makes them work better as a team by supporting each other. The sense of camaraderie that comes out of teamwork creates an environment where everyone is on the same page. Hence teamwork promotes solidarity.
3. Teamwork Promotes Healthy Work Environment
Employees who work closely together get to know one another better. Collaboration is a factor that contributes to strong relationships. This, in turn, results in a more pleasant working environment for everyone.
When people work in teams, they learn to respect each other's strengths, ideas, and abilities. This creates a culture of cooperation that results in achieving common goals.
Employees can be more open and adaptable as a result of the pursuit. It may also assist businesses in being more flexible and able to react swiftly to changing circumstances. A positive environment boosts productivity, allowing businesses to reach their objectives more quickly.
4. Teamwork Builds Confidence
Teams tend to become more confident in their abilities when working as a unit. This results in people working better as a team because they learn from each other and support one another's ideas.
It allows everyone to voice their opinions without fear of judgment or rejection. This makes people more open to trying new things and understanding each other.
When workers are confident about their skills, they tend to be more productive. This boosts the morale of employees which improves teamwork.
Related Video – Secrets Of Successful Teamwork: Insights From Google:
5. Teamwork Brings Morale
Work teams that gel well with each other are more enthusiastic during work hours. When people view themselves as part of a team, their morale goes up. They feel motivated to perform well for the good of the company. This, in turn, allows for better communication which makes your company efficient and productive.
Teamwork boosts motivation which makes you do your best and you feel proud about it. This leads you straight to success.
6. Teamwork Improves Creativity And Innovation
When people come together, they can think of new ideas and ways of solving problems by taking different perspectives.
The diversity of ideas helps in offering new solutions. This fosters creativity and innovation which can result in products or services that are novel, useful, and cutting edge to the market.
7. Teamwork Increases Efficiency
When people work together, they accomplish more within a shorter period of time.
Teams do not waste valuable time trying to figure out problems. Instead, they collectively sit down and come up with different ideas that can help them achieve their goal faster.
Studies claim that working as a team boosts your morale which results in you being more efficient.
8. Teamwork Reduces Stress
People who work together tend to be happier and less stressed. When you are part of a team, you are not the only person working towards a goal. You can share your problems with other people on the team. Research shows it is one of the ways how teamwork reduces stress.
People when knowing that they are not alone in the process, do not experience anxiety or stress. This reduces absenteeism and encourages people to put their best foot forward because teamwork promotes a healthy work environment.
9. Teamwork Increases Productivity
Teamwork increases productivity which means you get more done in less time.
When employees work to achieve a goal, they realize the importance of their roles. They, therefore, work more efficiently and productively without wasting any time. They can achieve their objectives with their efforts.
Working as a team boosts motivation which results in improved productivity.
10. Teamwork Allows You To Reach Your Goals
Teamwork makes you assign each person a task. They only have to focus on one thing. Hence they can deliver it with minimum hassle.
You share responsibilities which makes you achieve your goal faster. It also helps in reducing stress which will make it easier for you to focus on your work at hand.
11. Teamwork Allows You To Take Risks
When employees are assigned different roles, they can take certain risks that can help them achieve their goals.
If the risk is not successful, it only affects the person who took the risk. But if it pays off, they all share the credit! Teamwork allows you to take more risks which can lead to faster growth of your business.
It allows you to try out new things without the fear of having to bear all the consequences by yourself.
12. Teamwork Makes Decision Making Easier
When people work together, they can come up with better decisions than individual decision-makers. Everyone on the team has their input which increases the chance of a better outcome.
It is necessary to involve your team while making any decision. When you have more ideas, the chances of making a good decision are much higher. Hence teamwork can help you make better decisions for your business.
13. Teamwork Induces Accountability
When employees are working as a team, they know that someone is checking their progress. This makes them feel accountable to the rest of the team and follow through with what they said they would do.
There is an increased sense of responsibility when you know that other people are relying on your work. Hence teamwork induces accountability which allows you to achieve your tasks faster.
14. Teamwork Promotes Synergy
Teamwork creates synergy which results in improved efficiency and productivity. Each employee complements the other and helps in reaching their goals.
When people on the same team support each other, it enables them to produce more efficient solutions than if they worked individually. As a result, the workplace becomes one based on trust, support, respect, and cooperation.
15. Teamwork Brings Home Success
When employees work as a team to achieve a common goal, they come together for better results. Teamwork is the key to success.
Teamwork allows you to experience trust, support, respect for one another, and above all cooperation from the people who are working with you. These benefits outweigh any disadvantages of teamwork. Hence teamwork determines success.
The Importance Of Teamwork – Conclusion
Teamwork is a powerful force that can be used to accomplish more. It is essential when it comes to building a successful organization.
In conclusion, teamwork is important because it allows different people to work together towards a common goal and achieve success. So if you've been neglecting or ignoring this essential component, now is the time to make a change!
References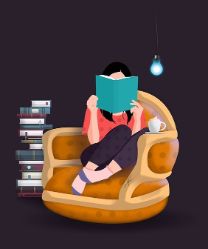 A sophomore in engineering, I'm a budding writer and an adventure enthusiast. My passion leads me on to try my hands on different things. I enjoy music, food, and good company. Making my way through life in my own ways, you'll find me holding a camera and capturing what this world has to offer.