There's nothing like looking outside onto a beautiful day through your window! Our home's windows allow us to take pleasure in our environment. Draw the curtains open and your overall mood may rapidly change.
Windows are a major part of the architecture in many homes and offices. They provide natural light, fresh air, and a view of the outside world. They also offer protection from the weather by keeping rain or snow out while letting sunlight in during warmer months. Find 15 reasons why windows are important to your homes.
15 Benefits Of Windows In Our Home
Windows are a hugely important part of our homes. They provide us with natural light, beautiful views, and protection against harsh weather conditions. They also have positive effects on moods and happiness levels.
1. Windows Offer Natural Light
Natural light is a great decorating tool. It helps us appreciate our surroundings and the little things around us. Natural light is also an effective mood booster, especially on gloomy, rainy days.
With windows in our homes, we can allow much-needed sunlight inside to provide us with Vitamin D.
Nowadays homes need to be equipped with energy-efficient windows that block out UV rays and diffuse sunlight so you don't have to turn the lights on when the sun shines through.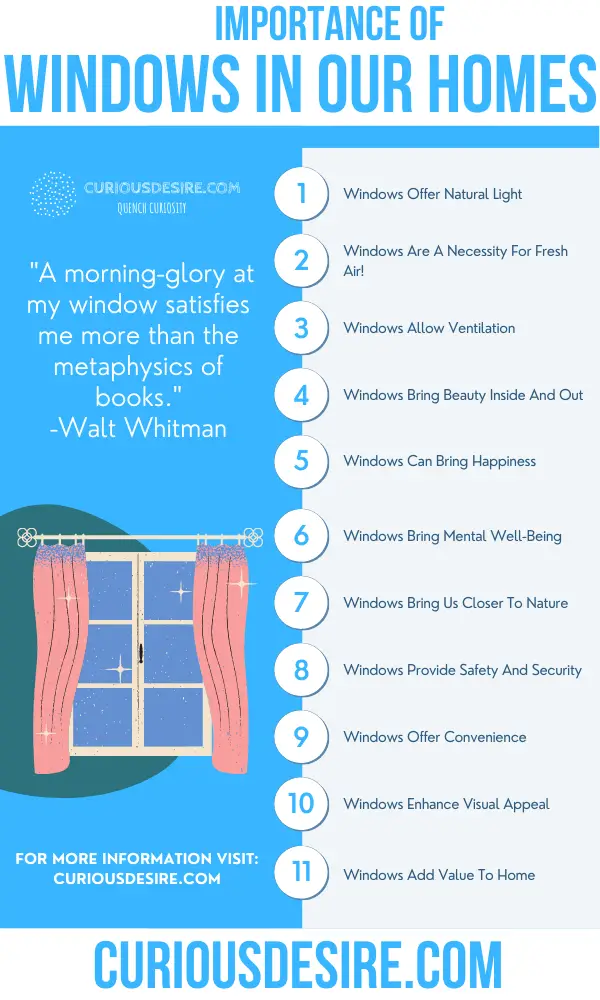 2. Windows Are A Necessity For Fresh Air!
Fresh air is important for our lungs, as it helps us to breathe. It also gives us the energy needed throughout the day. Windows allow that fresh air into our homes so we can recharge with positive energy daily.
Fresh air has benefits beyond physical health. It also boosts mental health.
The use of screens on windows has not yet become necessary in all parts of the world; however, screens help keep bugs out while letting fresh air in.
3. Windows Allow Ventilation
On a warm day, open windows allow natural ventilation to take place. You don't have to worry about switching on your AC every time you want fresh air in the house.
Windows also serve as great security features because they can be propped open for airflow while allowing views of the exterior at the same time. This way, people inside the house can see if any strangers approach or attempt to enter without being seen.
4. Windows Bring Beauty Inside And Out
Beautiful views outside our windows give us a sense of peace and happiness. Views such as mountains, trees, and nature allow us to find serenity and take in the beauty around us. We can enjoy peaceful thoughts while looking out at anything that pleases our eyes.
Natural light also improves the attractiveness of any living space. Windows block out darkness, allowing for decoration that is visible during the day or at night. With blackout curtains or blinds, you can still allow natural light inside while blocking out outside distractions.
You can bring even more beauty into your home with window treatments such as drapes, blinds, and shutters. These window treatments can reflect your personality and tastes. Choose from a variety of colors for unique windows that show the world just how you want to be seen!
Related Video – What Happens If You Never Open Your Windows:
5. Windows Can Bring Happiness
Windows allow us to take pleasure in our environment at any time of day with natural light. They also give us fresh air and the ability to breathe in the oxygen we need for good health.
We also get the physical benefits of fresh air – not only clean lungs but also positive energy.
Studies show that people with views from their office window enjoy higher job satisfaction than those without views at work.
6. Windows Ensure Physical Health
Surrounding ourselves with natural light is important because it helps our bodies create Vitamin D. Windows allow sunlight inside so we can take in this vital vitamin without having to go outside. Fresh air keeps the immune system strong.
Windows help us get fresh air for proper breathing. Fresh air is important for our overall health since it boosts the immune system, controls mood levels, and keeps us happy daily. Hence we can stay fit and healthy.
7. Windows Bring Mental Well-Being
Numerous studies describe how emotions and sunlight are linked. We become far less emotionally healthy and stable if we are denied the sun's heat for too long.
Several studies confirm that old people like to observe nature through windows. Nature is considered a stress reliever too. Hence windows allow them to stay happy and fresh. They can watch their neighborhood from their windows and participate in the community without having to be in it.
Windows can also positively impact our mental health by allowing us to see outside. Looking out the window at trees, nature, and scenery is a gentle reminder that there are still beautiful things in this world.
8. Windows Bring Us Closer To Nature
When we look out the window, we are close to nature. We can appreciate their beauty without actually being in the garden itself.
Windows fill rooms with natural light and fresh air so you feel closer to nature indoors too. You will never be too far from it no matter where you live or work.
9. Windows Keep The Outdoors Inside
Windows are a great way to connect with the outside. You can enjoy any weather from your home without actually going out in it. This way, you won't have to endure the cold or heat while still being able to go outside and enjoy some fresh air whenever you want.
Windows have a mesmerizing effect on us, giving us a sense of freedom and offering an excellent way to pass the time. Looking outside allows us to feel hopeful and inspires our creativity too.
10. Windows Provide Safety And Security
Protect your home by having windows! Although glass may seem fragile, safety glazings are easily found on most modern windows. Safety glazings help prevent crashes from breaking out windows while limiting injuries. This ensures you stay safe at home.
Windows also offer security against harmful weather conditions. In winter, they provide insulation from cold temperatures. During summer, they can keep our homes cool while blocking out harsh sunlight.
11. Windows Offer Convenience
The ability to move our curtains, open our windows, and access the outside world is vital for several reasons. With no windows in sight, it would be difficult to tell if it was day or night time. Windows allow us to track time more easily by allowing natural light indoors.
Having a home without windows will be difficult, as they offer convenience and comfort. Windows with screens allow fresh air to circulate while keeping bugs out. In the summer, you can enjoy hours of fresh air without disturbing your neighbors. During cold weather, you can shut your windows and turn on the heat for maximum warmth.
12. Windows Provide Comfort & Efficiency
In addition to adding value to your home, energy-efficient windows save money on heating and cooling costs. They offer insulation from heat and cold outside air so you feel more comfortable in your own home.
Windows are also important in the winter when they provide insulation from harsh cold temperatures. You can limit your heating costs while staying warm indoors during colder weather.
13. Windows Inspire Creativity & Design
Home styles are changing every year, with more open floor plans coming into style today. As a result, homes designed without windows are growing in popularity.
No matter what your home looks like, windows always bring a sense of style and class to any interior design. They offer great opportunities for creativity and inspiration during renovations or new construction.
Windows can be custom-made based on their purpose or made from luxurious materials such as wood, glass, and aluminum. They come at a variety of price points for any budget.
14. Windows Enhance Visual Appeal
Windows can be an easy and affordable way to give your home a fresh new look. They come in varied styles, materials, configurations, and shapes to suit any preference or location.
Glass doors are also popular options that allow us to enjoy the beauty of the outside while keeping it private. With so many different types of windows available today, homeowners are sure to find the perfect fit for their homes.
15. Windows Add Value To Home
Windows can be an excellent investment. Whether you live in a house or apartment, windows allow us to enjoy the natural light inside and out. No matter how small or narrow your windows might be they will surely add value to your home with efficient ventilation and insulation.
Real estate professionals agree that buyers place a strong emphasis on homes with new and updated windows. Also, if the windows are non-functional or broken it can reduce a home's value by as much as seven percent.
Importance Of Windows – Conclusion
Windows are vital and never go out of style. Having windows provides many benefits, including security, comfort, convenience, and efficiency. They enhance creativity and inspire design. They add more to visual appeal and value.
References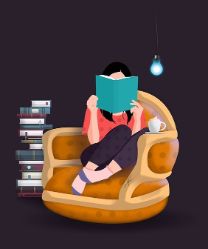 A sophomore in engineering, I'm a budding writer and an adventure enthusiast. My passion leads me on to try my hands on different things. I enjoy music, food, and good company. Making my way through life in my own ways, you'll find me holding a camera and capturing what this world has to offer.