Canopies have been proven to be very functional for outdoor events. If you want to set up an outdoor event, picnic, or beautify your home then canopy can provide you what you are looking for. It adds a fun and aesthetic feel to your occasion. But, how'd you know which canopy to go for if there are a lot of options? Well, this article discusses the different types of canopy roofing and the functions they serve to help you know better.
There are very many types of different canopy roofs, and they all serve different purposes. For example, the purpose of a carport is to provide shelter to an individual's vehicle from either sun or rain, while the function of a marquee is meant for events such as weddings and conferences. 
Types Of Canopy Roofing According To Their Function And Shape
A canopy roof is a roof-like structure that covers an area. The purpose of the construction can be to provide shade or cover, protect from sun or rain, or offer an alternative place for people who need shelter in specific events. 
If metal structures are used, commercial roofs are usually called 'canopy roofs'. Nowadays, a lot of materials are used in the construction of canopy roofs, and they include aluminium, steel, polycarbonate, and glass. Now, looking at different types of canopy roofing:
1. Carport Canopy Roofs
This type of canopy roof is meant for providing shelter to an individual's car from either sun or rain. They are open on all sides and made of durable materials such as aluminium and steel. The most common material used for making carports is metal.
Carports were first developed in Chicago, and they were used as temporary shelters for horse-drawn carriages. They didn't refer to the structures as 'carports', but that's what we call them today. Initially, they included a roof and four walls, with the latter made of wood or brickwork. Nowadays, metal structures are used and the walls can be made of wood or metal as well.
There are three distinct types of carport canopy roofs: aluminium carports, steel carports, and wooden carports.
Aluminium is one material that does not corrode easily, meaning that aluminium carports are very durable and they serve as a shelter for vehicles from sun or rain for years. Aluminium carports are lightweight, ensuring that the structures do not require too much maintenance work. 
They are also resistant to impact as well as fire, meaning that there is no need for any additional protection in case of a disaster such as a vehicular accident. This is the main reason why most people prefer this type of carport over others.
Steel is stronger compared to aluminium, and steel carports also last very long as they do not corrode easily. Compared to aluminium carports, steel ones are heavy and require a lot of maintenance work such as repainting. This can be quite expensive because steel carports are not cheap. 
On the other hand, they are resistant to impact and fire, making them a good option for people who want some sort of security.
Wooden carports are cheaper than aluminium or steel ones. For example, you can get quality wooden carports on sale for as low as $225. They are also lightweight and easy to install, but they do not offer a lot of protection from the sun or rain. 
This means that you will have no choice but to park your car inside a garage if it rains outside. Although wooden carports cannot last forever, some people still prefer them over aluminium or steel canopies because they are cheaper to maintain.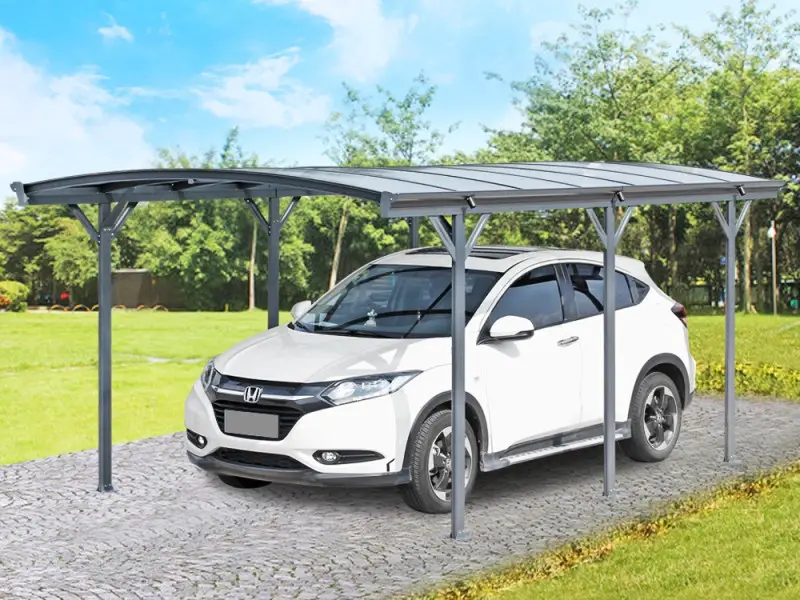 2. Entrance Canopies
Canopies such as entrance canopies do not usually protect people from the rain or extra heat because they are open on all sides. The purpose of entrance canopies is to mark entrances and flagpoles, and also provide shade.
Before, carports were used as entrance canopies. Over time, the idea developed and there are now separate structures known as entrance canopies. Most companies that manufacture canopy roofs offer a variety of shapes and sizes in their products catalogues, so you will have a lot of options to choose from.
Entrance canopies are categorised into four types based on shape. They include square, rectangular, circular, and triangular entrance canopies.
1. Square Entrance Canopy – This is the most basic one in this category. It costs less compared to the other three types of entrance canopies because it does not have a lot of designs that drive up the cost. 
2. Rectangular Entrance Canopy – They are slightly more expensive compared to square ones because they are bigger, and also offer more features such as an overhang. Rectangular canopies are available in a wide range of colours and finishes as well which makes them more attractive.
3. Round Entrance Canopy – This is more expensive compared to other types because it looks more elegant, and they are also larger compared to the other types. The structure of a round canopy roof is supported by columns or beams which makes it look more appealing.
4. Triangular Entrance Canopy – As it is made from aluminium or steel, and they are larger compared to other entrance canopies they are expensive. 
5. Pitched Entrance Canopy – This type of canopy is popular in schools and business. This simplistic design gives an elegant look to the building. It is also a very cost efficient solution to make your entrance grand.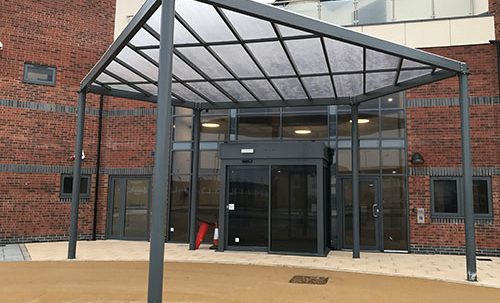 3. Retractable Canopies
Retractable canopies are available in all shapes and sizes, and they can be made from a wide range of materials. They protect people when it is raining or very hot, but it also gets retracted when there is no need to use the structure.
Retractable canopies are very popular because they offer the best of both worlds. This means that you will not have to park your car inside a garage when it is raining outside, and you will also not have to wash all the dirt off your car every time it stops raining.
The main disadvantage of a retractable canopy is that it might not be suitable for everyone. Also, these canopies are of high cost compared to other types of canopies.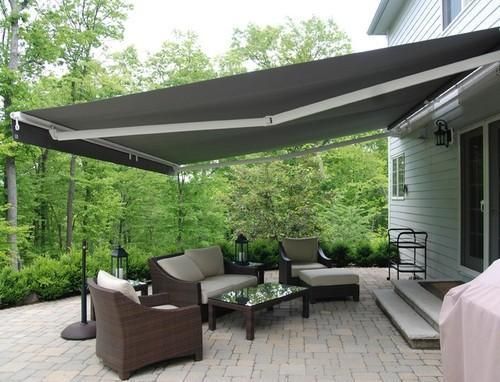 4. Shade Canopies
Shade canopies are usually installed in places where the sun is very strong. It is made from a material that prevents heat from coming through while still allowing some light to pass through it. Most of these types of canopies look like umbrellas, and they usually have posts that keep them standing upright on both ends.
Shade canopies are commonly made from canvas, PVC, or vinyl. The materials used to make them depend on the cost of manufacturing and how long it needs to last. For example, the canvas is more expensive than PVC but they will both serve you for about 5-10 years whereas vinyl canopies will only last for about 1-2 years.
5. Shade Sails
Shade sails are similar to shade canopies because they have posted at both ends. The main difference is that shade canopies provide protection from sunlight, and it also looks like a typical umbrella. 
Shade Sails on the other hand do not look like umbrellas, but they also keep off heat from the sunlight without having to use a lot of material. The material used to manufacture shade sails is lighter compared to shade canopies which makes them look more elegant.
6. Garden Canopy
Garden Canopies are bigger than shade canopies because they need to cover a lot of ground. It looks like the letter "L" but it is usually very lightweight. Garden canopies are not easy to install because you will need at least three people to put them together, and you should also have a ladder if you want to install them on top of your roof.
Garden canopies became very popular in the 19th century, and they were used to provide shade while people are having tea or just relaxing. These days some people still use them for these purposes, but it is also used by cafes and restaurants because it protects from sun rays without blocking the view of the place.
7. Canopy Tent
Canopy tents are big and they were made to provide shade during parties. Most of them have a unique design, but most of them also look like igloos. If you want to buy a canopy tent then you need to consider the size because they come in different sizes. You should also buy it from a reputable store because these types of canopies tend to break easily if they are not built from high-quality material.
8. Drive-Through Canopy And Street Canopy
The Drive-Through Canopy is a type of canopy that does not look like an umbrella because it has four posts at each end. It adds on to the services provided by business, many fast food restaurant use these type of canopies. 
The Street Canopy looks similar to the Drive-Through Canopy, and they protect from extreme weather conditions such as heavy rain or strong wind. They also make wonderful decorations during holidays or special occasions, but most people only use them temporarily until the event is over.
Most drive-through and street canopies are made from PVC, vinyl, netting, fabric, or plywood. You should choose a material that will last longer without fading from frequent exposure to sun rays.
9. Patio/Porte Cochere Canopy
Patio and Porte Cochere Canopies are made from wood or metal, and they also have a lot of posts at each end. These types of canopies were first made during the 17th century in France, and it is still widely used today because of their unique design. 
The main purpose of this canopy is to protect while you drive or walk into a building with your car or a horse-drawn carriage. Patios usually have a flat roof while porte cochere on the other hand usually has an arched roof which gives them more sophistication compared to patios.
10. Wedding Tent
Wedding Tents are big, and they provide shade for hundreds of guests. It usually has a stage where the bride and groom will be standing during their wedding ceremony. These types of canopies were originally made from the same material used to manufacture tepees, but you should expect it to be more luxurious if you want to rent one today.
11. Butterfly Canopy Roof
The butterfly type of canopy roof is not too curved which makes it look elegant compared to other types of shade sails. If you want a canopy roof that will provide shading without blocking your view then this is the best choice for you. It also looks better if you have marble tiles or stones near the floor because they create a beautiful contrast against each other.
12. Banana/S-Curve Canopy Roof 
Banana and S-curve types of canopy roofs are popular choices if you want something unique. It is also perfect for those who want a shade with a curved design even though the shape of this canopy is slightly different from its name. 
They look more graceful and refined, and they are often used in homes with Mediterranean or Caribbean architecture because it is common to see such types of roofs during those periods.
13. Umbrella Canopies
Umbrella canopies are very popular among homeowners because they do not occupy much space on your roof, and they look more elegant compared to other types of canopies. These types of canopies are usually made from wood, bamboo, or steel. 
They can provide shade for outdoor patios and decks, but they are mostly installed on top of porches to provide more privacy to the owners.
14. Dome Canopy
Dome canopies are very common in many commercial buildings because they are not only sturdy even though they look very fragile. The dome canopy acts as a focal point because it will catch your attention, if you are looking at the building from a far distance, and it gives you that awe-inspiring feeling. 
If you want your building to be more noticeable and impressive then installing a dome canopy is one of the best choices for your structure.
15. Dutch Canopy
Dutch canopy roofs are very similar to umbrella canopies because they are usually made from steel, wood, or bamboo. The name was derived from the shape of this type of canopy that looks like an inverted tulip. 
Make sure that you have a good ventilation system installed in your building because it is not suitable for places where there will be a lot of people. It is best suited for patios and porches where you can take a breather, and it will still provide enough shade even though there are a lot of people walking beneath it.
16. Lantern Canopy
Lanterns usually come with colourful glass windows to give your property a more artistic look because the design is very simple. It usually has a shape of a cone or dome which is attached to the top of your building, and it does not provide much shade compared to other types of canopies. The glass windows make it look as if lanterns are hanging from the roof, which will give your home a more sophisticated appearance.
17. Pyramid Canopy
Pyramid canopies cover the largest area since they are very broad. They look elegant, but you should expect them to be very heavy because it is made from metal or wood. 
Avoid putting hip or pyramid canopies on top of your home if there are trees near the building because the tree branches might tear the roof apart. They are not suitable for areas with strong winds because they can easily topple over which will cause major damages.
18. French Canopy
French canopy roofs are very similar to Dutch canopies because it has the same shape. The difference is that French canopies have more points compared to Dutch canopies which gives them a lovely, artistic touch that you don't usually see with other types of shade sails. 
They look gorgeous especially if there are lights all over the roof and on top of each point of the roof. This will make your building look like a castle at night. It also works great for commercial buildings and restaurants since they give out elegant and sophisticated looks. 
However, make sure to put some type of railing around your property because they provide minimal shade and protection from strong winds.
19. Sniper Canopy
Sniper canopies are perfect for homeowners with pools because it provides a complete shade for the pool area. You can easily slip into the pool without feeling uncomfortable from the heat of the sun, and at the same time, you will be protected from direct sunlight getting to your skin. 
It is also perfect for people who love playing basketball or volleyball in their backyard because they can easily do that under a sniper canopy without worrying about too much sun exposure.
20. Pitched Canopy
Pitched canopies are usually used when you want to cover large areas in your property because they look like tents which means it has many ridges that bring the roof closer to the ground which reduces shade penetration by up to 50%. 
This type of canopy provides a lot of protection from heat and sunlight, but make sure there is good air circulation or else it will become hot and stuffy inside which isn't very ideal if you have a lot of guests over at your place. It also works great for commercial establishments such as restaurants with alfresco dining areas because it provides plenty of shade for people sitting on outside tables while at the same time allowing fresh air to flow in and out of the area.
21. Florentine Canopy
If you are looking for an elegant type of shade that has a touch of sophistication then Florentine canopies are perfect for your garden, poolsides, living rooms, and patios. They look like fancy tents with pointed roofs which make them different compared to other types of shades. 
Florentine canopies usually come with beautiful designs and luxurious fabric to match the colours or aesthetics of your property; they also provide generous shade coverage to protect guests from direct sunlight when they're inside your covered area.
22. Draped Canopy
Draped canopy roofs look like big umbrellas made out of fabric,this is why there are plenty of gaps between each ridge which makes these types of shades breathable so air circulation is not an issue. They look great with classic and modern styles of homes but make sure to use them when you have a lot of guests because they don't provide ample shade for sitting inside the canopy.
23. Flat Canopy
Flat canopies are usually made from metal beams and sheeting which makes them perfect when you want to protect your cars or backyard barbeque area from direct sunlight. You can choose whether you want it to be stationary or portable based on where you plan on placing the canopy roof. 
This is important especially if you're planning on using it in outdoor events such as weddings because there will be moving vehicles going past so it's best to have a more flexible canopy that can be moved around.
24. Wedge Canopy
If you're looking for a simple yet elegant shade that doesn't take too much space then wedge canopies are perfect for your garden or patio because they look like small sheds made out of metal sheets. 
They do not provide very good shade coverage, but it is good enough if you use them as an outdoor sitting area where people can relax and enjoy the view. Make sure to position the canopy roof over seats so there is ample protection from hot summer rays. This will make guests feel comfortable while enjoying their time inside your covered area.
25. Tensioned Canopy
Tensioned canopy roofs use tension wires on each side of the structure which makes them flexible even with strong wind gusts or heavy snowfall, This allows anyone to relocate the structure wherever they want because it moves freely. 
Tensioned canopies are usually made from lightweight materials to make them easier to handle, but you should take note that their shade coverage is rather small which makes them ideal to use when it's not too hot outside or when you want guests to stay indoors.
26. Free Standing Canopy
Freestanding canopies are usually used for temporary purposes such as outdoor events where there will be moving vehicles going past by so it's best to have a more flexible canopy that can be moved around easily without disturbing people who are inside the covered area. They look like gazebos with many poles and fabric panels attached. This type of canopy roof looks very classy compared to other market varieties so if you want a more stylish type of shade then this is the best choice.
27. Convex Canopy
Convex canopy roofs are usually used on golf carts, ATVs, or simply on the ground as temporary storage areas. This type of shade is perfect for storing all your summer accessories such as lawn chairs and pool toys when you're not using them.
If you want something easy to carry around then choose a convex type because it easily collapses into a flat sheet which makes storage very convenient.
28. Bow Canopy Roofing
Bow canopy roofs are very classy and stylish, but they're also very difficult to construct because you need many poles to keep the fabric attached. This makes it harder to put together compared to other market varieties which is why temporary structures usually don't use this type of shade. 
Bow canopies aren't used for events or storage purposes only, if you want a more permanent installation then make sure to look at their high-class appeal first before making your decision.
29. Door Canopy Roofing
Door canopy roofs are usually made from lightweight materials that can easily be placed over a doorway. This design doesn't have many poles or panels so it's easy to assemble and disassemble. 
You should note that these types of shades don't provide much shade coverage at all, but they look cool when set up because you get to pass through the covered area which feels like walking under an umbrella!
30. Temporary Tent Canopy Roofing
Temporary tent canopies are easy to set up and fold down which makes them perfect for outdoor events like picnics, concerts, weddings, parties, carnivals, and other types of celebrations. 
If you're planning on using the canopy for more than one day then make sure that you look into metal frame models because they will last much longer than other varieties and won't get blown away by strong winds.
31. Cantilever Shade Canopy
This canopy provides a low profile with the canopy being supported by suspension branches and having posts at the structure's back. This type is usually put in strategic places like at entrances where the sun's rays will be blocked efficiently. 
These canopies can be placed at parking, playgrounds, pools, bleachers, and outdoor seating areas.
Types Of Canopy Roofing – Conclusion
As you can see, there are many types of canopy roofs that you can choose from depending on your preference, some are very easy to install while others are more difficult for you to do yourself. So make sure to read the instructions carefully before purchasing any type of shade sails or canopies. 
References