Your eyes find colorful, appealing advertisements on TV, browsers, and billboards every day. They are a vital aspect of a business. It is the direct link to your consumers. You cannot rely on a one-time announcement when there is so much to show.
Ads can be annoying. However, no one can deny the influence they have in our lives, or better our budget! But would our world really be this chirpy and loud without them? No!
The sole purpose of any business is to sell its services and products. They earn profit through it. And advertising plays a vital role. It helps you grow your business and reach out to people.
So, we bring to you 15 convincing reasons why advertising is important to kickstart any business.
15 Benefits Of Advertising That You Should Know
Today, advertising has become an industry itself. New techniques attract customers every day. Constant advertising has proven to increase sales by 100 percent. We provide you with all the aspects of advertising to highlight its significance.
1. Advertising Is A Crucial Factor Of Marketing
Marketing pinpoints the needs of the customers. Their wants derive marketing plan for any business. Advertising provides you an effective way to highlight them and present a solution-encouraging people to buy a product.
A brand uses the data acquired in marketing strategies to engage customers retaining them. Hence, captivating and catchy ads can earn a profitable income.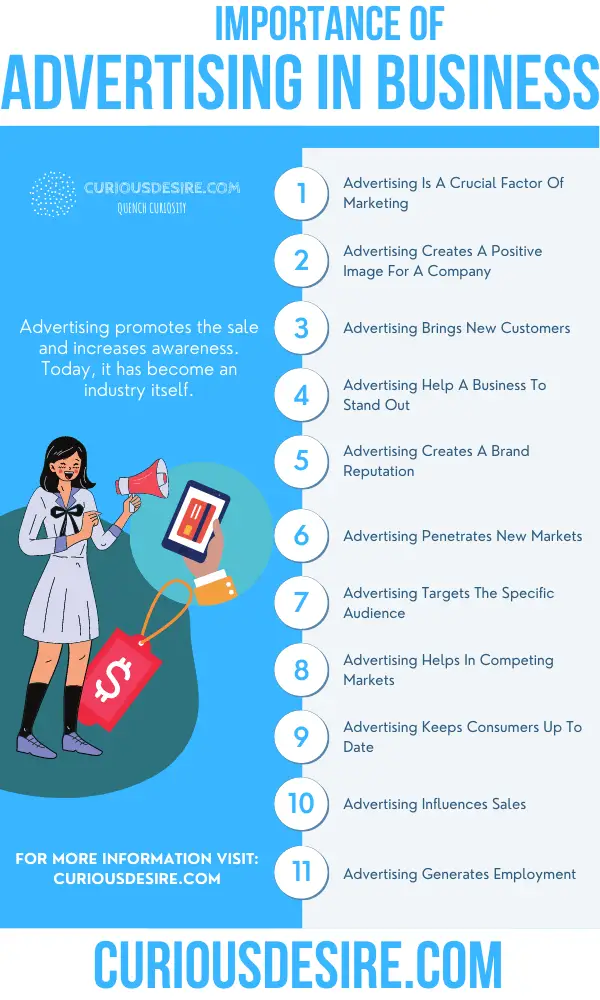 2. Advertising Enhances Company Traffic
Advertisements are the first impression for any business. The companies must leave people with something to think about concerning their business. Most people visit sites after watching ads. So company traffic and sales depend on how it comes up with interesting ideas for a business campaign.
Apple, for example, advertises through annual keynote speeches, creating buzz about new products. It helps them build credibility and consumers' trust. We can see how it has been on the rise for the past decade and ranked first on Interbrand Best Global Brands in 2019 with $234 Million brand worth.
3. Advertising Creates A Positive Image For A Company
Advertisement campaigns decide the customer traffic. It must be per the brand values. It produces an image for customers, telling them what it is about.
It defines how ready a business is to dive into the market and face competitors. Dynamic advertisements will entice customers and create a positive image of business too. 
With so many options available, customers become picky. Research shows corporate responsibility matters a lot. Young people want to buy from brands that align with their values. Getting across a message is the hardest yet effective trick to attract the audience, and ads ensure that.
Many businesses have now indulged in customer stories to advertise. It is a good approach. A consumer relates to them, and brands find them at their doorstep!
4. Advertising Brings New Customers
The world is changing every second. So is the market with new customers each day.
It is a challenge to remain at the top, coping with new needs and demands of the people. And even if you manage it well, how come you tell others about it?
Advertisements announce it to the public. You can target your audience through ads. Those new to the market will always go for top-rated businesses through effective advertisements. Hence, it helps in bringing new customers to grow the business.
Coca-Cola manages its most influential campaign in the 2014 FIFA World Cup. They used the event as leverage and earned a brand value of $81 Million in 2014. It brought new opportunities and customers. The net worth of the company recorded in 2019 was $63 Million.
Related Video – Confidence: What If There Was No Advertising?
5. Advertising Help A Business To Stand Out
Any form of media can produce exposure and awareness to its users. Ads have the power to mold perceptions of people and bring them round to your views. They are the soul of any business campaign. The market may have companies selling primary commodities and do better than others because of their strategy.
It all comes down to how unique you put forward an idea to grab attention.
Making catchy and eye-candy ads is all the push needed to stand out from the competitors.
6. Advertising Creates A Brand Reputation
The representation of a business makes or breaks a deal. The advertisement campaign determines the popularity. Many brands hire personalities as ambassadors for their marketing campaigns.
How you convey an idea is a challenge. Companies do face criticism over their ads. The intent can be perceived differently by different audiences.
For instance, beauty products were discouraged for their notion of providing white skin complexions. A renowned brand, Fair & Lovely changed its name to Glow & Lovely for the same reasons.
7. Advertising Evolves Continuous Business
Ads remind customers of a brand continuously. Not everyone needs what you offer today, but they will surely reach you out when they want one.
The meaningful advertisements leave a long-lasting impression on the minds of the consumers. It helps them realize their needs.
It attracts the audience to services a brand offers, increasing their sales. It is an investment for the present and the future.
8. Advertising Targets The Specific Audience
The prospect for any business is to make money. The strategies have evolved so much in these years. Where social media replaced magazines and pamphlets, it has become a challenge to reach a specific audience in a large mass of people. Customer awareness is necessary to promote the services.
Advertisements tackle it well! Digital Marketing has revolutionized branding. With optimized ads, you target your specific audience to see what they need and attract their attention.
9. Advertising Penetrates New Markets
Expanding the horizons ensures business growth. The brands must move out of their comfort zones to establish a good customer base from different demographics.
Marketers use old and new methods to bring home customers and cultivate the business venture. Hence, advertising, in any form, brings exposure to gain a fair share in the market.
10. Advertising Helps In Competing Markets
A brand should promote values inclined with the expectations of customers and target audiences with meaningful ads. It shows that they are ready to face the competition.
Every line of business has competitors. It's just a way they promote their products to get to the top. The promotions should include solutions for the customer's problems to navigate them to a business. Spreading awareness is the key.
11. Advertising Keeps Consumers Up To Date
Whenever a brand launches a new product or event, ads help in spreading the word efficiently. They find everything about the services offered and do not have to dig the information out themselves.
Everybody likes the easy way. When an effective campaign allows the customers to know everything about a product, they're likely to keep track of new additions.
12. Ads Retain Brand's Customers
Effective advertisement campaigns are the secret to keeping customers. The attention span of a customer is narrowing with the abundance of information. It has come to only 8 seconds from 12 seconds in past 15 years. They forget and move on with new products even when you satisfied them with your services. This brings forth a challenge to gain their eyes for any promotion.
Running consistent ads is secret magic in retaining the customer base.
The Word-of-Mouth is a valuable technique. It works like a chain reaction. It not only generates income but brings more turn-in. Ultimately, the business is successful.
13. Advertising Influences Sales
Brand reputation is necessary to retain customers. But what about the sales? A business can generate revenue with strategies and attract the audience to buy the products.
Most young consumers invest money for the brands they find with captivating ads. Wendy's Where's the Beef ad in 1984 hit a record profit for the next year through this. Announcing special discounts through ads is also helpful. Hence, advertising is the key to increase sales.
14. Advertising Generates Employment
Advertising generates employment directly and indirectly. An ad requires animators, musicians, photographers, designers, promoters, and marketers to join hands for an effective campaign. Many industries find support through media and generate revenue. It not only benefits them but stabilizes the economy too.
Experts estimate the advertising can hit over $630 billion by 2024. More buyers and jobs will bring competition with a strong GDP. It all flourishes the economic growth.
15. Advertising Transcends Campaigns
Apart from the economy, advertising a brand can really affect the norms of society. The company always stays in front of customers and reminds them why they should choose it.
De Beers is worth mentioning here. Their 'A diamond is forever' in 1948 really set a trend for many young couples to buy themselves a good diamond piece for engagements. The sales went up with a good advertisement campaign. And we find it very common for engaged people to share a ring between them even now.
Importance of Advertising – Conclusion
Advertising promotes the sale and increases awareness. An organization can distribute content and help customers differentiate between themselves and other competitors through an effective campaign.
Advertisements have the power to bring in new ideas, make people accept them, and set trends for prospects. They also portray the sentiments of people effectively. Thus, we cannot deny the importance of advertisements in marketing and our lives.
References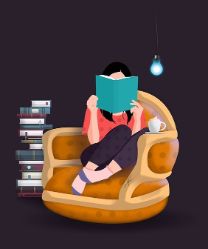 A sophomore in engineering, I'm a budding writer and an adventure enthusiast. My passion leads me on to try my hands on different things. I enjoy music, food, and good company. Making my way through life in my own ways, you'll find me holding a camera and capturing what this world has to offer.