Charitable giving is a part of life. For thousands of years, community members have given their time, energy, and possessions without expecting to be repaid.
The benefit is the improved well-being of the whole community. Organizations still address the issues like poverty, food insecurity, and limited healthcare. They urge people to give a fair share of their income to bring a change.
If you are wondering why donations are important, here are 15 reasons to highlight their significance.
15 Benefits Of Donations That Bring A Change In The World
The importance of donations cannot be quantified. It can range from helping provide water for people in need or providing medical care for those who are suffering from a disease that is not curable by any means. These contributions are pivotal because they could mean the difference between life and death.
1. Giving Donations Makes You Feel Better About Yourself
An act of generosity makes you feel great inside, and generous people tend to have a bigger sense of self-worth.
According to the Cleveland Clinic, providing has a beneficial influence on one's mental health. Giving of any sort, including volunteering your time or contributing money, stimulates the production of feel-good hormones- serotonin, dopamine, and oxytocin.
These body chemicals lower your blood pressure, and fight the depression. They bring internal satisfaction. They help in making people happy and content.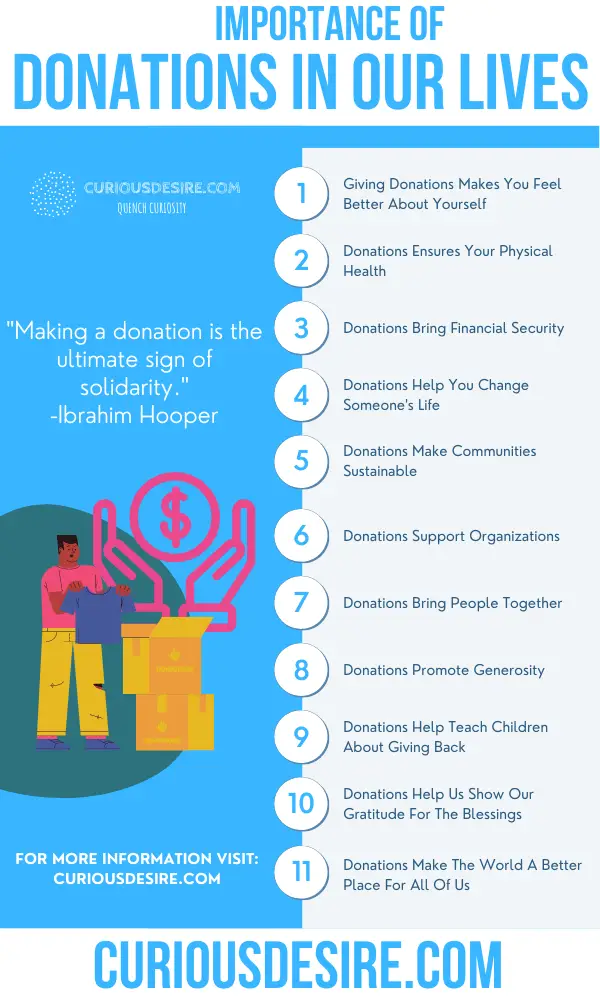 2. Donations Ensures Your Physical Health
The health benefits of donating are tremendous. In addition to fighting against depression and increasing your self-esteem, donation boosts your immune system too. It brings you a sense of relief from emotional problems.
Research has found that giving and participating in charitable acts makes you healthier than those who do not. Doing good for others is an investment towards your own well-being, which promotes a strong immune system and decreases the risk of cardiovascular diseases.
3. Donations Bring Financial Security
Charity saves you money and tax time. You can deduct your non-cash contributions from the federal income tax, and oftentimes state taxes too. Cash donations that exceed $250 require written acknowledgment or a letter of receipt for you to use as proof of donation. It also saves you money at tax time.
In the United States, for example, the tax code prohibits US taxpayers from claiming charitable deductions for donations to foreign organizations. They can receive deductions for US charities that operate in other countries.
A substantial donation might save you a significant amount of money in taxes, and we believe it's an excellent reason to give to charity!
4. Donations Help You Change Someone's Life
Donating to a good cause gives you the ability to change someone's life. You can help people in need. The satisfaction of knowing that you made a difference in society is such an amazing feeling.
You have the power to bring a change in someone's life. It brings you internal satisfaction and helps those in need. Donations offer you a way to help people. Giving your time or money will make you feel better about yourself. You have accomplished something important by saving lives.
Related Video – These People's Generosity Will Give You All The Feels:
5. Donations Make Communities Sustainable
Sustainability is very important in our society, and charities work to make communities environmental friendly. From recycling to planting trees, donations are vital to make sure that the environment stays clean and green.
Donations carry out many projects for sustainable development; they plant parks, flower beds, tree lines along urban roads. We can bring positive changes to our environment. This benefits our world.
6. Donations Support Organizations
Donations support organizations that help people and animals with their daily needs. Food, clothing, and shelter are just a few things that donations go towards. They also support the less fortunate in our society.
Almost all charitable organizations provide some sort of direct support. They include the provision of food, clothing, and shelter as well as funding for health care and education.
Large donation goals may also attract media attention and provide the organization a larger platform. A person's participation in sharing useful information is aided by donating.
7. Donations Bring People Together
When you donate, it creates a sense of community and camaraderie that is unique to donation-giving societies. You develop connections with people who are thankful for your contributions—in some cases, these are other donors too. It helps us fulfill our needs in ways other than material things.
If you give something, you can share it with someone in need and become closer to them. Our society is built on these connections and shared values; it is a reason we help each other.
8. Donations Help Meet Urgent Needs In Times Of Crisis
During emergencies, donations play an important role in various ways. When disaster strikes – earthquakes, hurricanes, floods-donations help rebuild homes, restore infrastructure and replace equipment. They also provide support to disaster relief organizations like the Red Cross or World Vision.
The damage caused by natural disasters like earthquakes is considerable; more than 25% of people affected need humanitarian support. These natural disasters destroy everything that is in their path; they could result in death, injury, or loss of livelihoods. Donations help pay for emergency relief. It can provide protective equipment to prevent the spread of a highly contagious and deadly disease.
Donations go a long way in helping in times of crisis.
9. Donations Find Long-term Solutions To Problems
Charity organizations have a significant role to play in finding long-term solutions to problems. These include education, shelter, food supply, provision for health care and so much more.
By donating money or time, you can help solve people's problems which are very difficult to get rid of. Wealthier countries can offer their knowledge and expertise to poorer countries which can be used to make a difference.
10. Donations Promote Generosity
When a person donates, it encourages other people to give. In this way, others can give back something to promote social good. It brings prosperity and happiness.
In our society, generosity plays a crucial role in promoting what is best for everyone. We all like to see other people give and take part in something bigger than themselves, which is one reason for the importance of donations.
11. Donations Help Teach Children About Giving Back
When you donate, it helps teach children about giving back. They learn that there are people who do not have the resources they need to live a dignified life.
Children can be taught early on about the importance of giving and the importance of community service so that they become responsible future citizens who contribute positively to their communities.
12. Giving Donations Inspires Others to Give
When one person gives, it inspires others to contribute and invest their time, resources, or money into something that will help promote the growth of the community.
It's an old saying, but it's true: one person can make a difference in someone else's life. Volunteering for a good cause inspires others to contribute and donate as well. You can be a role model for altruistic behaviors that change the world!
13. Donations Set An Example For Future Generations
It's not just the world that benefits from donations—it also helps inspire other people to make a difference in their lives. When one person donates, it inspires others to contribute as well due to shared values and the importance of social responsibility.
Millennials devote double the amount of time and money as preceding generations. The next generation of contributors is Generation Z. Although organizations continue to study generation Z, it appears that young people place a significant value on volunteerism. Hence, we are leaving behind a good example to follow for the next generations.
14. Donations Help Us Show Our Gratitude For The Blessings
When we give back to those in need by donating money or resources, we show our gratitude for the blessings that we receive. It is a way of sharing and giving as an expression of our appreciation for what we have been given.
Giving is part of what it means to be human. Every person has something they can share with another individual or community. Our world is a more beautiful place when we give in to something bigger than ourselves.
15. Donations Make The World A Better Place For All Of Us
Donations bridge the gap between those that have more than they need and those who have less than they require. In many ways, donations are helping people in developing countries to become self-sufficient.
A donation can make a world of difference to many people who are in need. It may seem like a small thing, but it does make a big difference in people's lives.
Importance Of Donations – Conclusion
We have all received so much in life, and giving is a wonderful way to show our appreciation. It brings joy to both the giver and the recipient.
Giving back to your community is an important part of life. It's not just about giving money, either – donating time and resources can go a long way in helping others.
Donations may come in different forms but they serve one purpose – making life easier for someone else who needs it most.
References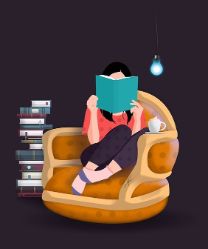 A sophomore in engineering, I'm a budding writer and an adventure enthusiast. My passion leads me on to try my hands on different things. I enjoy music, food, and good company. Making my way through life in my own ways, you'll find me holding a camera and capturing what this world has to offer.