The definition of what makes someone your friend is personal and unique to each person. Friendship doesn't mean that you see that person every day; it means that the two of you go through life together supporting one another when needed and having fun whenever possible.
Below are some reasons explaining why friendship is important that will surely make you fall in love your friends all over again.
15 Benefits Of Friendship That Will Compel You To Have Friends
Friendship can help you fulfill your potential as a human being and give you the strength to go on when everything seems lost. Here are 15 reasons why friendship is important: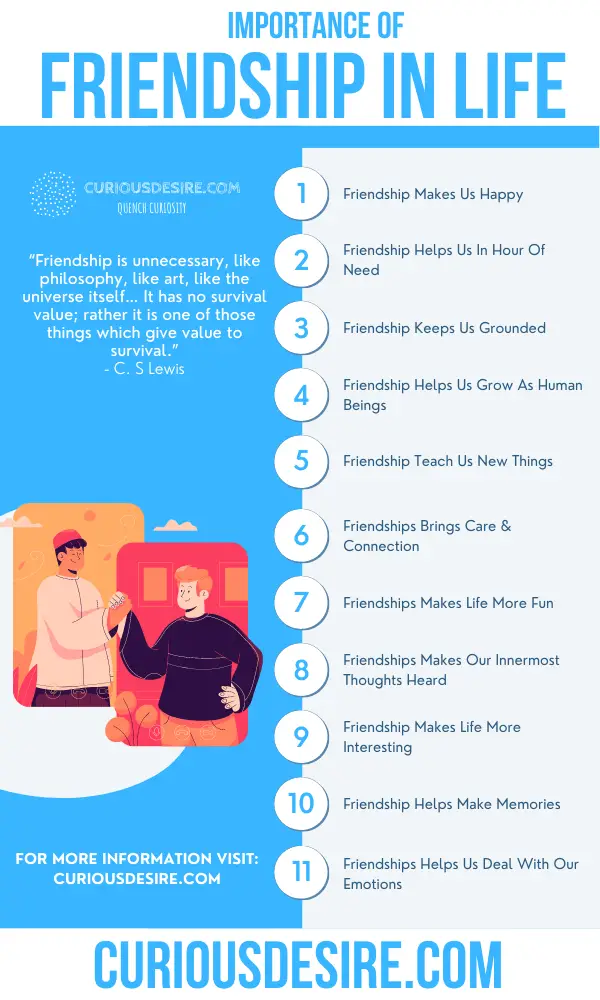 1. Friendship Makes Us Happy
Laughter is truly the best medicine, since it releases endorphins (feel-good hormones) into our bodies which helps reduce stress levels and boosts the immune system. When you're down or feeling bad about something, friends can be counted on to cheer you up by making jokes or doing crazy things together that will have everyone laughing until their sides hurt.
2. Friendship Helps Us In Hour Of Need
When we face hardships or difficulty, good friends are there to help us through the tough times. They will be there to talk us through it with their calm, wise words and gentle encouragement. Even if you don't find the solution right away, at least they provide a shoulder for you to cry on before taking action.
3. Friendship Keeps Us Grounded
When we're upset, friends comfort and cheer us up because they truly care about us and know what will make us happy. We can tell them anything without worrying about being judged or ridiculed. They love us for who we are, not what they want us to be.
We need friends to ground our feelings in reality, even if it's just fun activities with old buddies along the way. Without friends, there is no one around to remind you of how great your life really is when times get tough.
4. Friendship Helps Us Grow As Human Beings
As the saying goes, one of another is always better than one alone. A friend can provide you with valuable information, new perspectives and successful strategies that will help you become a better person in life. They give us loving support when needed, but also push us to do our best because they know we are capable of anything.
Related Video – Why Friendship Is Important To Your Mental Health:
5. Friendship Teaches Us New Things
Friends can inspire each other's drive towards self-improvement because everyone has different interests, talents, and skills that they want to share with others who understand them best. When we're stuck in rut, sometimes all it takes is an outside perspective from someone else who knows what you're truly capable of achieving. Friends teach the life lessons that we need to learn.
6. Friendship Brings Connection
Friends have a strong connection because they've spent so much time together, sharing laughs and cries through the years. They know how to read one another's thoughts and facial expressions without words, because there are no secrets between them. They don't need to say anything out loud to communicate; they're in tune with one another by simply looking at each other.
7. Friendships Brings Care
When we're sick or depressed, friends make us feel like we matter and can be depended on to cheer us up when we need it most. They will drop by to make sure we're doing fine without much prompting from us, making sure that everything is as it should be in our lives at the moment.
Having a friend means having someone who understands who you are and loves everything about it. No matter how much time has passed or where life takes you, there is nothing better than knowing that hopefully somewhere down the road your paths will cross again so both of you can reminisce about all the
8. Friendships Lets Us Share Our Secrets
One of the best things about friendship is that there are no secrets between you and your buddy; all those embarrassing moments from childhood that you try to forget come back to you naturally whenever you want. We don't have to share every little thing with our friends because they know how to respect boundaries and give everyone their privacy — and we always trust that they will do the same.
9. Friendships Makes Life More Fun
When you're young, it's easy to be serious about life because you still have so much time ahead of you to live out your dreams and accomplish things that you want for yourself. Although being serious is good sometimes, having friends around to lighten up the mood and make you laugh is a great way to get through life without taking everything too seriously all the time.
Friendship is all about having fun with someone who understands who you are and loves everything about you. No matter how much time has passed or where life takes you, there is nothing better than knowing that hopefully somewhere down the road your paths will cross again so both of you can reminisce about all the good times that once were.
10. Friendships Makes Our Innermost Thoughts Heard
Good friends can be like therapists, listening to all of your deepest, darkest secrets and confessions without judgment and with great care and attention. They give us a sense of relief by helping us feel like we don't have to hold everything in; we can let it all out with someone who cares about us most with little fear of retaliation or betrayal.
11. Friendship Makes Life More Interesting
Remember all those cliches about not being able to get through life by yourself? They're true, especially when it comes to having friends who keep things interesting and fun no matter where you go or what you're doing together. Good friends know how to bring out the best side of themselves around other people — including you!
12. Friendship Helps Make Memories
Friendship provides an opportunity to share experiences and create memories that will last forever. By surrounding yourself with friends you are not only becoming stronger but also living life in its fullest.
Unfortunately, there are many people who fear relationships due to past painful experiences. But, it is only your friends who can take you out of such fears and help you make new relations and memories that last for a lifetime.
13. Friendship Strengthens Us
Friendship can be an incredible source of strength when you're at a loss for what to do next. Having someone by your side not just in dark times but also during your happiest moments brings joy and contentment into your life, something worth more than all the money in the world.
14. Friendships Helps Us Deal With Our Emotions
In this day and age, there are fewer people who understand how we feel because of globalization. However, friends from our local communities know what we're going through and can be good sounding boards when we need someone to talk to in order to sort out all of those mixed-up feelings that we sometimes have.
15. Friendships Inspires Us To Achieve More
When we've hit rock bottom or lost hope for whatever reason, having a good friend by our side is the best pick-me-up ever. They make us feel like we can accomplish and do anything we set our minds to because they never give up on us; we should be the same way for them in return.
Importance of Friendship – Conclusion
Friendships are the best things that can happen to anyone because it will help you through happiness and tough times. There's no rule about how many friends you should have or that all of them must be around at once. It's okay to go through life alone, but having good friends by your side makes everything way more fun and interesting!
References: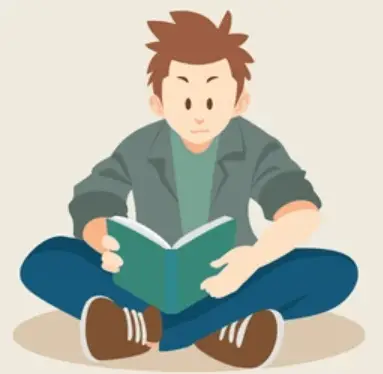 Yusuf is interested in exploring the world around him and making meaningful connections with it. He then express these ideas with words for the world to enjoy. In his free time, Yusuf loves to spend time with books, nature & his family.