The Vegetable is a vast term. It includes all the edible parts of plants, which are usually their leaves, roots, fruits or, seeds. It is an important food all over the world. It is also a fundamental part of modern agriculture and an economy.
 Vegetables are important because eating them provides health advantages. Those who include vegetables in their daily diet are likely to have a low risk of terrible diseases. Vegetables are important because they give us vital nutrients in maintaining our health.
This article will cover 15 reasons why vegetables are important for our health.
15 Benefits Of Vegetables In Our Daily Diet
 Vegetables are high in nutrients and low in calories. The balanced, variable diet of different varieties of vegetables is crucial. We should adopt a habit of relishing this food at a very young age. It will improve our metabolism and clean our bodies within.
This article will cover 15 reasons why vegetables are beneficial for our health. It will make us realize their benefits.
1. Vegetables Are Rich Source Of Vitamins And Minerals
If you want to find a better nutritional source, vegetables are perfect. They contain vitamins A, C and, E. Moreover, other nutrients such as magnesium, zinc, folic acid and, phosphorus. Vitamin A is present in carrots, spinach, broccoli, and sweet potatoes. Vitamin B is found in potatoes. Vitamin C is filled with broccoli, peppers, and tomatoes. Mushrooms are rich in vitamin D. Vitamin E is present in broccoli and spinach.
Calcium is present in kale and broccoli. Magnesium is found in potatoes and spinach. Potassium is present in potatoes, spinach, and sweet potatoes. Broccoli, kale, and spinach are rich in iron. Folate is present in broccoli and spinach. While broccoli, carrots, and spinach are rich in fiber.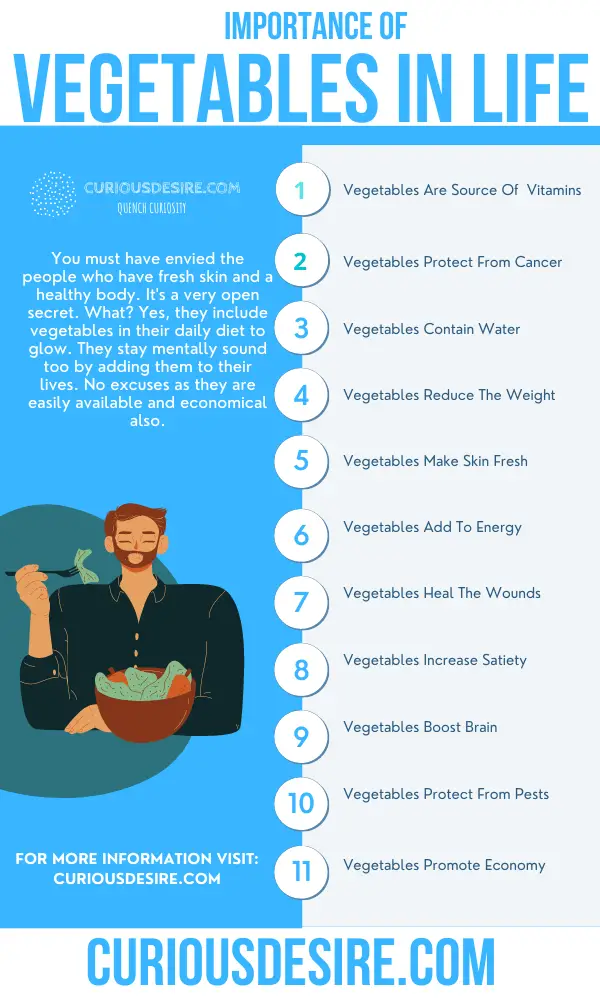 2. Vegetables Have Variety Of Colors And Flavors
Vegetables provide a variety of colors and flavors. People enjoy food more when they have vivid visual appeal. A flavor is a mixture of aroma and taste. Aroma means the smell when the food is in your mouth. Sharp flavors like olives, peppers, onions add delight to the food. How pleasant it would appear if the contrasting flavors of vegetables like salty, sour, bitter, sweet and, spicy were mixed in your food.
3. Vegetables Are Rich In Fiber
Almost all vegetables have a rich quantity of fiber to fill you up and add to your health. These vegetables include green peas, broccoli, cauliflower, carrots, spinach, artichokes and, beans.
4. Vegetable Contains Water 
Nutritious and hydrating vegetables keep us fresh. They are beneficial in warm weather as they provide a sufficient amount of water. When our body loses water in the summer, they can keep our hydration level up. Cucumber water is also a popular drink for us in the summer.
Related Video – Most Healthiest and Nutritious Vegetables
5. Vegetables Are Low Calorie And Low Fat
Most vegetables are low in calories and fats. Relishing them makes you not worry about extra calories. It makes you able to lose weight. Radishes are peppery vegetable that is low in calories yet full of taste and nutrients.
Watercress is a spicy leafy green vegetable that is very low in calories. You can include them in a salad too. Cucumbers are low in calories because they contain mostly water. Starchy vegetables such as potatoes are higher in calories but still very nutritious.
6. Vegetables Protect From Cancer
Consumption of vegetables lessens the risk of the disease cancer. The antioxidants in them help decrease the risk of the attack of the disease cancer by preventing oxidative damage to the cells in the body. About 14 % of deaths occur worldwide due to insufficient vegetable consumption resulting in cancer.
Carrots, onions and, garlic are effective in protecting against cancer. While green leafy vegetables also lessen the danger of cancer due to the multiple vitamins in them.
7. Vegetables Are Low In Sodium And Cholesterol
Sodium is a mineral that is crucial for maintaining fluid balance in our bodies. But most people include more sodium (salt) in their diet than they need. It can lead to high blood pressure. On the contrary, Vegetables consist of a meager amount of sodium. Fresh vegetables like spinach, carrots or, broccoli help maintain sodium levels in our body.
 Some vegetables are high in Pectin, the cholesterol-lowering soluble fiber. Pectin-rich vegetables are okra, carrots and, potatoes. They also help us protect from heart diseases. They are low in fats and high in fiber and antioxidants.
8. Vegetables Reduce Weight And Diabetes
Eating a variety of vegetables is an ideal method of reducing obesity. Vegetables like spinach, mushrooms, cauliflowers, broccoli, chilies, pumpkins and, carrots help us lose weight. Water in vegetables makes you fill up without increasing calories. Radishes, for example, consist of over 95 % water. In a study of 2011, the participants who added fruits and vegetables in their diet by one serving a day reduced 4 pounds weight over six months.
Spinach and other green leafy vegetables may lessen type 2 diabetes risk. It is so because of their high value of polyphenols and vitamin C. Both have antioxidant qualities. They also comprise magnesium, which may further reduce the danger of diabetes.
9. Vegetable Makes Eyes And Skin Healthy
As vegetables are rich in vitamins and other minerals, they keep our eyes and skin healthy. Plant-based vegetables such as kale and spinach contain vitamin C, E and, A. it lowers the danger of long-term eye diseases, including cataracts. Sweet potatoes and carrots are high in vitamin A that improves our night vision.
10. Vegetables Make Us Energetic
      Leafy green vegetables are remarkable sources of nutrients. Spinach and kale make us active, strong, and energetic. These vegetables are rich in calcium, potassium, magnesium, iron, and vitamins A, C, E, and K. Furthermore, they're loaded with fiber, folic acid, and antioxidants.
11. Vegetable Heal The Wounds
The food you eat can either help or destroy your recovery from surgery. Vegetables reduce inflammation and play their role in improving our immunity. They also heal your cuts and wounds.
Leafy green vegetables contain a rich amount of vitamin C, magnesium and, folate. All of these are important for the immune system and health in general. Vitamin C is necessary to heal wounds. The leafy green vegetables are a good option when recovering from any surgery.
12. Vegetables Increase Satiety
Different foods affect the sensation of satiety or fullness differently. For example, fewer calories need to feel full from boiled potatoes than from butter. Thus, consuming foods that increase satiety can help you eat fewer calories overall. Vegetables are very satisfying to eat because they take some time to chew. Eating a salad before a meal can help you contain fewer calories overall.
13. Vegetable Raises Brain-Power
A lot of vegetables in your diet will ensure raising the power of your brain. Leafy green vegetables such as kale, broccoli and, spinach contain brain-boosting nutrients like vitamin K, folate, lutein and, beta carotene. Researchers indicate that these plant-based foods will help slower cognitive decrease. Your brain is in charge of maintaining our heat beat and lungs breathing. Vegetables can improve your memory and focus.
14. Vegetables Protect From Pests
The best method to protect your crops from pests organically is by planting mixed herbs and vegetables. No chemicals are needed to control pests in this way. It not only adds to the taste but also makes it healthier for both the earth and humans. Planting herbs and veggies in proper combinations will curb aphids, cabbage worms, and other pests.
It will hinder the pests from hurting your precious vegetables. The plantation of garlic makes spider mites, beetles and, even fleas deter from attacking various plants.
15. Vegetables Promote Economy
The industry of vegetables has become a significant way of employment and income generation. The cultivation of fruits and vegetables has cast a positive influence on food and nutrition security. It not only provides healthy food but also booms the economy.
Importance Of Vegetables – Conclusion
Vegetables are indeed a bliss of Nature. If we get the awareness about their multiple benefits, it'll become an essential part of our meal. Why not resolve today to include vegetables in our daily diet. It will make us healthy both physically and mentally. Indeed health is the foremost part of our lives. Therefore, we must add nutritious food into our diet in the form of a variety of vegetables.
References
Hello, I am Humaira Ahsan. I have done Mater's in English literature. Writing articles on various topics has become my passion. I love to learn and grow every moment. Hard work is my motto of life.