There are many reasons why electricity is important. If you own a home today, chances are that it has at least one electrical appliance inside. You may not realize it but without this amazing source of power, the comforts you enjoy would not be possible.
Lighting in your home requires electricity to make everything bright and luminous. Without light, it would be hard to do even the simplest of tasks. Electricity is also essential for heating your home in cold weather conditions. The following list describes some of the reasons why electricity is important.
15 Benefits Of Electricity That Will Make You Value It More
Below are 15 benefits of electricity that will make you want to pat your electric meter (but don't do that).
1. Electricity Helps Provides Comfort And Peace Of Mind
Electrical appliances and equipment can make life much easier to deal with. If you wanted to use a vacuum cleaner, for instance, you would probably not enjoy using a manual model.
The same thing goes for powering an electric oven, as it will provide convenience and ease of use like no other. You can cook food quickly and easily because this type of equipment makes life a lot simpler.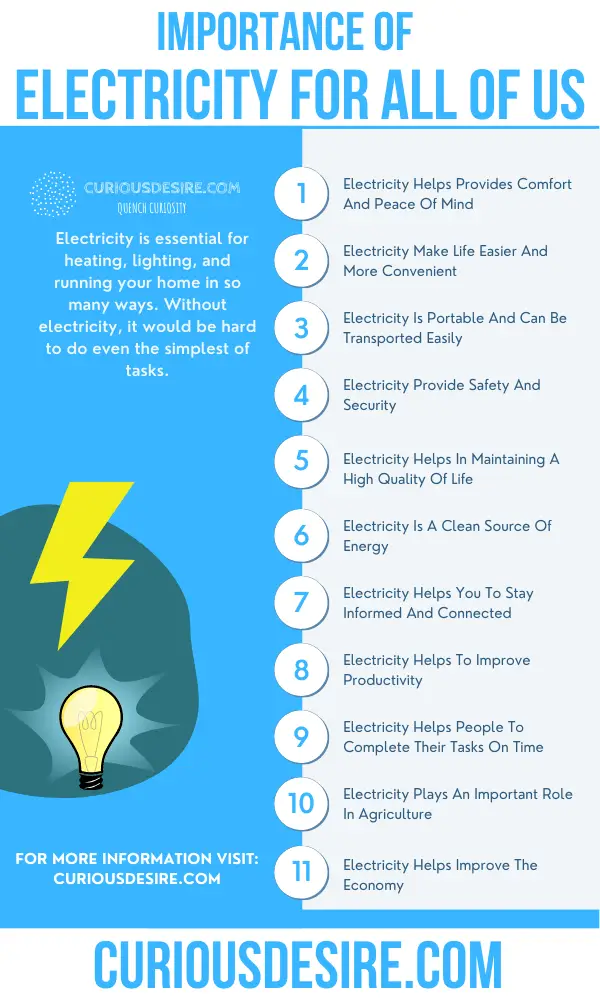 2. Electricity Make Life Easier And More Convenient
Life would be extremely difficult if you could not use your appliances. Lights, heating and other electrical devices are very useful for making life comfortable.
Without electricity, you would have to live in darkness every day, and it would have make things difficult.
3. Electricity Is Portable And Can Be Transported Easily
There are many countries in the world where electrical power grids do not exist, which means residents must generate their own power. This usually requires the use of fuel like coal or diesel which can be expensive.
Electrical energy is much more practical in this regard, because it is very easy to produce in one location and transport to other regions in the case of a power outage.
4. Electricity Provide Safety And Security
You will feel safe and secure if you have a backup generator in case of emergencies. If there was a blackout, this would be useful for powering your home and providing safety and security.
 Many people use solar panels to keep their electrical systems running. If you live in a rural area, there is no guarantee that the power will always be working properly.
Related Video – Introduction to Electricity
5. Electricity Helps In Maintaining A High Quality Of Life
Your standard of living would not be as high if electricity was taken away from your home. The ability to use appliances and other electrical systems makes life much easier.
You can cook meals, clean your house and enjoy a comfortable life because of all the useful electrical equipment you have access to.
Making use of modern power systems helps you maintain a decent quality of life and this all is possible only because of electricity.
6. Electricity Is A Clean Source Of Energy
Electricity is a clean source of energy that does not require any additional fuel to produce. Coal, natural gas, and other sources are also available but they pollute the environment as byproducts.
Electricity is reliable because it requires no fuel whatsoever to be generated, which makes it much cleaner than other options.
7. Electricity Helps You To Stay Informed And Connected
Electrical devices allow you to stay informed and connected with those who matter most in your life. This type of equipment provides lots of useful functions to the owner.
Many people use mobile phones, tablets and other electronics to stay in touch with friends and family members. Outages can make it difficult for you to communicate with others, that is why a backup power source will be useful in this situation.
8. Electricity Helps To Improve Productivity
Electrical equipment can help a person be more productive and it is a very useful tool for professionals. For instance, people who work in offices will find that computers and photocopiers are fantastic tools to have access to.
Without electricity, these machines would not be able to function properly which means your productivity levels could drop significantly. Harsh weather conditions could also impact your productivity by disrupting the power supply.
9. Electricity Helps People To Complete Their Tasks On Time
If you are working in an industry where power is required for certain tasks, it will be necessary to have access to electricity at all times. For instance, people who work in construction or manufacturing would not be able to complete their duties without a stable power supply.
It is also important for people to have access to electrical equipment in the medical field because this helps them to stay safe and healthy while they are at work. During natural disasters, rescue workers will be able to provide life-saving support if they have electricity available.
10. Electricity Plays An Important Role In Agriculture
Most farms and ranches now use electrical systems to provide power for their machinery. This makes it much easier for the owners to take care of their business and manage all of their farm equipment.
Electrical systems also allow people to keep track of livestock and monitor the amount of water that is available for them. This means that farmers will be able to provide higher levels of care for their animals and make sure they are all safe.
11. Electricity Helps Improve The Economy
Electrical systems can improve the economy because it helps people to make more money. For example, power tools are often used by workers who use them in construction jobs. This makes it possible for them to complete their tasks more quickly and they are also able to work with greater safety.
The use of electrical power improves the overall productivity of people who are working in manufacturing jobs. Having access to this type of equipment will give you a competitive advantage because your business can be more productive which means higher sales levels.
12. Electricity Is Important For The Entertainment Industry
Many people who work in the entertainment industry at events will find that electrical power is essential. This can be used to set up lights and sound systems which are important for any type of special event.
To create a more memorable experience, you may want to add lasers and other lighting effects when hosting an event. It is also important to have a backup power source in case the electricity goes out unexpectedly during your performance or presentation.
13. Electricity Can Be Used To Grow Food
Having access to electrical equipment will make it much easier for people who are trying to grow their own food. For instance, hydroponic systems require electricity to monitor the temperature and provide nutrients for plants.
If you are unable to grow your own food, it will be possible to purchase fresh produce if there is an electrical supply available. This will make it much more convenient for people who would like to eat healthier but do not have access to their own garden or farmland.    
14. Electricity Is Very Versatile And Can Be Used In Many Different Ways
Not only electrical power be used for heating and cooling, but it can also provide lighting and other important comforts. Electricity provides comfort and peace of mind, which makes life easier to deal with.
Having access to the power grid is like having access to your own personal army. If you wanted, for instance, you could hire someone to string up all of the electrical wires in your home.
The power grid provides electricity that can be used in many different ways and makes life much easier.
15. Electricity Can Make Your Home Cooler
If you do not have access to air conditioning in your home or building, you may find that it becomes very warm during the summer months. This can make it difficult for people to enjoy their time in this area and they may become uncomfortable because of high temperatures.
It is possible to purchase a cooling system that will use electricity to reduce the temperature in your home when it begins to get too hot. This can make it much more comfortable for people to stay in this area when temperatures outside are very high.
The Importance Of Electricity – Conclusion
Having access to electrical power will make it easier for people to do their work and take care of various essential tasks. It can also be used in many different ways which makes it convenient for people who are working throughout the house.   
A lack of access to electrical power will make it much more difficult for people to carry out their work. It can also create safety issues because you will not be able to use electrical equipment if there is no power supply available. This will be even more problematic if you are living in a rural area that does not have access to the power grid.       
Electricity is important for many different reasons, including entertainment, comfort, heating, and cooling.
References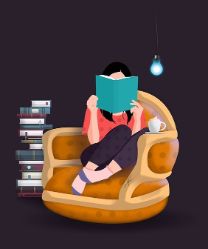 Passionate about literature, books, and weaving words into phrases, I'm pursuing an academic career in English Literature and Linguistics and have been working as a content writer since 2016. Writing, to me, is the smoothest way to explain things to others and share knowledge with them. On this platform, I aim to utilize my passion for writing in the best possible manner, using it as a medium to share whatever knowledge I have with the readers.