In the early days of humanity, walking was the best form of transportation. As man evolved and began to build cities, walking became an ever-increasingly difficult way of getting around. We needed a better system.
So with time, patience, and a lot of exertion, humans developed first the wheel, then the bicycle, and eventually the automobile.
As time passed and technology flourished, transportation has become easier, faster, and far more convenient than ever before. Transportation makes life easier because it allows for efficient movement from one point to another. It is an integral part of our lives. Here are 15 reasons why transportation is important.
15 Benefits Of Transportation That Make Our Lives Easier
Whether it's about moving goods or traveling for fun, we need transportation. It is the main source of connection between places and generates revenue for a stable economy.
1. Transportation Is A Part Of Infrastructure
Infrastructure is an essential part of our lives because it ensures that our economy remains stable and that our environment is protected.
Transportation, like roads, makes our infrastructure. It is a means of travel. They're used to move items and services from one location to another.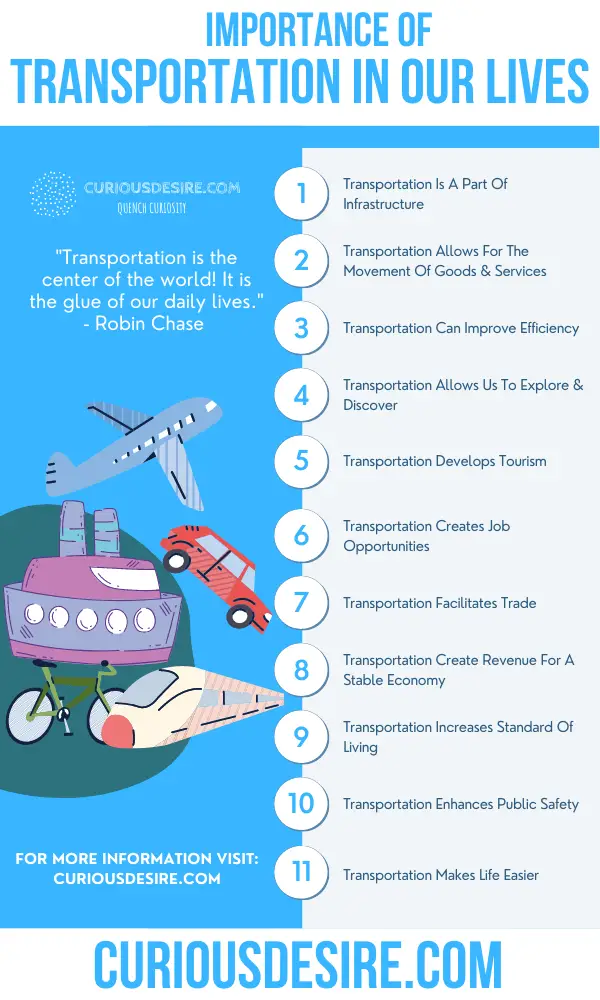 2. Transportation Allows For The Movement Of Goods & Services
Transportation allows for the movement of goods, services, mail, and other materials from one place to another.
Without transportation, we would be forced to carry everything with us or move everything by hand. We wouldn't be able to ship things from one place to another.
3. Transportation Allows For The Movement Of People
Transportation allows for people to move. Without transportation, it would be very difficult for people to travel to work, school, stores, or other places they need or want to go.
Transportation also makes it easier for family members to visit one another and increases socialization within the community.
4. Transportation Can Improve Efficiency
Traveling and hustling in the morning are routine for most people. Since its invention, people have enjoyed public means of transport to reach their destinations.
Research has shown that transportation can impact work efficiency. An example is, research carried out in Japan showed that workers who commuted by train were more efficient than those who used cars.
The experiment indicated that the workers walked to and from their points of departure and this helped them relax before they headed into work. These workers managed to be more productive at work.
Related Video – Transportation:
5. Transportation Allows Us To Explore & Discover
Traveling allows us to discover the world and all its beauty. It is a means of understanding different cultures and bringing people together. Because each discovery leads to a bigger picture of how we fit into this world!
Transportation is closely related to traveling since you cannot travel without some sort of transportation.
6. Transportation Develops Tourism
Transportation has a big part in developing tourism because it lets people explore new places and experience different cultures.
People can take a plane or a car to a different country and explore the sites, try the food, visit museums, and meet their fellow citizens. Transportation allows us to travel further with less money spent on traveling by foot or boat.
7. Transportation Increases Freedom
Without transportation, most people would be trapped at home without the ability to go out and do what they please.
Freedom is something that many people value highly, so transportation allows them to get around more freely.
For example, transportation allows people with physical disabilities or those who are unable to drive on their own to get around and live full and productive lives.
8. Transportation Creates Job Opportunities
Transportation creates job opportunities for people who maintain the roads, airports, railroads, and waterways. Transportation also provides jobs to people in many industries like manufacturing and retail.
These major economic sectors rely on transportation to facilitate their work and make them successful.
Every $1 billion invested in mass transit results in the creation and retention of 36,000 jobs in the United States. That's true employment growth.
9. Transportation Facilitates Trade
In the past, it took months to travel to other countries, but the development of more efficient methods of transportation allows us to trade with people around the world more quickly.
Transportation facilitates trade because it allows businesses to buy and sell goods, services, and materials. We can make deals, get agreements in place, and conduct transactions with almost zero wait time due to how quickly we can transport our goods and services.
With transport at hand, we can easily send our goods to foreign markets and import goods from other countries as well.
10. Transportation Create Revenue For A Stable Economy
Businesses need to be able to ship their goods and services from one place to another for people to buy them.
Transportation generates revenue for a stable economy and helps move the goods we need throughout the world.
We wouldn't even be able to travel if there were no transportation since we would not have any money to purchase things. Without companies making revenue, an economy can't be stable. Our economy would take a huge hit and everything we buy and use, whether it's food or clothing, would be incredibly expensive to acquire.
The flow of goods and services is the foundation upon which our economy is built upon, so transportation plays a crucial part in keeping it strong.
11. Transportation Enhances Development
Businesses need to be able to transport their goods to fuel economic development.
Transportation plays a big part in the development of job opportunities, housing options, education, public safety, health care services, and entertainment venues.
With transportation at hand, businesses can influence consumer behavior by providing them with more jobs, choices, services, and entertainment options.
12. Transportation Increases Standard Of Living
A higher standard of living leads to better lives for people. With better education, more job opportunities, and access to goods, transportation contributes greatly to the overall standard of living.
Transportation gives us access to many educational opportunities because it allows us to travel from one place to another. It also gives us access to employment options through job creation. Transportation makes it easier for companies to expand and grow to provide more jobs.
Not only does transportation allow for people to move, but it also pays the workers who help maintain this system so that they can earn money and support themselves.
13. Transportation Enhances Public Safety
Transportation provides safer and faster access to hospitals, fire stations, police stations, and other public safety and governmental buildings.
With transportation adjacent to these buildings, patients can get the help they need in an emergency. People with emergencies won't have as long of a wait time to receive the help they need.
Firefighters and police officers can get to emergencies quickly, which will reduce the likelihood of injury or property damage getting out of hand.
14. Transportation Is A Convenience
Without transport, we wouldn't be able to live in the fast-paced world we do. It allows us to connect with our friends and families no matter how far apart they are. We can travel much more quickly to and from places. We can do things with less downtime.
To have any sort of life in today's society, transportation is necessary.
15. Transportation Makes Life Easier
When we have transportation, people are happier because they don't have to spend hours of their day getting to places.
They can get things done while still contributing to society in whatever way they choose.
The Importance Of Transportation – Conclusion
There are many reasons why transportation is necessary. We must sustainably use these systems so that we have a clean world for future generations to live in as well.
References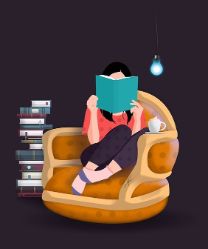 A sophomore in engineering, I'm a budding writer and an adventure enthusiast. My passion leads me on to try my hands on different things. I enjoy music, food, and good company. Making my way through life in my own ways, you'll find me holding a camera and capturing what this world has to offer.