The old saying 'education is the passport to the future holds, even now after decades of technological advancements. And one of the best ways to ensure that you have a bright future is to study abroad.
Education has evolved from classroom experiences and now study abroad is gaining more popularity than ever before. There are many reasons why students should consider study abroad opportunities.
15 Benefits Of Studying Abroad For Students
Students should opt to study abroad. It gives them exposure to new cultures and also helps in developing important skills.
Let's look at the reasons why study abroad is important:
1. Study Abroad Helps Improve Grades And Test Scores
When you study in a different environment, you will notice that you face challenges and learn to overcome them. This makes your mind think out of the box, something which is very important for overall academic excellence. 
Moreover, studying in a new country will also allow you to learn new things about the culture and the educational system of that country.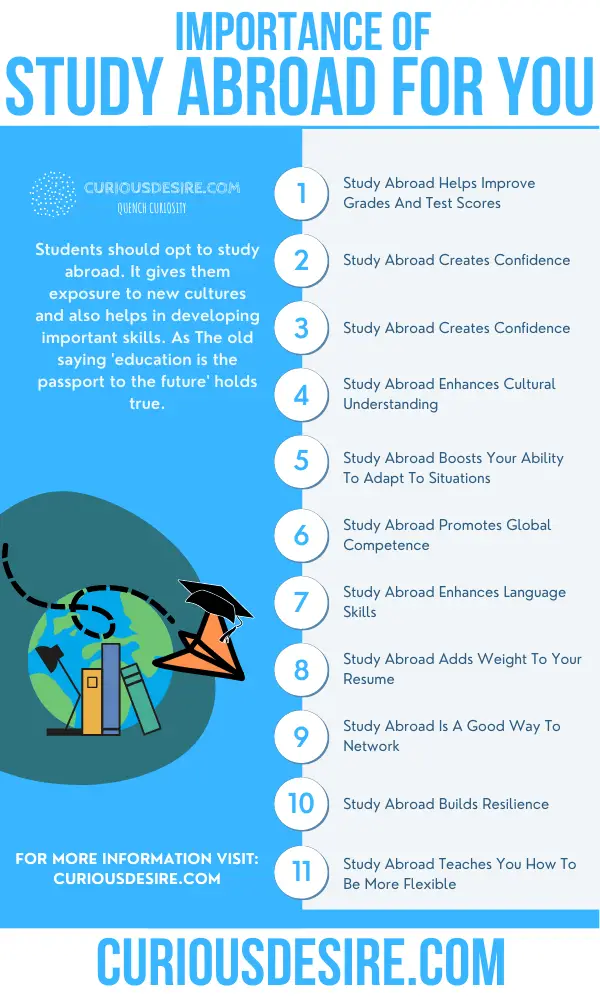 2. Study Abroad Creates Confidence
After studying abroad, one will gain confidence in all aspects of life. One will be more confident when speaking with their colleagues or employers. This is because they have already faced new situations and conquered them successfully. 
Moreover, there is so much to learn from the people who are living in a foreign country, and mastering different languages enhances your abiability adapt quickly to new settings.
3. Study Abroad Provides More Career Opportunities
In today's fast-paced competitive world, you need to get an edge over others by gaining work experience while studying at some other location. Your international exposure will help create connections that can assist you in finding jobs overseas after graduation or even before that!
4. Study Abroad Enhances Cultural Understanding
Studying in a different country will not only provide you with exposure to their language, music, dance, and cuisine but also help you understand the culture better. This in turn helps you become more accepting towards people of different cultures and strengthens your EQ.
Related Video – How studying abroad can change your life 
5. Studying Abroad Boosts Your Ability To Adapt To Situations
Living abroad allows you to face new challenges daily that are impossible to experience when living in one's own coy.
Challenges like food habits, lifestyle differences, etc., make students think outside of the box which is very important for their academic life as well as their professional career.
Hence studying abroad provides an opportunity to gain wisdom and learn life lessons more than an average student stuck at home.
6. Study Abroad Promotes Global Competence
Students need to develop an understanding of the current dynamics of business, politics, and other aspects that impact the global economy. This will not only help students think about solving problems from a broader perspective but also give them a better insight into what is happening outside their country.
Studying abroad allows one to explore cultural differences which help improve interpersonal communication skills.
7. Study Abroad Enhances Language Skills
If you are looking to improve your language skills, there is no better way to do that than by actually living in the country where the language is spoken. You will get to learn colloquialisms and slang terms that would be difficult to learn from textbooks or classrooms.
8. Study Abroad Provides A Better Understanding Of One's Own Country
When you study abroad, you will inevitably compare and contrast different aspects of the two countries. This will help you better understand your own country and make a more accurate comparison of the two countries. 
This is not only going to improve your understanding of your own culture but also allow you to see both sides, making you a balanced individual.
9. Study Abroad Integrates You Into The Global Workforce
As discussed earlier, it is important for people who have had international exposure to be hired by various organizations on a global level as they are more likely to succeed in such work environments.
Many companies want their employees to have exposure to different cultures and backgrounds. As it widens their thinking process and offers new perspectives, something that is highly sought after in the business world.
10. Study Abroad Adds Weight To Your Resume
A study abroad experience is an impressive addition to any resume. It shows that you are not afraid of new challenges and that you are willing to step out of your comfort zone. It also portrays a sense of independence, responsibility, and adventure- all qualities that employers look for in potential employees.
11. Study Abroad Is A Good Way To Network
When you travel to a foreign country, you are bound to meet new people who may be able to help you with your future career plans or just be great friends. Studying abroad provides a great networking opportunity to make new connections and help you get your foot in the door when it comes to finding employment.
For example, if you were studying in Paris, France, and wanted a job at HSBC bank after graduation, you can try going through the alumni associations related to the university for any openings.
This will not only help you get an entry-level position but also allow you to grow within the organization by making relationships with key individuals who may be able to offer better positions as time goes on.
12. Study Abroad Builds Resilience
Studying abroad is a great way to build confidence and resilience which will help you throughout your life. It is a widely known fact that people who have been abroad often say that it has made them more independent and self-sufficient as well as helped them become more confident in themselves, their opinions, and their abilities.
Doing something out of the ordinary teaches you how to be flexible and can also teach you a lot about yourself by meeting people from different cultures and backgrounds.
13. Study Abroad Provides Better Understanding Of The Global Community
Studying abroad not only makes you aware of other cultures and their customs but also gives you a better understanding of the global community. 
By interacting with people from different backgrounds and living in a foreign country, you learn to see things from other people's perspectives which can be highly beneficial when it comes to making decisions that concern the whole world.
14. Study Abroad Teaches You How To Be More Flexible
One of the most important skills that students develop when they study abroad is flexibility. When plans change abruptly or something unexpected comes up, you learn to be more flexible and roll with the punches. 
This is a skill that will come in handy when you start working as it is often difficult to stick to a rigid plan. Things seldom go according to plan in the business world so if you can't handle changes, you won't last long.
15. Study Abroad Gives You A Better Perspective On Life
Often, we get so wrapped up in our own lives that we lose sight of what is happening around us. Studying abroad allows students to see life from a different lens and opens their eyes to new possibilities and opportunities that they never knew existed. 
It teaches students to see things from a different perspective and can add a new dimension to their life that they wouldn't have realized if they had stayed back home.
The Importance Of Study Abroad – Conclusion
Studying abroad helps build networking connections, allows you to meet people who may be able to help you in your future career plans or just be great friends, and builds resilience, confidence, understanding of the global community, flexibility, and a better perspective on life.
 References