Coming out can be a scary and intimidating experience. But it doesn't have to be! Here are 30+ funny ways to come out that will make the process easier and more fun.
From silly pranks to outrageous stunts, you'll find something here that is sure to put a smile on your face as you take this important step in life. So grab some popcorn, sit back, and get ready for an entertaining ride.
30+ Creative And Funny Ways of Coming Out
There are many ways to come out, and it doesn't always have to be a serious moment. Here are some fun ways of coming out that you might want to consider:
1. Come out with a bang…literally! Buy some fireworks and announce it to the world in style.
2. Put together a comedic skit involving all of your close friends and family and break the news that way.
3. Create a personalized T-shirt announcing your sexuality and wear it around town for everyone to see.
4. Use food to make your announcement. Bake a cake with the words "I'm gay!" written across it, or order some pizzas printed with the same message.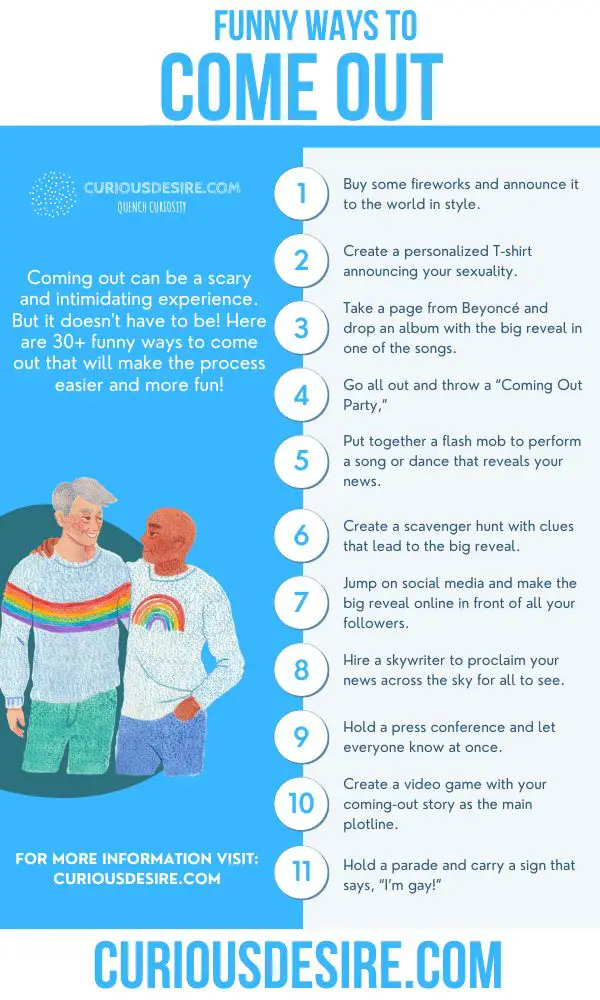 5. Send out an email blast to all of your contacts with a subject line like, "You won't believe what I'm about to tell you!"
6. Take a page from Beyoncé and drop an album with the big reveal in one of the songs.
7. Go all out and throw a "Coming Out Party," complete with cake, balloons, and confetti.
8. Put together a flash mob to perform a song or dance that reveals your news.
9. Take out an ad in the newspaper telling the world you're gay (or whatever identity you identify as).
10. Write a letter and mail it to all of the people closest to you with your announcement inside.
11. Have someone dress up like Cupid and announce it with a bow and arrow.
Suggested Readings
Funny Ways To Announce Pregnancy
Funny Ways To Say Good Morning
Funny Ways To Say Happy Birthday
12. Jump on social media and make the big reveal online in front of all your followers.
13. Gather your family together for dinner, then break out in a song about your coming out story.
14. Make a video starring yourself or enlist the help of a professional videographer to make a high-quality video announcement.
15. Hire a skywriter to proclaim your news across the sky for all to see.
16. Put up some lawn signs around town telling everyone what you're about to say.
17. Tell an embarrassing story during dinner or at a party, then end it with the big news.
18. Have a family member or friend help you reveal your sexuality on national television.
19. Take out an ad in the local newspaper announcing your news.
20. Hold a press conference and let everyone know at once.
21. Create a video game with your coming-out story as the main plotline.
22. Buy a billboard and post your big news across it for the world to see.
23. Give everyone you know custom lollipops with the words "I'm gay!" printed on them.
24. Start a blog about your journey of coming out and share your story there instead.
25. Create a scavenger hunt with clues that lead to the big reveal.
26. Leave some rainbow-colored sticky notes around your house with your announcement written on them.
27. Buy confetti poppers and hand them out to everyone you know, then have them pop at the same time when you make the announcement.
28. Take a picture of yourself with a rainbow flag and post it on social media.
29. Hold a parade and carry a sign that says, "I'm gay!"
30. Write your announcement in the sky with smoke bombs or fireworks.
31. Buy some rainbow-colored balloons and tie them to your front door when you come out.
32. Film a mockumentary about your coming-out journey and share it with the world.
33. Put together a show full of singing, dancing, and comedy to announce your sexuality to everyone at once.
Suggested Readings
Funny Ways To Say Merry Christmas
Funny Ways To Tell Your Husband You're Pregnant
34. Take some friends along on a road trip where you can all make the announcement together in an unforgettable way.
35. Put together an event in your local area that celebrates who you are and what it is to be gay.
Conclusion
Coming out can be one of the most difficult decisions a person has to make, but it doesn't have to be. With so many creative ways to break the news, you can find something that feels right for you and your situation.
Whether it's setting off fireworks or sending an email blast, there is no wrong way to announce your sexuality or gender identity. Whatever route you choose, know that with each step forward comes courage and strength—and may lead towards self-discovery as well as fulfillment in life.
So if you're looking for new ways to come out, take inspiration from these 35 ideas. And remember: coming out isn't just about telling others who we are – it's also our chance to celebrate ourselves too.
Relevant Readings
Funny Ways To Say Happy 4th of July
Funny Ways To Say You Are Engaged
Funny Ways To Say Happy Easter
Funny Ways To Ask For A Number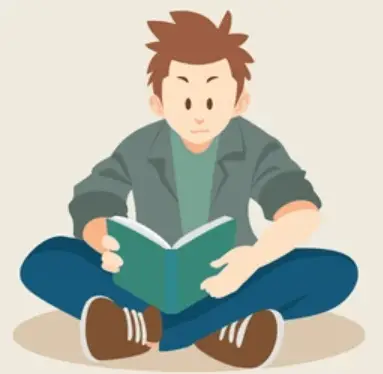 Yusuf is interested in exploring the world around him and making meaningful connections with it. He then express these ideas with words for the world to enjoy. In his free time, Yusuf loves to spend time with books, nature & his family.