Navigating a conversation that you'd rather end can be challenging, but having the right "Excuses To Hang Up The Phone" at your disposal can make all the difference. In this no-nonsense guide, we present you with straightforward and effective ways to gracefully conclude a call when you need to.
Whether it's a lengthy chat that's going nowhere or a pressing matter that requires your attention elsewhere, these excuses will help you politely and efficiently wrap up the conversation.
30 Best Excuses to Hang up the Phone
When you find yourself in need of a swift exit from a phone conversation, having the "30 Best Excuses to Hang Up the Phone" in your toolkit can be a lifesaver. In this no-nonsense guide, we've curated a list of concise and effective ways to gracefully conclude a call.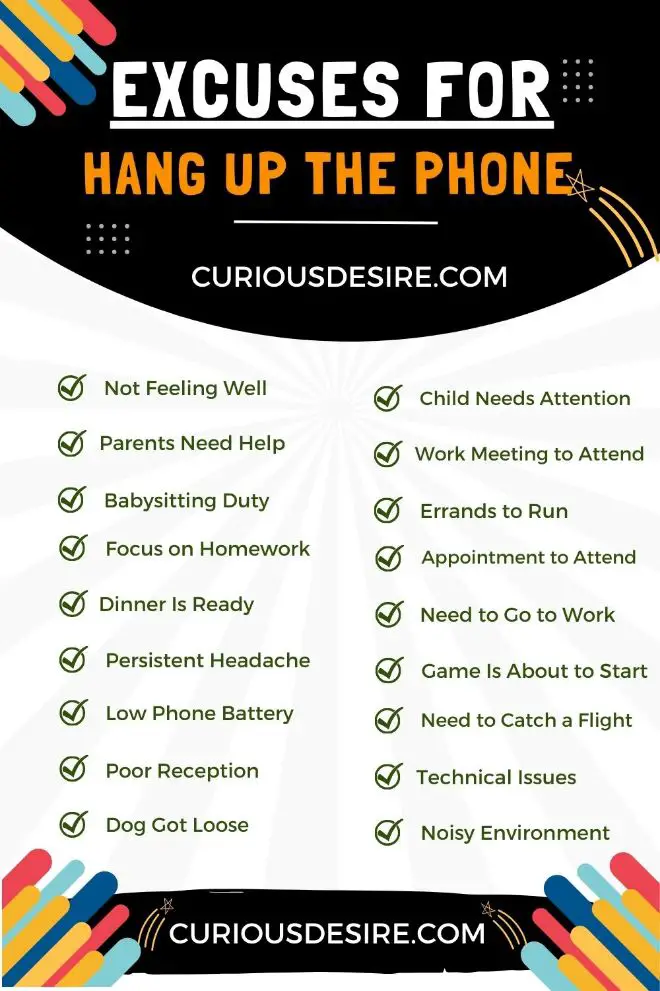 Whether it's an unending monologue or a pressing matter at hand, these well-crafted excuses will empower you to politely and efficiently end the conversation, freeing up your time for what truly matters. Say goodbye to awkward goodbyes and hello to a more productive phone experience.
1. Not Feeling Well
If you find yourself in a lengthy phone conversation and need a polite exit, consider the classic excuse of not feeling well. You can mention sudden stomach discomfort or the onset of cold symptoms like a sore throat.
The key is to convey your condition sincerely, which will likely prompt the other person to understand and let you go. Remember, it's essential to keep this excuse believable.
2. Someone Else Is Calling You
A practical way to gracefully end a phone call is to mention that someone else is trying to reach you urgently. It could be a friend you haven't spoken to in a while or an important call you've been expecting.
Politely express your need to answer the other call and assure them you'll catch up later. This excuse allows you to leave without making the other person feel neglected.
3. Parents Need Help with Something
When you need a quick exit, saying your parents require assistance with something around the house can be quite effective.
To make it believable, you can sound slightly annoyed, indicating that you don't want to cut the call short but have to tend to an urgent family matter.
This excuse conveys your commitment to family responsibilities, making it a considerate way to end the conversation.
4. Babysitting Duty for Younger Siblings
Being an older sibling often entails unexpected babysitting duties. Whether your parents are occupied, or it's dinner time, you might find yourself responsible for your younger sibling.
Politely explain the situation to the person on the phone, emphasizing your obligation, and reassure them that you'll reconnect later when you have more free time.
5. Need to Focus on Homework
For students striving for good grades and college admissions, the excuse of needing to focus on homework is both valid and relatable.
Stress the importance of your academics and the need to complete assignments on time. This excuse conveys your dedication to your studies and is likely to be understood and respected by the person you're talking to.
6. Dinner Is Ready
When hunger strikes and dinner is ready, it's an excellent excuse to wrap up your phone conversation. Express your eagerness to eat and ensure the caller knows you don't want to keep others waiting at the dinner table.
This reason shows consideration for family and social etiquette, making it a polite way to conclude the call.
7. Persistent Headache
Sometimes, a persistent headache can make phone conversations unbearable. If you started the call with a headache and it's worsening, you can mention that the screen might be intensifying your discomfort.
It's a valid reason to take a break from the call and rest, ensuring you're in better shape for future conversations.
8. Low Phone Battery
When your phone's battery is running low and you can't charge it immediately, it's a practical reason to end a call. Explain your situation, whether someone else is using your charger, you can't find it, or it's not working correctly.
Emphasize the importance of staying connected and let the caller know you'll reconnect once your phone is charged.
9. Poor Reception
If you're on the go and experiencing poor reception, it's a credible excuse to temporarily end the call. Mention that you're in an area with limited signal or even in a cell phone dead zone.
Clarify that you'll reconnect when you're in a better location, ensuring a smoother conversation.
10. Dog Got Loose
A creative and engaging excuse to end a call is when your dog gets loose and needs your immediate attention. Share the urgency of the situation, especially if your dog has caused trouble before.
This reason demonstrates your responsibility as a pet owner and is likely to be understood by the other person.
11. Child Needs Attention
If you have young children at home, they often demand constant attention. This isn't merely an excuse but a valid reason for needing to end a phone call.
Explain the child's needs and emphasize your parental responsibilities. Most people will appreciate your dedication to your family and understand the necessity of your departure.
12. Work Meeting to Attend
For those working from home, using a work meeting as an excuse to end a call is an effective strategy.
You can plan your call timings around your work meetings, ensuring you have a legitimate reason to leave the conversation promptly.
Mention that you need to prepare for the upcoming meeting to create a buffer for your exit.
13. Errands to Run
Life can get busy, and errands can't wait. Mentioning that you have errands to run, whether it's grocery shopping, laundry, or other tasks, is a relatable excuse.
Express your need to attend to these responsibilities promptly and promise to catch up later when you have more free time.
14. Appointment to Attend
Appointments, whether medical, dental, or any other type, are essential commitments. Inform the person on the call that you have a scheduled appointment, emphasizing its significance.
This excuse conveys your responsibility towards your health or other commitments and is generally respected.
15. Need to Go to Work
If you're running late for work, use this excuse to end the call. Express your urgency and the importance of not being late for work.
This way, you convey your commitment to your job and subtly encourage the other person to let you go to avoid any work-related issues.
16. The Game Is About to Start
Sports enthusiasts understand the significance of catching the start of a game. If there's an upcoming game you don't want to miss, plan your calls around it.
Politely mention that the game is about to begin, and you'd like to focus on it. This excuse reflects your passion for sports and ensures a smooth exit from the conversation.
17. Need to Catch a Flight
If you have an upcoming flight, use it as a valid reason to conclude the call. Mention your departure time and the need to prepare for the journey. People generally understand the importance of timely travel arrangements.
18. Late-Night Phone Call
Late-night calls can disrupt your sleep schedule. Politely explain that it's getting late, and you need to rest for an early morning commitment or simply to ensure you get a good night's sleep.
19. Technical Issues
Blame it on technical difficulties. Mention that you're experiencing issues with your phone, such as poor call quality, sudden disconnections, or a malfunctioning microphone. Suggest reconnecting when the technical problems are resolved.
20. Noisy Environment
If you're in a noisy location, such as a bustling café or a busy street, let the other person know. Explain that the noise is making it hard to concentrate on the conversation, and you'll reconnect when you're in a quieter place.
21. Unexpected Visitor
When an unexpected visitor arrives at your doorstep, use it as an excuse to end the call. Apologize for the interruption and express your need to attend to the guest.
22. Battery Saver Mode
Claim that your phone is in battery saver mode to conserve power, and you need to disconnect to save battery for essential communication. This excuse is particularly useful if you anticipate needing your phone later in the day.
23. Need to Finish a Task
Inform the caller that you have an urgent task or project to complete and need to focus on it.
Emphasize the importance of the task and assure them you'll get back to them as soon as it's done.
24. Car Trouble
If you're on the road and experiencing car trouble, it's a legitimate reason to end the call. Explain the situation, such as a flat tire or engine issue, and express your need to address it promptly.
25. Quiet Time
Sometimes, you just need some quiet time to relax or unwind. Politely let the caller know that you're looking forward to some personal downtime and would like to end the call to enjoy it.
26. Cooking or Baking
If you're in the middle of preparing a meal or baking, use it as a reason to wrap up the conversation. Explain that you need to focus on the cooking process and can't chat at the moment.
27. Family Gathering or Event
When you're at a family gathering, party, or event, share the occasion with the person on the call. Politely express your desire to socialize and enjoy the event without interruptions.
28. Poor Health
In cases of genuinely feeling unwell, don't hesitate to convey your condition honestly. Mention symptoms like fatigue or a headache and your need to rest or seek medical attention.
29. Need to Study or Research
For students or those engaged in research, stress the importance of studying or conducting research for an upcoming project or exam. This reason underscores your commitment to your educational or professional goals.
30. Early Morning Commitment
If you have an early morning commitment, such as an important meeting or appointment, use it as a reason to end the call. Express your need to prepare for the next day and ensure you're well-rested and organized.
These additional excuses provide you with a diverse range of polite and practical ways to conclude phone conversations when necessary. Always prioritize honesty and courtesy when using these excuses to maintain positive communication with others.
Resources Consulted For Research On This Article